Comcast NBCUniversal Presents: Out of Sight, Out of Mind?
An important conversation addressing post-pandemic gender inequality in the workplace.
About this event
Speakers:
Rashida Jones, President, MSNBC
Rashida Jones is President of MSNBC, the premier destination for breaking news, award-winning journalism, in-depth analysis and informed perspectives. She is responsible for oversight of all programming, editorial units, business development and technical operations. Prior to taking on the role of President in February 2021, Jones served as Senior Vice President, NBC News and MSNBC. In this position, she spearheaded cross-platform breaking news and major events for both networks, including coverage of the coronavirus pandemic, and the networks' Decision 2020 coverage including presidential debates, town halls, primaries and special election nights and forums
Dalila Wilson-Scott, EVP & CDO, Comcast Corporation | President, Comcast NBCUniversal Foundation
Dalila Wilson-Scott serves as Executive Vice President and Chief Diversity Officer of Comcast Corporation and as President of the Comcast NBCUniversal Foundation. Dalila oversees all Diversity, Equity and Inclusion initiatives for the corporation and spearheads the charitable giving and philanthropic strategy, including Comcast NBCUniversal's $100 million commitment to advance social justice and equality. Prior to joining Comcast in 2016, Dalila spent over 16 years at JPMorgan Chase & Co. where she served as Head of Global Philanthropy and President of the JPMorgan Chase Foundation. In addition to serving on the boards of Welcome America, Inc. and Box.org, Dalila is a member of the Executive Leadership Council.
Moderator:
Prisca Bae, VP, The Asian American Foundation
Prisca Bae leads partnerships and strategy for The Asian American Foundation, a new organization focused on building power for the Asian American community. A diversity expert and advocate for global women's issues, Prisca has spent over a decade designing and launching philanthropic and social impact initiatives centered around communities of color and women.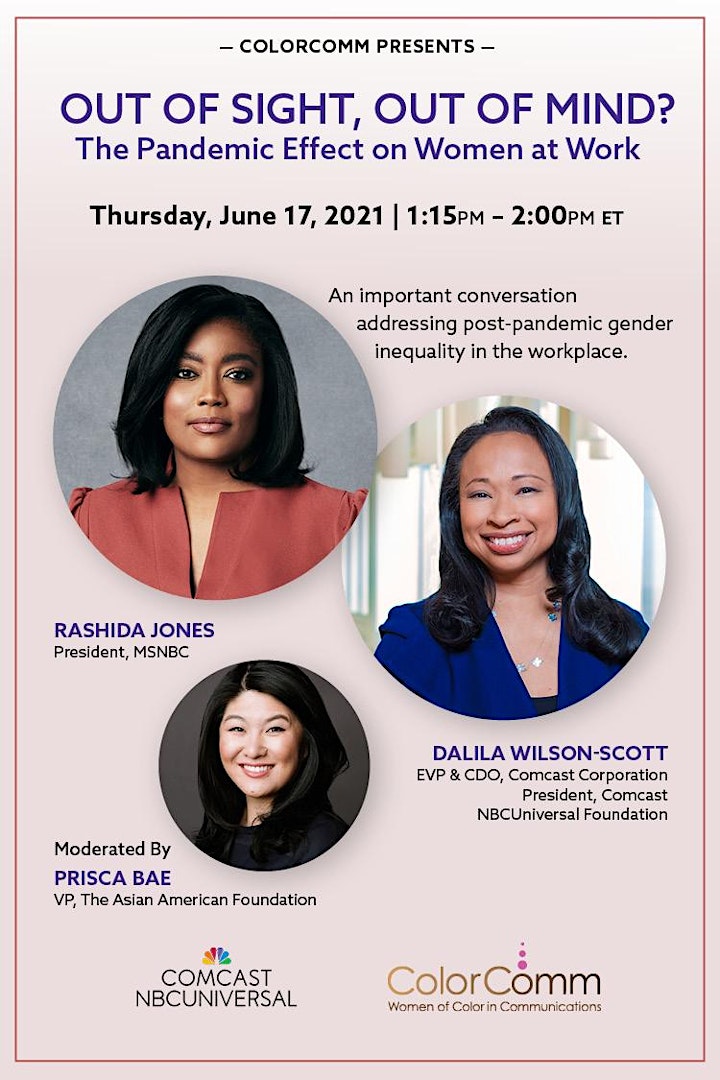 Organizer of Comcast NBCUniversal Presents: Out of Sight, Out of Mind?
The ColorComm mission is to personally connect women with other like-minded individuals to build a strong network of leaders by creating mentors/mentees, business relationships and friendships. ColorComm offers a unique opportunity for women to share experiences and learn from one another to enhance their personal and professional development.