Combating Systemic Issues in the Urban Community (NYC)

Tuesday, May 9, 2017 from 6:00 PM to 9:00 PM (EDT)
Event Details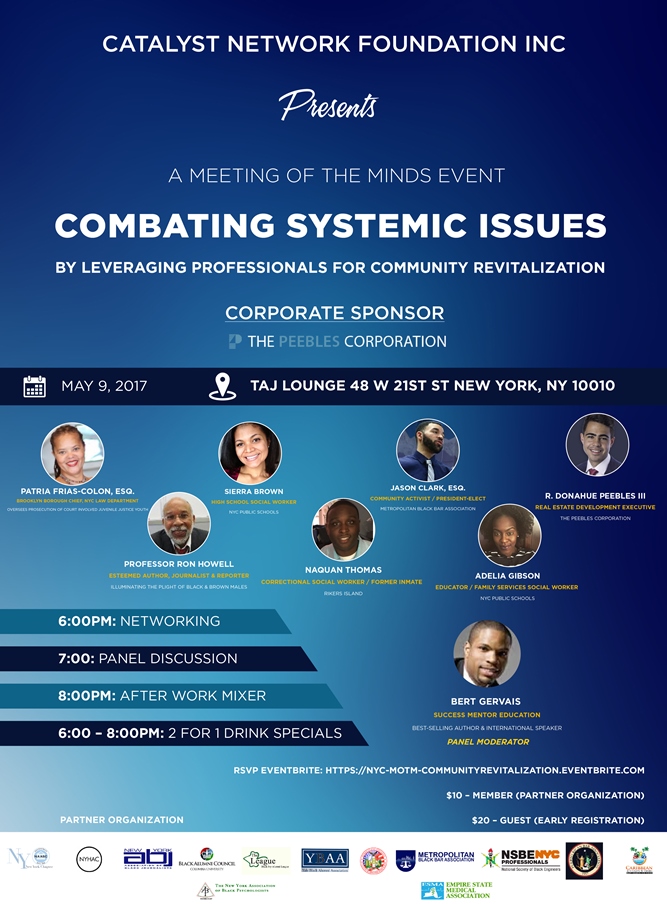 Corporate Sponsor

The Peebles Corporation
Partner Organizations

Metropolitan Black Bar Association
Black Ivy Alumni League
National Society Black Engineers – NYC Professionals
Yale Black Alumni Association
Dominican Bar Association
Columbia University - Black Alumni Council
Puerto Rican Bar Association
New York Alumnae Association of Spelman College
New York Association of Black Journalists

Hampton University NY Alumni Association
Caribbean Attorneys Network
NY Association of Black Psychologists
Empire State Medical Association
Panel Discussion Topics
Illuminating the root causes that create the dysfunctions in the urban community
 Family, Judicial System, School, and Community
Practical, proven solutions to rectify certain root causes, and controlling the narrative telling our stories
 How to control the narrative in the media
How to bring more attention/resources to people who are doing the work and making substantive change
Where to allocate resources to organizations/systems effectively improving our communal issues
Effective measures to change local policy affecting our community
How to become an active stakeholder in our local schools, politics and judicial system
Panelist
Former inmate / Correctional Social Worker
Rikers Island
Naquan Thomas was born and raised in Brownsville neighborhood of Brooklyn, NY. He has a wealth of knowledge and experience from the streets as well as text books. Presently, Naquan works as a licensed social worker on Rikers Island. Through counseling, leadership, and sharing his own life experiences Naquan has been able to guide individuals to empower themselves and not succumb to their environments. Naquan genuinely believes that change can happen in an individual's life no matter what the past has been. He dedicates his life to modeling this belief. Naquan is the proud father of two amazing sons.

Brooklyn Borough Chief, NYC Law Department
Oversees prosecution of court involved juvenile justice youth
Patria has been with the Dominican Bar Association (DBA) since 2005. She subsequently joined their Board of Directors and later served as an officer.
Patria currently serves as the Brooklyn Borough Chief for the New York City Law Department's Family Court Division where she supervises the juvenile delinquency practice.  Prior to that, she served the NYC Department of Education as Agency Counsel in 1998 and later promoted to Assistant Deputy Counsel to the Chancellor.  Previously, Patria served as Assistant District Attorney in Kings County and an Adjunct Professor with St. John's University School of Education.

She graduated from Hofstra Law School where she was awarded a Public Justice scholarship, was a member of the Latin American Law Students Association (LALSA) and Black Law Students Association (BLSA) where she served as president of LALSA. She attained her Bachelor's from the University of Rochester where she co-founded El Tiempo Latino, the Latino Students' Voice and was a member of the Latino and African-American students organizations where she served as president for two years of the Latino students' organization.
Patria has been honored for her legal aptitude and community service. This year, the Brooklyn Anti-Violence Coalition presented Patria with the Trail Blazer Award, the Brooklyn District Attorney's Office with the Brooklyn Women's Bar Association honored her with the Legal Excellence Award, and the Maurice A. Deane School of Law, honored her with Hofstra Law's Outstanding Women in Law. She has also been honored by the Dominican Justice Commissioner and Dominican university for being an exceptional jurist and the Association of Dominican-American Supervisors and Administrators presented her with the Leadership and Excellence in Education Award for her outstanding leadership and dedication to the children of the New York City public school system.
Patria is from the Dominican Republic. After graduating Bushwick HS and the University of Rochester, she married Robert Colón and together they are the proud parents of Lida, Nairobi and Galen.
Esteemed Author, Journalist & Reporter
Illuminating the plight of black & brown males
Ronald Howell has spent three decades as a working journalist, including several years as a foreign correspondent covering Latin America and the Caribbean as well as a stint covering the Middle East in 1991. He has been a full-time journalist with Newsday, The New York Daily News, Ebony, The Baltimore Evening Sun, ABCNews.com and The Associated Press. For several years he was the editor of CUNY Matters, a 40,000-circulation publication for faculty and staff of the City University of New York. He has taught at Brooklyn College (beginning in fall 2009), Long Island University - Brooklyn, Columbia University Graduate School of Journalism and Medgar Evers College. Howell speaks Spanish and French, and he understands Haitian Creole fairly well. In 2000 he published a book about working, One Hundred Jobs: A Panorama of Work in the American City, with The New Press.
High School Social Worker
NYC Public Schools
Born in Chicago, IL and raised in upstate New York Sierra Brown has been living and working in NYC since graduating from college in 2008. Since that time she has established her career in social services. Sierra has worked with various populations but found her passion working in high schools as a licensed social worker and educator. Sierra believes deeply in advocating for the rights of young people. In addition, she aspires to help young people navigate the world, find their voices and chase their goals.

Community Activist / President-Elect
Metropolitan Black Bar Association
Jason Myles Clark is the deputy for of the New York State Attorney General's Harlem Regional Office. In this role, he serves a large constituency in Upper Manhattan and the Bronx by prosecuting violators of New York State's labor, consumer and civil rights laws. He represents the hardworking people of the State of New York by bringing justice to a community with pressing needs for legal services. Prior to becoming an AAG, Jason prepared draft-opinions for United States District Judge George B. Daniels and worked as a commercial litigator for an international law firm. He is a graduate of Princeton University and the University of Michigan Law School.
In addition to being an AAG, Jason is the President-Elect of the Metropolitan Black Bar Association of New York City. In this role, he has organized programs aimed at 1) reducing the number of deaths of unarmed civilians by law enforcement 2) protecting the rights of immigrants and 3) reforming New York's bail system. As a member of Community Board 10, he organized the board's first legal clinic. For his efforts, the National Bar Association awarded Jason its "40 Under 40" and "Excellence in Activism" Awards.
Adelia Gibson
Educator / Family Services Social Worker
NYC Public Schools
Adelia Gibson is a Brooklyn Native and product of New York City Public schools with 6 years of teaching experience in NYC charter schools and the department of education. This is her 4th year teaching 7th grade English in the NYCDOE. She earned her B.A in English from SUNY Albany, MS. Ed in Urban education from LIU Brooklyn, and is working toward a 2nd Masters in Educational Leadership from CCNY. Prior to becoming a teacher, Adelia spent about 2 years in the social work field with experience ranging from a non-secure detention facility to foster care agencies. Her ultimate goal is to operate a fully functional arena of academic excellence to serve as a pillar in an underserved community which not only teaches the importance of knowledge but understands the importance of learning from the beautiful experiences that shape youth of color.
Real Estate Development Executive

The Peebles Corporation
 Panel Moderator - Bert Gervais

Founder of Success Mentor Education. Bert is a national best-selling author, speaker, and he is the Director of the Pathways to Leadership After School Program in East New York.
Organizer
Catalyst Network Foundation Inc. (CNF)
The Catalyst Network Foundation Inc. (CNF) is a non-profit education initiative 501(c)(3) organization based in New York City and Washington, D.C. The social enterprise is fundamentally grassroots, steered by a volunteer leadership team in New York City and Washington, D.C. In July of 2012, Ranking Congressman Ed Towns awarded a proclamation to the Foundation, in recognition of the organization's achievements.

CNF was conceived after its two founding members had a conversation about the future of youth and veterans in their community. After reviewing the lack of communal resources, skill development programs, and career-field opportunities for adults – the founders developed a vision. Through their combined efforts and strategic planning, the two founders recruited additional professionals to support the formation of Catalyst Network Foundation.
Founded in 2011, the nonprofit focuses on life enrichment and professional development, with a mission to engage high-potential youth (ages 14-25) and veterans (ages 21-30) by providing the proper tools, networks, skill-building projects, and development opportunities to maximize talent.
CNF holds a Summer Intensive Program for rising high school juniors and seniors in New York City and Washington, D.C. Successful applicants are enrolled at a CNF partnership high school. Each student receives individualized attention and internships in preparation for higher education and community service. The fellowship scholars are trained from day one: they tour corporate offices, pitch business ideas, and develop professional skills. 200+ students have been admitted to the Fellowship Program and are CNF Fellows, 99% have graduated high school, and 98% enrolled in higher education institutions (including prestigious colleges and universities).
Through CNF's Mentorship Program, Fellowship scholars are paired with a mentor that is a trailblazer in the profession or career field the fellows aspire to pursue. The CNF Internship Program secures CNF Fellows with internships at startups, corporations, and medical institutions.
Since 2011, the Fellows have participated in corporate tours and create or pitched presentations about inner-city school challenges to several companies, including: Google, Goldman Sachs, NIKE, LinkedIn, Morgan Stanley, HBO, Microsoft, Covington & Burling LLP, GAP, BET, Essence Magazine, NPR, Kaye Scholer LLP, Hughes Hubbard Reed LLP, Bloomberg, Peebles Corporation, Infor, Deloitte, FOX News, and NBC Studios.
The youth initiative annually holds tech symposiums at Google,career, and college preparatory workshops throughout the school year, instructing over 1,500 high school students in the aforementioned metropolitan areas.
CNF performs screening and facilitates seamless partnership arrangements with high schools, nonprofits, and corporations. I.e., City Poly Tech High School < > Infor
The organization works with American veterans (ages 21-30), connecting them with resources and information to assist them with their career and academic ambitions.
CNF has curated 25+ professional networking events and diversity career recruiting sessions. The organization host a professional mixer and panel discussion called The Meeting of the Minds (MOTM) a gathering that is held quarterly it uniquely combines networking and thoughtful policy discussion on topics affecting minority communities. The goal is to provide a forum for critical conversation on issues often ignored by mainstream media outlets.
Combating Systemic Issues in the Urban Community (NYC)