Description
Pushing the boundaries of the art form which has propelled it into its fourth decade, Battery Dance memorializes Adel Euro, a brilliant young dancer from Iraq whose life was tragically cut short when he was killed by a suicide bomb on July 3, 2016.
In championing his legacy, Battery Dance Company hopes to inspire American audiences to challenge their preconceived notions of Muslims and embrace our common humanity.
Combating Islamophobia through Dance and Spoken Word takes the form of storytelling through the choreography and performance of dancer Hussein Smko, the first Adel Euro Fellow, and spoken memoirs of a boyhood in Baghdad by journalist Riyadh Mohammed. Both are Iraqi Muslims relocated to the U.S. The program is intended to introduce American audiences to Middle Eastern Muslims who challenge the association between Islam and violent extremism.
Performers:
Hussein Smko's journey with dance started when he was nine years old. He learned hip-hop inspired by an American soldier stationed in the Kurdish city of Erbil, northern Iraq, in 2003. Two years later, he started dancing publicly in parks and malls in Erbil. Over the years, Hussein taught himself break dancing, house, capoeira, theater dance, martial arts and gymnastics, all without formal dance school education. In 2011, he met Adel Euro, a fast-rising Iraqi rapper and dancer, and quickly they became friends, training together in several venues in Iraq. In 2013, Hussein was chosen by American Voices to dance in six American States in a program sponsored by the American Embassy in Iraq. He has since trained and performed with Battery Dance in its 2017 New York Season, two of its Battery Dance Festivals and in a Midwestern residency where he also taught hip-hop to students in a public elementary school and a community teen center.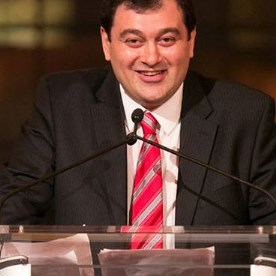 Riyadh Mohammed is an internationally recognized journalist from Baghdad, Iraq. He was a deserter from the Iraqi army when the war of 2003 broke out. A year later, he earned his B.A. in cinema from the Academy of Fine Arts in Baghdad and joined the newly established Iraqi government as a media officer. In 2006, he took a leave to produce a series of documentaries for the Belgian production firm Way Press International. As Iraq descended into chaos and sectarian violence, his father was kidnapped and killed by ISIS and his family was displaced from their home in western Baghdad. Riyadh wrote about that tragedy in blog entries and articles that appeared in The New York Times, The Los Angeles Times and The Fiscal Times. In 2008, Riyadh began reporting for The New York Times, where he broke a series of corruption stories. His essay in the August, 2016 edition of Foreign Affairs about the scandal of fake explosive detection devices imported from the UK led off with the story of Adel Euro and Battery Dance, humanizing a tragedy of immense proportions and introducing him to the Company with which he created a bond of trust and shared mission.