Outlaw Country, roots rock and blues for the evening!
About this Event
"Comanche Moon" is a term that originated on the Texas frontier during the Comanche wars. According to journalist S. C. Gwynne, "So many raids were made by moonlight that in Texas a full, bright spring or summer moon is still known as a Comanche Moon."* Blending the sounds and influences of their native Texas Panhandle, Comanche Moon has developed a unique sound that the band describes as "Texicana." Rooted in strong original songwriting, their sound carries influences of country, blues and folk music, delivered with a rock and roll attitude.
Sense of place is central to the band's identity. Comanche Moon founders Chandler Sidwell and Mark Erickson each come from a long line of Texas cattle ranchers and wildcatters. Sidwell's family relocated to Texas from West Virginia in the 1930s and founded a cattle ranch in Wheeler County. Erickson, a sixth-generation Texan from frontier stock, was raised a cowboy on a remote cattle ranch in the Canadian River Valley. The band's sound grew up right out of the Panhandle dirt and represents the diversity of native sounds. The Texas panhandle has always been home to a strong tradition of fiddle music. The Scotch-Irish fiddle tradition that became bluegrass in the Appalachians percolated out to the Texas frontier during the great push West in the nineteenth century. Played by cowhands around campfires and chuck wagons, it took on certain folk and story-song characteristics while retaining the strong fiddle-driven melody lines characteristic of bluegrass.
Then Bob Wills changed everything. He and his Texas Playboys took traditional Texas music and turned it on its head with jazz chords and big band arrangements, creating a new sound called Western Swing. (Wills allegedly got angry and cussed anyone who described his music as country music.) Wills, who was raised in the cotton fields of East Texas was well acquainted with the blues and he brought them with him when he made his West Texas home in the town of Turkey. Though by no means the first or the only person to play the blues in West Texas, he is largely responsible for the fusion of white country and fiddle traditions with black blues. Erickson learned the West Texas sound as a kid going to ranch dances featuring Texas Playboys alum, Frankie McWhorter as fiddler and bandleader.
At some point, both Sidwell and Erickson found rock and roll and fell in love with 60s and 70s bands like Led Zepplin, Jimi Hendrix, Pink Floyd and the Rolling Stones. Sidwell learned the drums, developing his chops on stage in jam and rock bands in Amarillo. Erickson would sneak off after living room bluegrass sessions with his family to pick out Jimmy Page riffs and Hendrix licks.
Sidwell and Erickson met in Amarillo in 2011 and founded Comanche Moon in 2013 with then bandmate Jake Vernon and Carlos Martinez-Arraras, who continues to play guitar for the band. In 2015, Comanche Moon released its debut self-titled EP. Short on cash and long on content, it wasn't until early 2017 that the band had saved up enough money to book studio time for its first full length album, "Country Music Deathstar." The band paired up with producer Tim Allen (guitar, Shane Smith & the Saints) and began recording at Yellow Dog Studios in Wimberley, Texas with Dave Percefull and Adam Odor in June 2017. They completed production later that December and will release the first single off the album March 23. They will release the full album June 29.
*Gwynne, S.C. Empire of the Summer Moon, Scribner 2010.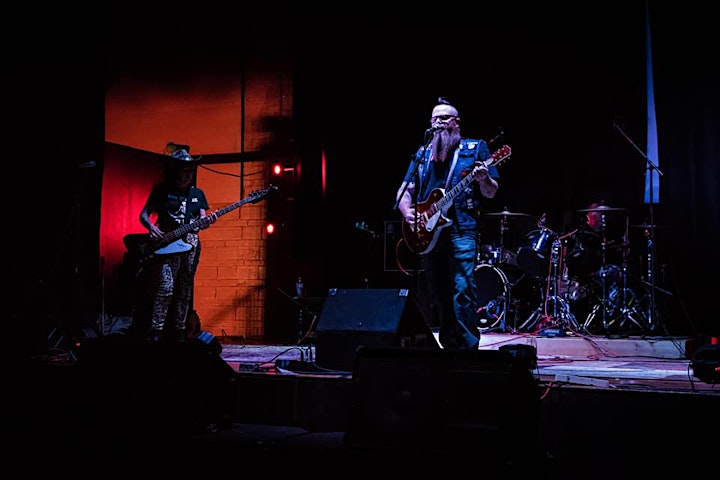 3 piece Outlaw Country/rockabilly/whatever you wanna call it from Texas. Original music. We're here to destroy pop country.
Tara Holley-Bass
Lynn Hayes-Drums
Adam Holley-Guitars and hollerin'
Performers
Date and Time
Location
Refund Policy