Actions and Detail Panel
Columbus Women in Digital Summer Quarterly Meeting
Thu, July 27, 2017, 8:00 AM – 10:30 AM EDT
Description
Columbus Women in Digital Quarterly Meeting
Inspirational, educational and empowering ... the Summer Women in Digital Conference will focus on practicing our asks/gives (take your pledge here) and on fostering mentorship and relationship with the Gild Collective. Feeling nervous about making a public ask or give, email then anonymously to michelle@womenin.digital.
Cost: $35.00. This includes the price of the craft you will be making. ($1.00 of every ticket will be donated to the Columbus Diaper Coalition) - We greatly appreciate your support to make these events possible)
ATTN: We need a sponsor for this event. If you are interested in sponsoring please email michelle@womenin.digital
Agenda:
8:00 am-8:30 am – Check in with coffee and mimosas.

8:30 am-8:50 am – 20 minute Asks/Gives. We're going to open up the floor for discussion from the audience after a brief kick off from our Founder and Director, Alaina Shearer.
9:00-11:00 am – Gild Collective: Fostering Mentorship and Relationships, with the creation of the Leather Card Keeper or Morse Code Necklace (we are voting in Facebook group).

Topics and Speakers:
Gild Collective Workshop
Kelsey Pytlik, CEO + Co-founder, Gild Collective. Rachel Bauer, CCO + Co-founder, Gild Collective.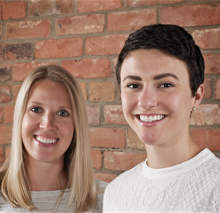 Kelsey Pytlik, Co-founder and CEO, comes from a background in User Research and User Experience Design. Her expertise in understanding user needs translates directly to developing powerful curriculum that addresses the needs of each organization. Her moderation and facilitation of focus groups and usability testing make rallying a group and encouraging open dialogue second nature.
Rachel Bauer, Co-founder and CCO, has a background in higher education as a student success coach, so nobody knows how to uncover individual's strengths quite like her. As a coach and advisor, Rachel has led trainings across subjects—from interviewing and time management courses to LGBTQ Safe Zone training. As the creative officer for Gild Collective, Rachel also develops all projects and detailed instruction that makes any creative experience one that makes any participant feel like a pro.