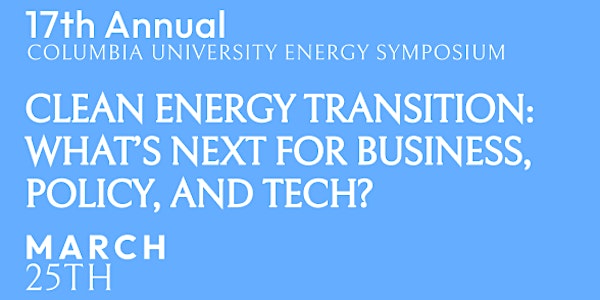 Columbia University 17th Annual Energy Symposium
Columbia Energy Symposium 2022
About this event
The Columbia University Energy Symposium is the largest student-run energy event in New York City. Every year, this cross-discipline event brings together hundreds of energy professionals, students, faculty, leaders, and executives representing industry, government, and society, to explore and advance our insights into today's challenging energy questions.
This year, we will be discussing what the energy transition looks like both domestically and internationally in the years following the pandemic. Our keynote speakers and panelists will be sharing their insight as to the major trends facing the industry.
Due to the continued generosity of our sponsors, we are proud to provide the event for free this year.
The conference will be hosted virtually through Whova. To sign in to the Whova platform, click here, and sign up with the same email you used for registering for the conference. See you soon!!
For more information regarding speakers and agenda, visit our website.
To participate in the symposium case competition, register here. Cash Prize Awards - Winner: $3,500, Runner-Up: $1,500