Description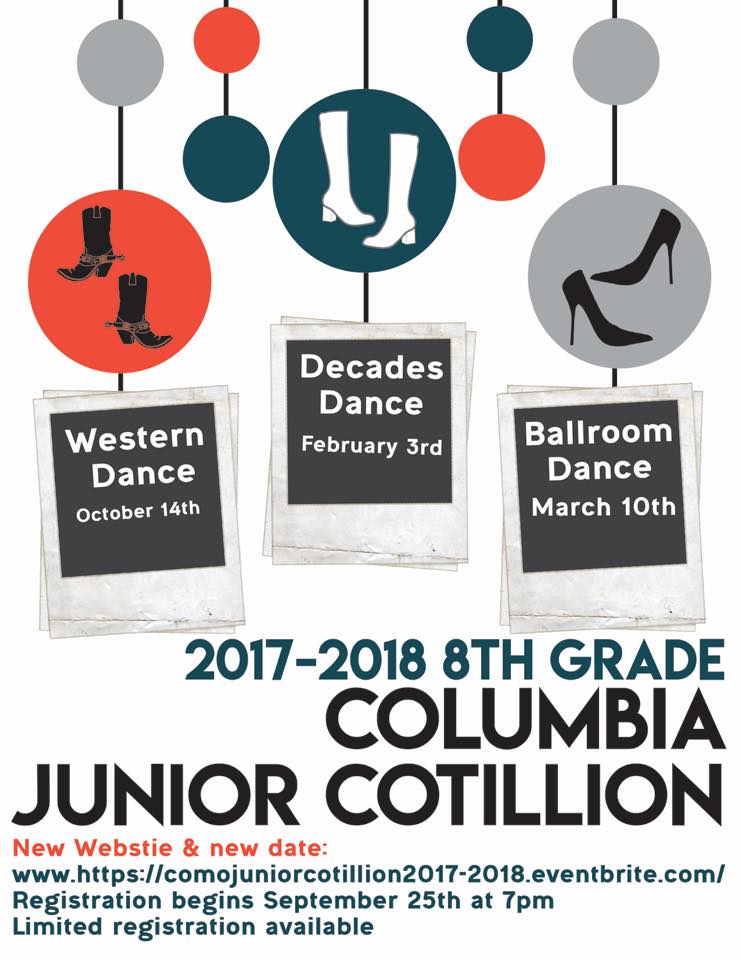 October 14 2017 – Western
February 3, 2018 – Dances Through the Decades
March 10, 2018 – Ballroom
Registration goes live Monday September 25th at 7pm
COTILLION DANCE SCHEDULE (dances and the lesson are all in one night)
Come be a part of the 2017-2018 Columbia Junior Cotillion.
Cotillion is a long standing tradition for Columbia area youth. We are a non-profit, private organization offering dance instruction for three fun-filled events for Columbia area eighth graders. The three themed dances run for an average of 3.5 to 4 hours and include dance instruction, music, a meal, photo booth and lots of fun!
Western Dance: October 14
Dances Through the Decades: February 3
Ballroom Dance: March 10
We also may be adding an optional etiquette class – DATE TBA
Your teen will enjoy a recreational experience in a positive social setting. Experienced dance instructors teach a variety of dance steps, along with social and dance etiquette. No prior dance experience needed! You do not need a date and you will not be dancing with a partner the entire time. There are line dances, group dances and partner dances. It is simply FUN with FRIENDS.
Membership in Columbia Junior Cotillion is LIMITED to 100 girls/100 boys. Spaces FILL UP VERY FAST! Membership fee $70
Limited scholarships are available…DEADLINE EXTENDED TO SEPT. 10
If you are in need of full or partial scholarships please notify our registration committee via email by September 1st to comocotillion@gmail.com. In your email please note the reason(s) for the scholarship. Scholarships are need based and are limited.
Follow Us and Spread the Word!
Instagram: #ColumbiaCotillion
Facebook: Columbia Junior Cotillion
How Can My Teen Get Involved?
To enroll your eighth grader, visit back to this link on September 25th, 7pm for a NEW online REGISTRATION. REGISTRATION will cut off at 100 girls/100 boys and all additional children will be automatically placed on a waiting list.
Details
Membership in Columbia Junior Cotillion costs $70 and is limited to 100 boys and 100 girls. Your child's experience will include 3.5 to 4 hours of dance fun with professional dance instructors, a meal, and a photo booth at the end of the series with photos from the 3 dances. On the September registration date you will register online via this site. Registrations after we hit the 100 boys/100 girls cutoff will be kept on a waiting list and you will be notified if a child is unable to keep their spot.
Invitations to each practice and dance will be sent to members in advance. Attendance is restricted to members only, with no substitutions allowed. Attendance is taken at all practices and dances. Parents of absentee members will be contacted. Because an equal number of girls and boys are accepted, attendance at practices and dances is expected to ensure every member has a partner for each rotation. Your application is your commitment to attend all three events. NO REFUNDS will be given if your child is unable to attend or if the backup date for February is also canceled due to bad weather.
All practices and dances are chaperoned by members of the parent committee. Members conduct will be monitored. Use or possession of tobacco, alcohol or controlled substances will not be tolerated. Purses, cameras and cell phones are not allowed. Columbia Junior Cotillion is not liable for any loss, theft or damage to any personal property. Failure to comply with these basic guidelines will result in appropriate disciplinary action including but not limited to parent notification and dismissal from future Cotillion functions.
Date and Time
Location
Refund Policy