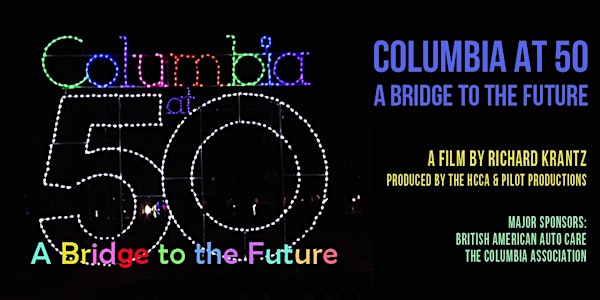 Columbia at 50 - A Bridge to the Future - Movie Premiere Event
When and where
Location
Smith Theatre (in the Horowitz Center) Campus Drive Columbia, MD 21044
Description
Let the celebrations of Columbia's 50th anniversary continue with the launch of this much-anticipated documentary, Columbia at 50 - A Bridge to the Future. You won't want to miss this movie premiere!
Donor Activities at 6 PM
6 PM to 7 PM - VIP Donor Reception (for supporters with the "Premiere Tickets" perk or who donated $100+ & their guests only)
General Admission Activities begin at 7 PM
7 PM to 8 PM - Screening: Columbia at 50 - A Bridge to the Future
8 PM to 9 PM - Panel Discussion led by Josh Olsen
9 PM to 10 PM - Audience Discussion and Q&A - The Vision for the Future of Columbia
This movie, Columbia at 50 - A Bridge to the Future, will explore Columbia's past, its present, and the challenges ahead.
Columbia was named the best place to live in the United States by Money Magazine in 2016. We owe much of that success to the way Columbia was conceived, a planned economically and racially diverse community of connected villages -- one that honored nature and open space.
This film will serve as an excellent tool for framing a discussion about what makes a planned community successful and what's necessary to sustain that success. It can also serve as inspiration for community members people to get involved in ensuring a successful future for Columbia and other communities.
Check out the video we created as a fundraiser for the film.
Don't miss this amazing documentary, produced, directed and edited by the acclaimed, Richard Krantz, and featuring lots of Howard County notables.
Here's a link to information regarding parking.