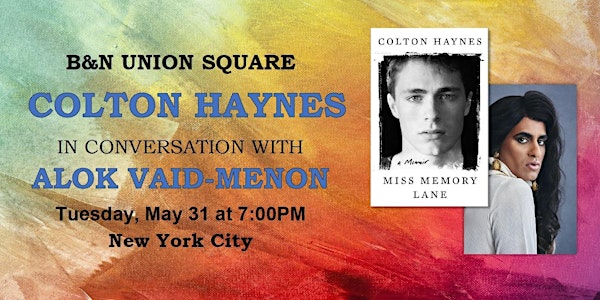 Colton Haynes celebrates MISS MEMORY LANE at Barnes & Noble - Union Square
Barnes & Noble Union Square welcomes Colton Haynes for an event to celebrate MISS MEMORY LANE on Tuesday, May 31 at 7 PM ET!
When and where
Location
Barnes & Noble 33 East 17th Street New York, NY 10003
Refund Policy
Refunds up to 1 day before event
About this event
**PLEASE BE AWARE THAT THESE GUIDELINES ARE SUBJECT TO CHANGE DUE TO CHANGING COVID-19 REQUIREMENTS**
Join Barnes & Noble - Union Square on Tuesday, May 31, 2022, as we welcome Arrow and Teen Wolf actor, Colton Haynes, for a discussion and signing to celebrate the release of MISS MEMORY LANE, a brutally honest and moving memoir of lust, abuse, addiction, stardom, and redemption.
Colton will be in conversation with Alok Vaid-Menon.
....................................................................................................................
**If you are not vaccinated, masks are strongly recommended.**
To make this event safe and enjoyable for all attendees, please read the below guidelines ahead of buying a ticket, so you know what to expect on the day. To avoid disappointment, we must stress that there will be no access to the event for non-ticketholders.
Barnes & Noble reserves the right to make new rules and orders in its sole discretion with regard to COVID-19 at any time and any person not abiding by the Barnes & Noble directives will be refused entrance or directed to leave the premises.
TICKETING INFORMATION
BOOK ADMISSION - $30.49 (Admission + one copy of MISS MEMORY LANE): **LIMITED QUANTITY AVAILABLE**: A ticket PER PERSON includes:
Socially distanced selfies with Colton will be allowed at the event.
Masks are strongly recommended if you are not vaccinated.
Any gifts for Colton will be collected prior to the signing line.
Due to health and safety and space limitations, those without a ticket will not be permitted into the event space.
Please arrive by 7 PM in order to secure your seat in the event space. Late arrivals may only have access to standing room and may not have the opportunity to meet the author.
GUIDELINES
No memorabilia will be signed at the event.
No large bags will be permitted into the event.
Ticket holders will be admitted into the event beginning at 6:30 PM the day of the event. Please have a copy of your ticket available (either printed out or on your phone) for check in.
In order to attend this event, ticket holders should:
Have not had any contact in the last 14 days with a confirmed COVID- 19 patient.

Not be subject to a quarantine order.

Not traveled in the past 14 days to any state or country that New York has designated as an area requiring isolation upon returning to the state.

At the time of the event, have not experienced in the last 72 hours any body temperature above 100 degrees Fahrenheit or any new symptoms associated with COVID-19. People with COVID-19 have had a wide range of symptoms reported – ranging from mild symptoms to severe illness. Symptoms may appear 2-14 days after exposure to the virus. People with these symptoms may have COVID-19: fever or chills; cough; shortness of breath or difficulty breathing; fatigue; muscle or body aches; headache; new loss of taste or smell; sore throat; congestion or runny nose; nausea or vomiting; and/or diarrhea.
Due to health and safety and space limitations, those without a ticket will not be permitted into the event space.
All event guidelines are subject to change.
If you have any additional questions, please call the store directly at: 212-253-0810.
Please note that Eventbrite is the only authorized dealer for this event. Each person must have a ticket to enter.
REFUNDS
Attendees can receive refunds up to 1 day before your event start date.
If you are unable to attend the event, Barnes & Noble - Union Square will hold your book for seven days after the event. Please contact the store to arrange your pickup.
Should this event be canceled due to changing COVID-19 concerns, all customers will be refunded their ticket price to the original method of payment per Eventbrite's refund policy.
Event guidelines are subject to change.
_______________________________________________________________________________________
ABOUT COLTON HAYNES:
Actor and model Colton Haynes currently stars on The CW's Arrow. Previously, he was in hit shows such as American Horror Story, Teen Wolf, and Scream Queens and has appeared in blockbusters such as Rough Night and San Andreas. Follow him on Instagram and Twitter @ColtonLHaynes.
ABOUT MISS MEMORY LANE:
Four years ago, Colton Haynes woke up in a hospital. He'd had two seizures, lost the sight in one eye, almost ruptured a kidney, and been put on an involuntary psychiatry hold. Not yet thirty, he knew he had to take stock of his life and make some serious changes if he wanted to see his next birthday.
As he worked towards sobriety, Haynes allowed himself to become vulnerable for the first time in years and with that, discovered profound self-awareness. He had millions of social media followers who constantly told him they loved him. But what would they think if they knew his true story? If they knew where he came from and the things he had done?
Now, Colton bravely pulls back the curtain on his life and career, revealing the incredible highs and devastating lows. From his unorthodox childhood in a small Kansas town, to coming to terms with his sexuality, he keeps nothing back.
By sixteen, he had been signed by the world's top modeling agency and his face appeared on billboards. But he was still a broke, lonely, confused teenager, surrounded by people telling him he could be a star as long as he never let anyone see his true self. As his career in television took off, the stress of wearing so many masks and trying to please so many different people turned his use of drugs and alcohol into full-blown addiction.
A lyrical and intimate confession, apology, and cautionary tale, Miss Memory Lane is an unforgettable story of dreams deferred and dreams fulfilled; of a family torn apart and rebuilt; and of a man stepping into the light as no one but himself.
Alok Vaid-Menon (they/them) is an internationally acclaimed performance artist whose work explores themes of trauma, belonging, and the human condition. In 2021 they headlined the New York Comedy Festival and in 2022 they will be headlining the Just for Laughs Festival in Vancouver. They are the author of Beyond the Gender Binary (2020) which has been described as a "clarion call for a new approach to gender in the 21st century" and the poetry books Femme in Public (2017) and Your Wound / My Garden (2021). On screen, they will next shoot the Netflix/Blumhouse feature film ABSOLUTE DOMINION. They have also appeared in the Netflix docu-series Getting Curious with Jonathan Van Ness, HBO's late-night sketch series Random Acts of Flyness and the documentary The Trans List.