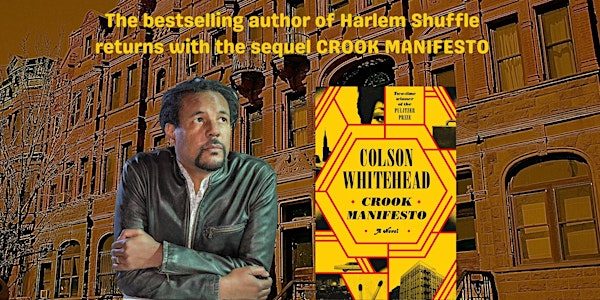 Colson Whitehead In Conversation for his New Novel Crook Manifesto
Two-time Pulitzer Prize winning Colson Whitehead In Conversation for his New Novel Crook Manifesto
Date and time
Starts on Monday, July 24 · 7pm CDT
Location
Unity Temple on The Plaza, Sanctuary 707 W 47th Street Kansas City, MO 64112
About this event
1 hour 30 minutes

Mobile eTicket
EVENT OVERVIEW: Colson Whitehead will be In Conversation with Geoffrey Jennings about Colson's New Hardcover Crook Manifesto on Monday, July 24, 2023, at 7:00 PM.
ABOUT THE NEW BOOK: Two-time Pulitzer Prize winning Colson Whitehead continues his Harlem saga in a powerful and hugely-entertaining novel that summons 1970s New York in all its seedy glory.
It's 1971. Trash piles up on the streets, crime is at an all-time high, the city is careening towards bankruptcy, and a shooting war has broken out between the NYPD and the Black Liberation Army. Amidst this collective nervous breakdown furniture store owner and ex-fence Ray Carney tries to keep his head down and his business thriving. His days moving stolen goods around the city are over. It's strictly the straight-and-narrow for him — until he needs Jackson 5 tickets for his daughter May and he decides to hit up his old police contact Munson, fixer extraordinaire. But Munson has his own favors to ask of Carney and staying out of the game gets a lot more complicated – and deadly.
1973. The counter-culture has created a new generation, the old ways are being overthrown, but there is one constant, Pepper, Carney's endearingly violent partner in crime. It's getting harder to put together a reliable crew for hijackings, heists, and assorted felonies, so Pepper takes on a side gig doing security on a Blaxploitation shoot in Harlem. He finds himself in a freaky world of Hollywood stars, up-and-coming comedians, and celebrity drug dealers, in addition to the usual cast of hustlers, mobsters, and hit men. These adversaries underestimate the seasoned crook – to their regret.
1976. Harlem is burning, block by block, while the whole country is gearing up for Bicentennial celebrations. Carney is trying to come up with a July 4th ad he can live with. ("Two Hundred Years of Getting Away with It!"), while his wife Elizabeth is campaigning for her childhood friend, the former assistant D.A and rising politician Alexander Oakes. When a fire severely injures one of Carney's tenants, he enlists Pepper to look into who may be behind it. Our crooked duo have to battle their way through a crumbling metropolis run by the shady, the violent, and the utterly corrupted.
CROOK MANIFESTO is a darkly funny tale of a city under siege, but also a sneakily searching portrait of the meaning of family. Colson Whitehead's kaleidoscopic portrait of Harlem is sure to stand as one of the all-time great evocations of a place and a time.
ABOUT THE AUTHOR: Colson Whitehead is the #1 New York Times bestselling author of eleven works of fiction and nonfiction, and is a two-time winner of the Pulitzer Prize, for The Nickel Boys and The Underground Railroad, which also won the National Book Award. A recipient of MacArthur and Guggenheim fellowships, he lives in New York City.
EVENT DATE & TIME: Monday, July 24, 2023, at 7:00 PM
EVENT LOCATION: A Rainy Day Books Event at Unity Temple on The Plaza, Sanctuary, 707 W 47th Street, Kansas City, Missouri 64112. Complimentary Parking is available in the Parking Garage immediately adjacent to Unity Temple.
ADMISSION PACKAGE: $35.00 plus Eventbrite Ticket Fee includes 1 Hardcover of Crook Manifesto, 1 Admission Reservation, and 1 Guest Admission Reservation (if needed). It's your choice, for the same Price.
EVENT FORMAT: Colson Whitehead will be In Conversation with Geoffrey Jennings about Colson's New Novel Crook Manifesto. The Conversation & Presentation will last approximately 1 Hour.
PLEASE NOTE: Patrons will receive their Books as they arrive at this Event.
DISCLAIMER: All Author Event Sales are final and non-refundable. Eventbrite Ticket Fees are non-refundable.
About the organizer
Vivien B. Jennings is the Founder & President of Rainy Day Books, Inc.  Since Vivien opened the doors on November 04, 1975, Rainy Day Books has provided the Greater Kansas City community with a gathering place, a wellspring for ideas and creative thought, and an ongoing voice for literacy and awareness.  Rainy Day Books is the major independent bookseller in Kansas City, recognized locally and nationally profiled by The Kansas City Star, KC Small Business and Publishers Weekly for its community Author Events, which average 300 plus per year.  Rainy Day Books recommends selections to over 140 Book Clubs in the area.  Vivien and her partner Roger Doeren support many local charitable and civic organizations in raising both funds and awareness through many of the community Author Events.  Their philosophy is: "Bigger Isn't Better.  Better Is Better.  We are interested not so much in what we have done, but more in what we still want to do.  It is thrilling to watch people leave our Events with the knowledge that authors and their books can expand their awareness, improve their health, make them laugh, touch their hearts, and encourage them to achieve a better life in abetter world. This is truly the spirit of the 'Legacy of Literacy' that we hope to contribute to the community."