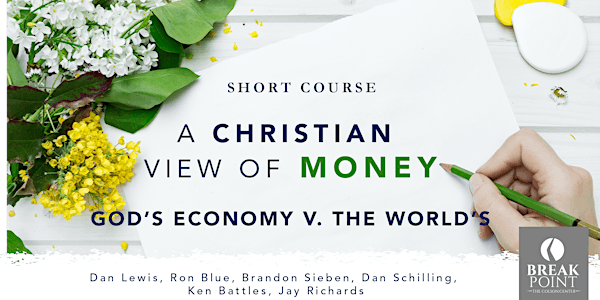 Colson Center Online Course: The Christian View of Money
Claim this moment of economic uncertainty. Here's how we can live to Give, Save, and Spend in God's economy.
Refund Policy
Contact the organizer to request a refund.
Eventbrite's fee is nonrefundable.
About this event
Colson Center Online Course: The Christian View of Money: God's Economy v. The World's
With Dan Lewis, Ron Blue, Brandon Sieben and Ken Battles, Jay Richards
July 7, 14, 21, 28 | 8pm – 9:30pm ET
Recent months have stolen many people's sense of security … Our concerns hover from macro to micro—the state of the world, cultural upheaval, sickness, and perhaps most of all, how will all of this affect my financial security? The Colson Center shares with you the many underlying tensions Christians face when it comes to managing money. How much should the church, state, and welfare of future generations factor into our decision-making? How can we take generous charitable risks while stewarding our money well?
What if we saw this moment of economic uncertainty as an opportunity? To re-visit what it means to live in God's economy when the world's economy proves unreliable. In financial turmoil, we the Church can cling to this core principle: We are still called to be good stewards.
While the message of mainstream media is one of self-preservation or self-promotion, the Christian worldview offers a bigger story: that our finances have a purpose that goes beyond ourselves.
In this season, Christians have a unique opportunity to address questions like:
How does our Christian worldview inform our financial decisions?
How much is "enough?" How do we foster a spirit of contentment while responsibly generating and managing resources?
How to model generosity for our children?
How do we structure estate plans to create a multi-generational legacy of stewardship?
This short course, taught by top-tier Christian financial experts, will equip you with a strategy to help you stay secure in this time.
View the topics for each week below:
July 7 – Give: God So Loved the World that He GAVE – Dr. Dan Lewis, The Howard Dayton School of Business at Asbury University
July 14 – Save: The Four H's of Financial Wisdom – Ron Blue, Founder of Kingdom Advisors, Ron Blue Trust and the Ron Blue Institute
July 21 – Spend: Want Vs. Need – Brandon Sieben, President and CEO of Compass and Ken Battles, Executive Director of Compass Urban Stewardship Ministries, and Dan Schilling, President of Compass North America.
July 28 – Money, Greed and God, The Christian Case for Free Enterprise – Dr. Jay Richards, Research Assistant Professor at the Catholic University of America
A half-hour Q&A is included in each session.
Can't make it on all of these dates? Don't worry: We'll send you a link so you can watch a recording at your convenience within 48 hours following the live webinar.
This short course is great for individuals, families, small groups, or even whole churches. We encourage you to share these recordings with friends, family, small groups, or churches. We simply ask that the recordings not be posted to social media or other outlets such as YouTube.
This short course is sponsored by First Southern National Bank.