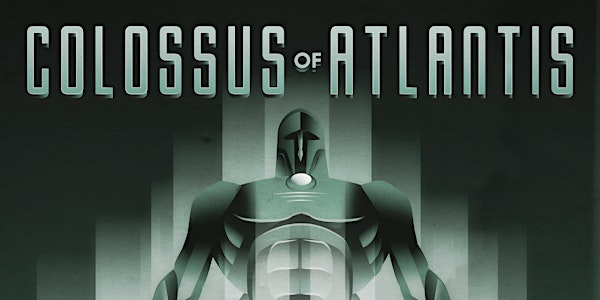 Colossus of Atlantis
When and where
Location
Seattle University Seattle, WA 98122
Refund Policy
Refunds up to 7 days before event
Description
Sing in me, O Muse, of the sunken land of Atlantis,
Of its wonder and devastation, its learning and its people
Who challenged the glory of the gods and in its hubris
Met its doom
Or did it really happen that way?
Join us for Colossus of Atlantis, a MegaGame set at the beginning of the golden years of Atlantis! You will play a noble leader of one of Atlantis' many city states. Upon your shoulders rests the responsibility of its people's well-being, their defense from monsters sent by the gods, and the representation of their interests on one of the Great Councils.
Together with the other members of your House, you seek to lead Atlantis into a brave new era of prosperity, glory, power. It may be that some small minority of seers predict doom in Atlantis' future, but you know better than to trust such naysayers.
At your disposal are the armies of your city, the strength and tenacity of its people, and the ingenuity of its artisans, particularly in building the great Colossus which stands bestride its gates when not deployed to hunt down hydra, chimera, or other such horrors. Also available to you, should you choose to walk that path, are the powerful magicks best kept from the eyes of the Gods lest they punish you for your pride.
How will you lead your people? Who among the other players will be your ally or foe? And what sort of future will you build for Atlantis?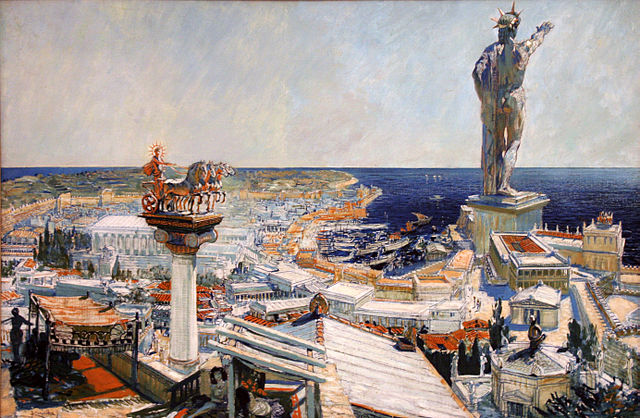 Colossus of Atlantis is a MegaGame for 42 players, designed by Dillon Burke of Red Vizier Games and produced by Seattle MegaGames. This will be its first production in Seattle, having previously been featured at KapCon in Wellington, New Zealand, and recently, at Gen Con 50.
If you've never played a MegaGame before, imagine a board game with 40 players that also happens to be a role-playing game, a social event, and a cosplay opportunity, all rolled into one. Players work in teams to achieve joint objectives while also working, secretly or not, to achieve personal goals. The rules are kept simple, and experienced control staff are present at all times to help you execute your plans.
You play one of the nobles of Atlantis, ruling a single city state in a region of Atlantis that you share with several other players. Together with five other players, you form a noble House that works together to achieve shared aims. In additional to ruling your city, you will also take on one of the following roles and represent your House on each of the Great Councils:
Basileus - Leader and Lawmaker - Council of Law

Strategos - General - Council of War

Philósophos - Scholar and Researcher - Council of Wisdom

Arkhitéktōn - Engineer - Council of Wonder

Emporos - Merchant - Council of Trade

Kataskopos - Explorer (Spy) - Council of Surveying
Finally, you may be called by your personal conscience to pursue glory, knowledge, or salvation through allegiance to one of Atlantis' learned societies or sacred cults.
Colossus of Atlantis is played over the course of a full day, split into 10-12 turns. Colossus of Atlantis will run September 24, 2017, at Seattle University.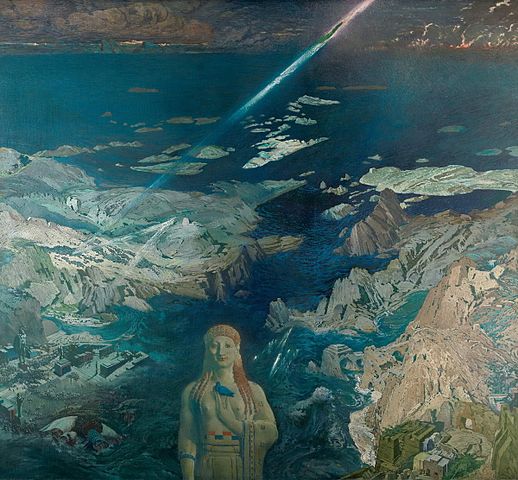 Terms and Conditions
Unfortunately, due to liability issues, we cannot allow players below the age of 18 to play. We may be prepared to make exceptions if a parent or guardian is present and playing, but in general, the game is not well suited to younger players.

We will not tolerate behavior that disrupts the game or constitutes harassment of others. If you feel that another player is harassing you or preventing you from enjoying the game, speak to a game controller. We reserve the right to take reasonable measures to address the problem, which may include warning the offending individual or, in extreme cases, ejecting them from the game. In such cases, no refund will be offered.

In particular, sexual advances of any kind are considered unwelcome by default. This is a megagame, folks, not a dating sim!
FAQs
Can I sign up a group of people as a team?
Of course! Just purchase one ticket per player and then, during payment, list the names of the people you want to play with. We'll do what we can to keep you together, but we can't guarantee anything. We'll process preferences in order of purchase, so if you book late, you might not be able to play together
Can I buy more then one ticket?
Of course. There is a limit of 10 tickets per purchase.
Do I need to know my role in a team before purchasing tickets?
No. We'll be finalizing teams and roles closer to the event. When placing your order, you'll be asked which roles you're most interested in playing. If you don't know what you want to play, that's OK. We're happy to answer any questions you might have about the various roles. We can't guarantee that you'll be assigned to your top choice, but we'll do our best to put you in your second choice if that's not possible.
What if I can't attend? Can I get a refund?
Yes. We will refund you immediately if you let us know before September 17, at 11:59pm. After that time we will only give you a refund if we're able to find someone to take your place. If you have a friend you would like to give your ticket to, we can arrange that, also. Let us know via email and we'll help you out.
How does the waitlist work?
Inevitably, some players are unable to attend. If a player withdraws from the game, we will immediately notify the first people on the waitlist that a space has become available via email, and they will have a limited window in which to purchase the newly available ticket before we notify more people. The ticket will go to whoever purchases it first.
What's the best way to get there?
Seattle University is located in Capitol Hill, and is easily accessible by bus, light rail, and car.
Seattle University is big. Where exactly is the game?
We'll be playing in the Administration Building, near Broadway and Madison. Full instructions on how to find the game will be included in your player information packet.
What's the deal with the Parking permits?
All-day parking passes for Seattle U are available for $15 on the day of. Street parking in Capitol Hill should be free on Sunday, but we can't make any guarantees about availability.
We are investigating the possibility of pre-purchased parking permits, and will advise those who indicate they need one as information becomes available.
Why do you need my email address and phone number?
We'll use your email address to send you materials before the game, and your phone number to try and track you down if you're not there when the game starts.
How many players will there be?
Colossus of Atlantis supports 42 regular players and up to 3 additional "Wandering Heroes".
I can't make this game, can you let me know about future games?
Yes! Follow us on Facebook or Twitter for news about our next event.