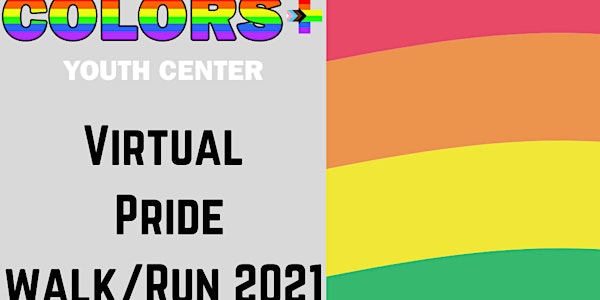 Colors+ Virtual Pride Run/Walk 2021
Colors+ Virtual Pride Run 2021 for LGBTQ+ Youth and Allies. Visit www.colorsplus.org/vpr2021 for details. Register by 5/15/2021
Refund Policy
Contact the organizer to request a refund.
Eventbrite's fee is nonrefundable.
About this event
*A virtual race is a race that can be completed from any location you choose. You can run, jog, or walk on the road, on the trail, on the treadmill, at the gym, or on the track (or even at another race). You get to run your own race, at your own pace, and time it yourself. This is for fun, so don't worry about timing yourself if you don't want to.
**Motivation is contagious. Take a picture of yourself in your race shirt during your run/walk and post it to Facebook or Instagram and tag Colors+ Youth Center and use the hashtag #ColorsVPR2021. If you do not have social media, you can enter by sending us your picture and your permission to post the picture on social media to lpepera@colorsplus.org. Remember to practice social distancing and stay safe.
Date: June 1st - July 31st 2021
Time Race will be open all times beginning on 6/1/2021 and ending on 7/31/2021
Distance: 5k run or 1 mile walk
Registration Fee: This is a fundraising event. We are asking each participant to raise $50.00. If multiple individuals from the same household are participating (between 2-4 participants) the donation amount is $100.00. Your raised funds/donation will earn you a ticket(s) for the race, a race t-shirt(s) pictured below and a free ice cream(s) at the ice cream social event on 7/31/2021. Details to follow.
Registration Deadline for June has passed.
Registration to receive a shirt by July 1st is 6/15/2021.
Funds raised from this event will go directly to programming at Colors+ Youth Center.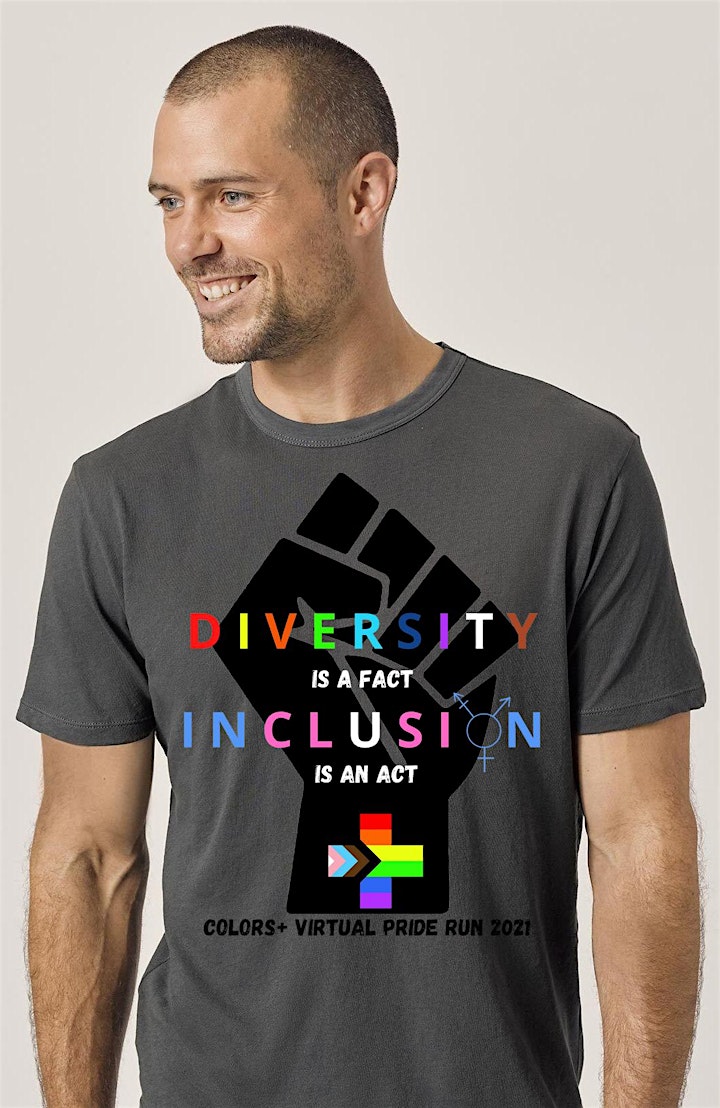 Colors+ Virtual Pride Run 2021 Waiver
I know that running in an event that is organized as a virtual activity where I run on my own, at a date and time of my choosing, in a location and running route of my choosing, which will not have any support or security measures in place by Colors+ is a potentially hazardous activity, which could result in injury or death. I acknowledge that I am participating in the activity outlined by this virtual event by my own free will and at my own personal risk. I will not participate in a virtual event unless I am medically able and properly trained, and by my signature, I certify that I am medically able to perform this event, and am in good health, and I am properly trained. I further agree to abide by the Center for Disease Control (CDC)'s recommendations for the prevention of the spread of COVID-19 and attest to having read the CDC's guidance at: https://www.cdc.gov/coronavirus/2019-ncov/prepare/prevention.html. I attest that if my community has a shelter in place order, that I will only participate in the virtual event by using a personal treadmill, and I will not run outside in the community during the duration of a shelter in place order. I agree to follow all pedestrian safety ordinances including running on a sidewalk where available and not in the road. I agree to follow the rules of the road if no sidewalk or multi-use trail is available and I will run against oncoming traffic and not with traffic.
I agree to abide by any decision of a race official relative to any aspect of my participation in this virtual event, including the right of any official to deny or suspend my participation for any reason whatsoever. I attest that I having read the rules of the virtual race scheduled for June1st 2021 through July 31st 2021 including the terms in this waiver, the timeline of the virtual event, and agree to abide by them. I assume all risks to me associated with running on my own as part of this virtual activity, including but not limited to: falls, contact with other pedestrians, the effects of the weather, including high heat and/or humidity, traffic and the conditions of the road or trail, all such risks being known or unknown and appreciated by me when out running on my own without any type of support from local officials or event organizers.
Having read this waiver and knowing these facts and in consideration of your accepting my entry, I, for myself and anyone entitled to act on my behalf, waive and release Colors+ Virtual Pride Run 2021 and Colors+, all event sponsors, their representatives and successors from all claims or liabilities of any kind arising out of my participation in this virtual event, and waive my ability to bring any legal action against the entities outlined in this waiver as I am voluntarily electing to run on my own as part of this virtual event. I grant permission to all of the foregoing to use my photographs which I may share online as part of the event, personal data provided during registration and post-event reporting, video or audio recordings, or any other record of this event for any legitimate purpose. I understand that this event does not provide for refunds in the event of a cancellation, and by signing this waiver, I consent that I am not entitled to a refund if the event is cancelled before or during the event.