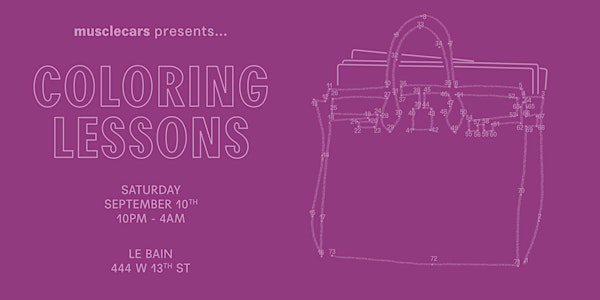 Coloring Lessons 39: Fashion Week Edition (musclecars All Night Long)
Coloring Lessons 39: Fashion Week Edition (musclecars All Night Long)
When and where
Location
Le Bain 444 W. 13th Street New York, NY 10014
About this event
Dear Extended Family,
We're so, so excited to make our return to Le Bain for the fasion week edition of Coloring Lessons. We can't wait to see your faces and your dance moves <3
RA Link: https://ra.co/events/1580497
A few other things to note:
We don't tolerate any discrimination (racism, ageism, sexism, homophobia, transphobia, etc.), harassment, violence, leering and/or non-consensual touching of any kind. If you feel uncomfortable or unsafe at any point during the party, come to the DJ booth and let us know.
Tonight's party is 21+ with valid ID.
For accessibility, there are elevators at the main entrance. Gender neutral bathrooms, and accessible bathrooms available, too. Also, seating is available on benches, and couches.
Non-alcoholic beverages are available for purchase. Water is always free.
Please step off to the side of the dance floor if you need to use your phone.
Come early / stay late :)
Can't wait to be back on the the dance floor with ya'll!