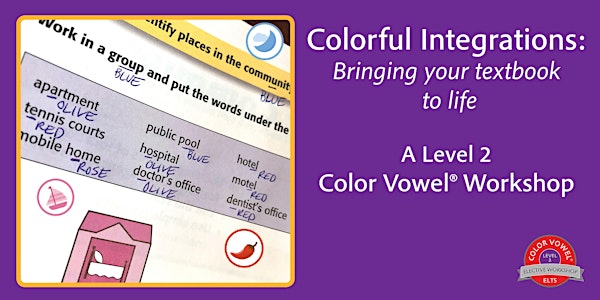 Colorful Integrations: Bringing ESL/EFL Materials to Life
Event Information
Refund policy
Contact the organizer to request a refund.
Eventbrite's fee is nonrefundable.
Good materials are just the beginning. Discover how much more is possible when you integrate Color Vowel® strategies and images!
About this event
NOTE: The January 2022 section of this course has been cancelled and is now being offered as shown here in June 2022.
Workshop Description
Does your textbook have you feeling textbound?
Are your students looking at language more than using it? 
In this Level 2 workshop developed by Karen Taylor and Shirley Thompson, you will learn practical strategies for bringing textbooks and other print materials to life. 
This Level 2 workshop is for ESL/EFL teachers who are Level 1 Color Vowel® Trained or who are currently enrolled in a Level 1 certification course. To learn more about Level 1 training options, visit our Get Started page.
Workshop Objectives
During this 4-week workshop, participants will learn to:
Identify the strengths and limitations of print and online materials;
Use Color Vowel mark-ups to enhance activities;
Adapt textbook activities to boost speaking practice opportunities;
Enhance textbook content through the use of rhythms and chants;
Create simple online activities enhanced with Color Vowel images and references.
Workshop Schedule
This course meets on Thursdays from 10-11:30 am ET (New York time) online with the following weekly themes:
June 2: Best practices for 'Color Vowelizing' your textbook
June 9: "AOA" strategies: Adapting, Omitting and Adding.
June 16: NO CLASS
June 23: Creating materials and activities
June 30: Teaching beyond the textbook
All sessions occur online through Zoom, are recorded, and are posted in a private YouTube playlist for those who have to miss part or all of a session. The workshop is designed for live interaction but can be taken asynchronously with permission from Color Vowel. Contact us at customersupport@colorvowel.com if you have questions.
Curriculum and Materials
We refer to The Color Vowel Approach (book), The Color Vowel Chart (graphic), and Blue Canoe (our AI-powered, Color Vowel-infused app) in all of our courses and workshops.
Assignments
Following each weekly session, participants are assigned practical, performance-based tasks. Basic technology skills will feature prominently in this course, including working with Google Docs, Google Slides, JamBoard, and various free tools. If you don't already know how to use a given tech tool, this will be your opportunity to learn!
Certificate
Upon successful completion of this course, participants will receive a Level 2 Workshop Certificate reflecting 6 hours of professional development. Learn more about Color Vowel® certification levels.
Date and time
Location
Refund policy
Contact the organizer to request a refund.
Eventbrite's fee is nonrefundable.
Organizer of Colorful Integrations: Bringing ESL/EFL Materials to Life
English Language Training Solutions (ELTS) is publisher of The Color Vowel® Chart and the exclusive training provider for the Color Vowel® Approach.
We take the "Solutions" part of our name seriously. ELTS co-founders Karen Taylor and Shirley Thompson have solved a problem that has underscored the teaching of English for literally centuries: namely, the gap that divides our spoken language from its written form.
The problem of learning English is multifaceted:
1. English is a stress-timed language, yet the complex phenomenon of stress is mostly hidden from conscious noticing. Without training, many teachers and students work fruitlessly on the surface features of pronunciation while missing or underestimating stress as the single most important feature of spoken English. ELTS delivers breakthrough phonological awareness training in every Color Vowel® workshop. 
2. English is not a phonetically-written language. Words like cough, tough, though and through look similar but all sound different, while words like through, new and true look different but rhyme nonetheless. The Color Vowel® Chart solves this problem by flipping the traditional phonics approach, starting instead with phonemic stress as the fundamental touchstone for learning English.
3. Conventional terminology used for teaching English is misleading: 'long' and 'short' vowels are vestigial terms that describe phonemic features of Middle English but which are mostly meaningless in the context of Modern English. The Color Vowel® Approach establishes an easily accessible yet linguistically accurate language for talking about the vowel sounds and behaviors of spoken English.
With our innovative tools and techniques, ELTS is changing the way people talk about English, enabling teachers and learners to fuel progress with language awareness found through the use of concrete, high-yield learning strategies. Welcome to the Color Vowel® Approach!