ColorComm x Walton Family Foundation Present: From Trust to Impact
Join us for a conversation on trust and impact with philanthropic communicators from leading institutions.
About this event
Moderator:
Meredith Moore, External Communications and Media Relations for Cleveland Avenue and the Cleveland Avenue Foundation for Education (CAFE)
A seasoned communications leader and corporate speechwriter for more than a decade, Meredith has worked with c-suite executives at Lincoln Financial Group, McDonald's, 3M, and Comcast to bring corporate values to life through communications. Meredith's writing explained McDonald's corporate commitment to advancing women globally, resulting in the corporation receiving the prestigious Catalyst award in 2011.
Panelists:
Kristen Mack, Managing Director, Communications, John D. and Catherine T. MacArthur Foundation
Kristen is the organization's senior-most communications expert, managing a comprehensive strategy designed to strengthen MacArthur's reputation, the impact of the organizations it supports, and the communities they serve. Kristen puts storytelling at the center of all of her work and is committed to identifying compelling narratives that amplify individual and collective voices.
Vidya Krishnamurthy, Director of Communications, William and Flora Hewlett Foundation
Vidya Krishnamurthy is responsible for conceptualizing, developing, and implementing communications strategies that help achieve the foundation's institutional and programmatic objectives. A member of the foundation's senior staff, she leads a team of professionals in the facilitation and enhancement of the work of programs, senior leadership, partners, and grantees, through strategic counsel on communications grantmaking and a range of communications tactics, including digital content strategy, media relations, publications and thought leadership.
Michele Moore, Vice President of Global Communications, Ford Foundation
Michele Moore oversees all aspects of strategic communications across the foundation's 11 offices in the United States and abroad. Prior to joining Ford, she served as chief communications officer at the American Civil Liberties Union (ACLU) during a time of rapid expansion at the organization. Under her stewardship, the ACLU's press coverage, social media following, and membership grew dramatically, which led to her recognition on PRWeek magazine's 2017 and 2018 Power Lists as one of the top communications professionals in the US—as well as to her induction into the PRWeek US Hall of Fame in 2019. With more than 25 years' experience, spanning the nonprofit, government, Fortune 500, and academic sectors, Michele has vast expertise in delivering effective communications strategies in high-stakes media environments.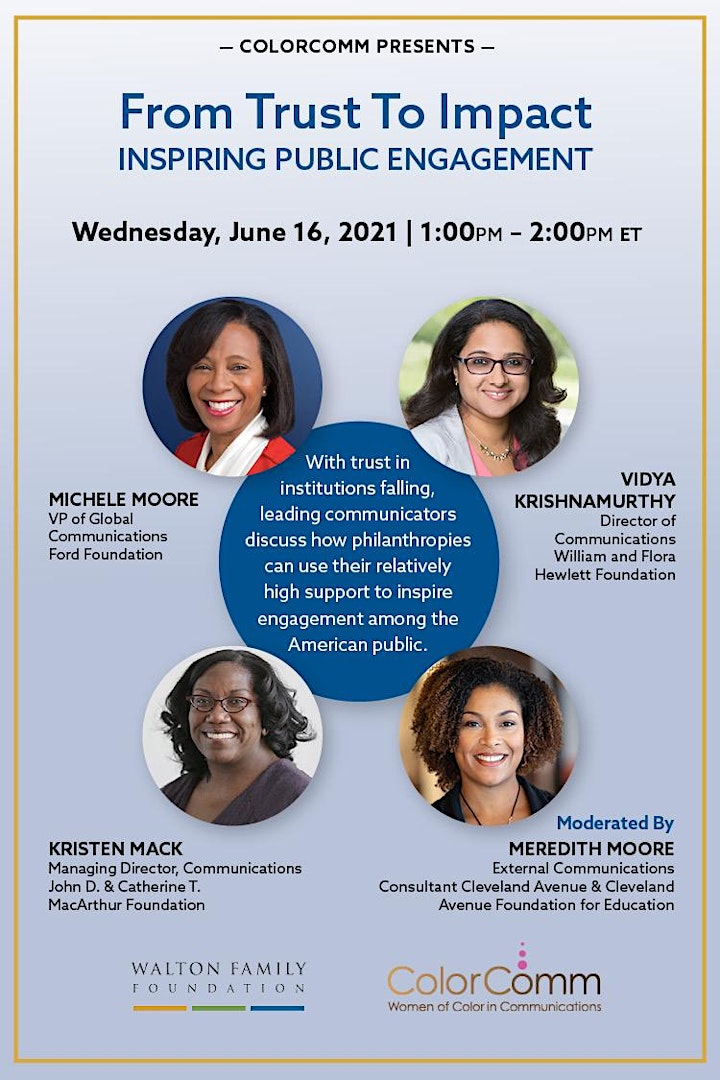 Organizer of ColorComm x Walton Family Foundation Present: From Trust to Impact
The ColorComm mission is to personally connect women with other like-minded individuals to build a strong network of leaders by creating mentors/mentees, business relationships and friendships. ColorComm offers a unique opportunity for women to share experiences and learn from one another to enhance their personal and professional development.