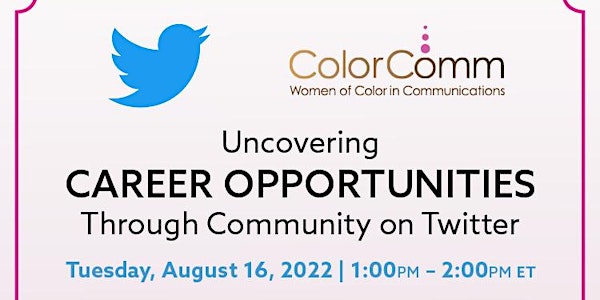 ColorComm x Twitter Present: Uncovering Career Opps with Twitter Community
Join the conversation on Twitter Spaces #CommunityFueledCareer
About this event
**The conversation will take place on Twitter Spaces @ColorCommNtwk.**
**Must rsvp to receive the link in an email ahead of the conversation.**
**You will need to use your Twitter handle to access the convo on Twitter Spaces.**
Social media platforms are flooded with posts about how to get a job in the tech industry. There is, however, little discussion about the impact that a strong community can have on one's career in tech. The power of community can transform lives and propel us to our next level. This panel highlights 5 women who have built or stewarded a strong community to build a meaningful career path in technology.
Moderator:
Amin Ameen - Senior Product Marketing Manager - Global Consumer Products, Twitter
Amin began her career as an Engineer, and worked as an individual contributor and People manager in Engineering for over a decade before she transitioned into consulting and entrepreneurship focused on Product. She is currently a Senior Product Marketing Manager at Twitter. She deeply believes in the power of community and has built her own communities on various platforms amassing a supportive community of over 79,000+ Engineers, developers, freelancers, creators and entrepreneurs through one hashtag #EverythingNaArt.
Panelists:
Helen-Sage Lee - Program Manager, Identity Operations, Twitter
Helen-Sage is a women's rights organizer, activist, entrepreneur, and thought leader behind the #EndtheTamponTax movement throughout California. She's worked on the ground on state policy to help push several bills to end gender discrimination in the tax code and digitally organized over 36,000 people throughout the world. After going viral and dealing with internet trolls in online forums, she became fascinated by the concept of identity and protecting people's ability to authentically express themselves in an internet-dominated world. This led to her work at various tech companies, specifically for Identity & Safety Ops teams, where she's caught, investigated, and studied trending hijackers impacting the safety of young users. Helen-Sage enjoys serving in her role at Twitter as she is passionate about user safety, privacy, free speech, and creating spaces where people can be their most authentic selves.
iAsia Brown - Senior Producer, XBox
iAsia Brown also known as "The Tech Picasso" is a self-proclaimed, "Coolest Nerd You'll Ever Meet". She is currently a Senior Producer at Xbox. Her superpower is connecting with people and helping them unlock or tap into pieces of themselves they didn't know existed, while creating safe spaces for people to communicate. iAsia came to Microsoft after serving 12 years in the Marine Corps, 4 in the Air Force and is a combat veteran.
Micah Kimberley - Assistant Managing Editor - Afrotech, Blavity Inc.
Micah Kimberley is a journalist residing in the east coast. The Michigan State University graduate currently works as the assistant managing editor, managing all things relating to Black and pop tech at Blavity Inc.'s AfroTech.
Pariss Chandler - Founder & CEO of Black Tech Pipeline
Pariss Chandler is mobilizer of the hashtag, movement and community #BlackTechTwitter, and Founder & CEO of Black Tech Pipeline which is a service based platform bringing exposure, resources and job opportunities to Black technologists by partnering with various companies and institutions to bring this to life.