ColorComm Miami Presents: Socialite with Special Guests Dr. Tracy Timberlak...
Description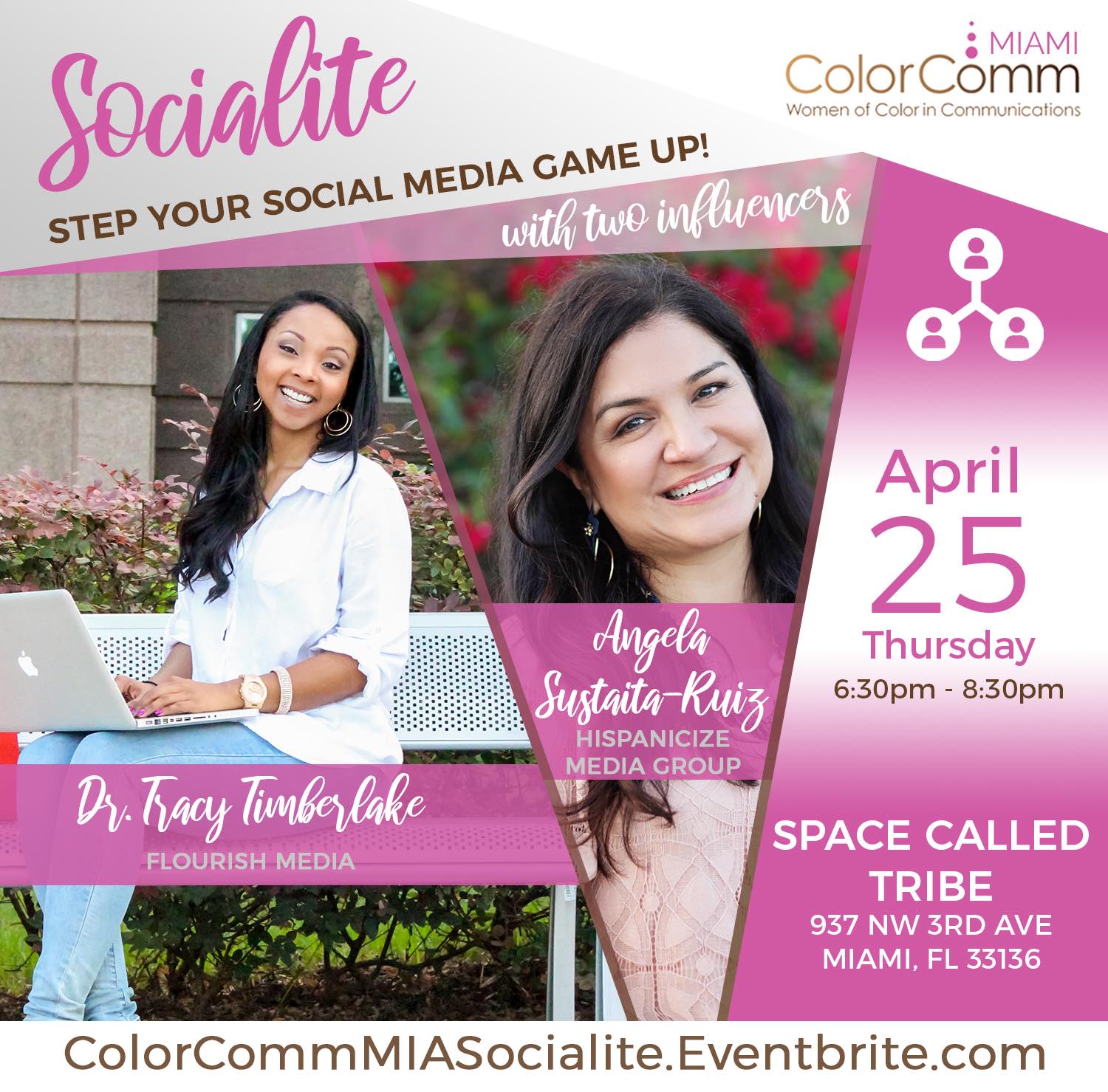 Social media is not just important for your personal life, it is also a great tool for businesses or anyone trying to develop their professional network or look for employment opportunities.
Join us on April 25th to learn social media strategy tips from Dr. Tracy Timberlake, award-winning digital strategist, speaker, author, online course creator and co-founder of the Flourish Media Conference, and Angela Sustaita-Ruiz, co-founder of Hispanicize Media Group (HMG) and the annual Hispanicize Event.
From humble beginnings as a YouTube Beauty Vlogger, Dr. Timberlake went from making videos on her bathroom floor to being a pioneer and industry expert in the field of digital entrepreneurship. With over 70,000 followers, 3.1+ million video views and a Doctorate in leadership, she focused her academic study specifically in the area of women, online entrepreneurship, and business coaching. She is sought after for her ability to mobilize leaders, entrepreneurs and influencers. Her job: to help them turn their professional skills into a personal brand and leverage the power of the digital world to increase impact and income. Her work has helped put Miami, FL on the map as being the #1 city for entrepreneurship and start-up ventures. Dr. Timberlake has collaborated with Forbes, been featured in The Huffington Post, Entrepreneur Magazine, NBC, iHeartRadio, and more. She has also worked with brands such as Alvin Ailey Dance Theater, L'Oreal, Turkish Airlines, Marc Jacobs, and Cosmopolitan Magazine.
As the co-founder of HMG, Angela works with leading brands and advertisers to navigate the rapidly evolving, $1.7 Trillion U.S. Hispanic market by offering paid digital influencer campaigns, brand integrations, celebrity endorsements, digital marketing and branded experiential offerings. HMG also owns and operates the iconic Hispanicize Event, the annual event for Latino and multicultural trendsetters and newsmakers in digital content creation, journalism, marketing, entertainment and tech entrepreneurship. In addition to the event, HMG owns and operates DiMe Media, a national network of Latinx content creators, and digital publishing platforms Hispanic Kitchen and Latina Moms. HMG also offers original, engaging, culturally relevant content distributed across a social media audience of 300 million fans and a roster of 1,400+ celebrities, digital influencers and creators.