ColorComm DC Presents: Brunch 'n Love w/ Codie Elaine Oliver
Description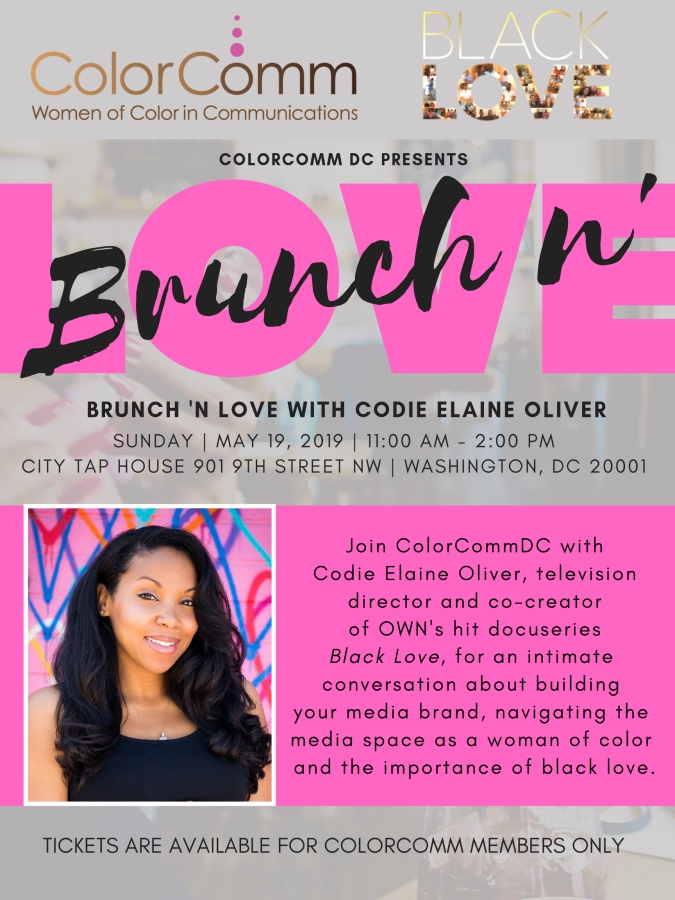 We invite you to join us for Brunch 'n Love with Codie Elaine Oliver, television director and co-creator of the Oprah Winfrey Network's hit docuseries, Black Love, for an intimate brunch and conversation about building your media brand, navigating the media space as a woman of color and the importance of Black love.
This event is open to ColorComm members only. All tickets will be verified by our membership records.
About Codie
Codie Elaine Oliver is a film and television director, as well as a Partner at Confluential Films, a production company she shares with her husband Tommy Oliver. She co-created and currently directs "BLACK LOVE", an NAACP Image Awards-nominated series going into its third season. The show debuted as the most-viewed unscripted series in the history of the OWN Network. In 2017, they launched BlackLove.com, where Codie serves as Editor in Chief, to give voice to all things love in the Black community. Before becoming an independent filmmaker, she worked in feature film development at Fox Searchlight Pictures and produced numerous labs and events at Film Independent, The Los Angeles Film Festival, and the Independent Spirit Awards. Codie, a graduate of Howard University and USC's Peter Stark Producing Program, began producing independently in 2014. Confluential Films is devoted to creating and championing projects that are inclusive and celebrate our shared human experience. She's also a mom to three boys, learning every day how to find balance between entrepreneurship and family.
Brunch Menu
First Course
Served Family Style
Burrata & Toast
Marinated greek veggies, chives, balsamic vinegar, lemon zest
Israeli Hummus
red pepper and olive relish, extra virgin olive oil, flatbread
Second Course
Guest's Choice
Pork and Sweet Potato Hash Skillet
BBQ pulled pork, sharp cheddar, sweet potato, onions, peppers, poached eggs, grilled bread
Banana Cream Pie French Toast
Banana custard, brioche, caramel sauce, brûlée banana, whipped cream
Brewer's Breakfast
Two eggs any style, tater tot hash, broiled tomato, kielbasa & smoky bacon, buttermilk biscuit
Chicken & Waffles
Maple syrup, red pepper jam, honey-thyme butter
Dessert Course
Chef's Selection of Family Style Sweet Treats
**Menu includes non-alcoholic beverages. Alcoholic beverages may be purchased separately with the server.
**Refund Policy: Guests have until Friday, May 10, to request a refund. No refunds will be granted after this date. If you are unable to attend, your ticket can be transferred to another ColorComm Member. Please email Whitney Parker, ColorComm Program Director, at whitney.colorcommdc@gmail.com to request a refund or to transfer your ticket.
**Waitlist: If this event sells out, members have the option of being added to the waitlist. If a spot becomes available, you will be notified via email by Eventbrite and given 24-hours to make your purchase.