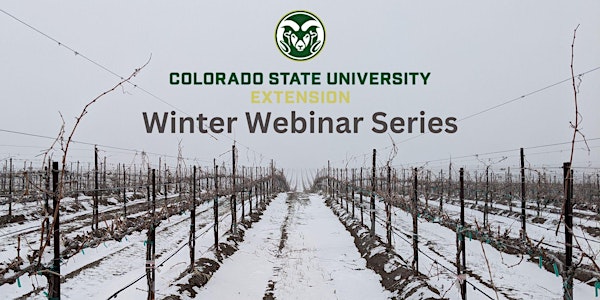 Colorado Viticulture Winter webinar series - UVC powdery mildew control
"Lunch and Learn" series of webinars focused on issues, pest and disease updates, and technology of interest for the Colorado wine industry.
About this event
Looking for new and innovative ways to control fungal disease in your vineyard? Join the CSU Viticulture Extension team and Lexie McDaniel as she explains her work using UVC light exposure as a residue-free alternative to chemical powdery mildew control in Washington vineyards.
The event will be held Virtually and take place on February 2nd from 12:00 PM – 1:00 PM Mountain Time.
Preregistration is required to receive Zoom log-in information.
Registration closes February 2nd at 11:00AM to allow time for delivery of Zoom information.
Speaker Biography
Lexie McDaniel is a Horticultural Ph.D candidate, expected to graduate in July 2023, at WSU research and extension center in Prosser, WA. She is a Washington state native and received her BS in Horticultural Science from Oregon State University in 2017 where she gained an interest in sustainable agriculture. In 2021, Lexie became a recipient of a Foundation for Food and Agriculture Research Fellowship, a program to foster public-private partnerships for innovative agricultural sustainability research. Her Ph.D. research focuses on alternative pest management technologies for grapevine powdery mildew.
Contact Information
For more information on the workshop please contact: Dr. Charlotte Oliver (charlotte.oliver@colostate.edu) and Dr. Horst Caspari (horst.caspari@colostate.edu)
Anyone attending this program who requires auxiliary aids or services, please contact Charlotte Oliver at 434-298-7482 or charlotte.oliver@colostate.edu
Agenda
12:05 PM
Quick updates and Speaker introduction
12:45 PM
Questions for the speaker