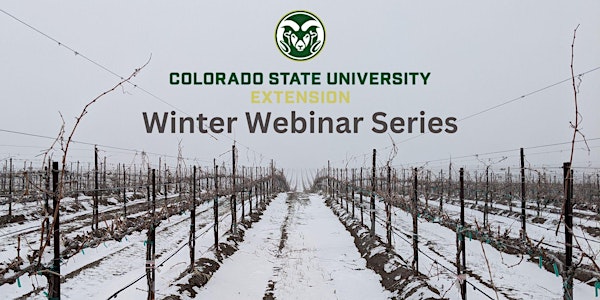 Colorado Viticulture Winter webinar series - Japanese Beetle updates
"Lunch and Learn" series of webinars focused on issues, pest and disease updates, and technology of interest for the Colorado wine industry.
By CSU Viticulture Extension
Date and time
Thursday, April 27 · 11am - 12pm PDT
About this event
What is Japanese beetle and why should vineyard owners care? Join the CSU viticulture team and Mel Schreiner as she provides an update on the detection of a Japanese beetle breeding population found July of 2022 in Grand Junction. Japanese beetle history, identification, biology, life cycle, and current management efforts will be discussed.
The event will be held Virtually and take place on April 27th from 12:00 PM – 1:00 PM Mountain Time.
Preregistration is required to receive Zoom log-in information.
Registration closes April 27th at 11:00AM to allow time for delivery of Zoom information.
Speaker Biography
Mel works as a state entomologist for Colorado State University Extension, focusing in the Tri-River Area (TRA) of Colorado. Her program helps to solve agricultural, urban, public health, and natural resource issues relating to pest management and entomology in Western Colorado. The TRA entomology team conducts several annual CAPS surveys monitoring for exotic pests in stone fruit and grapes. Mel also runs several diverse programs that support community members, master gardeners, producers, extension agents, pest management professionals, with the provision of insect/plant damage diagnostics and insect education. Please reach out to Melissa.Schreiner@colostate.edu if you have questions concerning arthropods in the TRA or on the western slope of Colorado. Mel's direct line at the Mesa County office is 970-244-1838.
Contact Information
For more information on the workshop please contact: Dr. Charlotte Oliver (charlotte.oliver@colostate.edu)
Anyone attending this program who requires auxiliary aids or services, please contact Charlotte Oliver at 970-241-3346, ext. 105 or charlotte.oliver@colostate.edu
Agenda
12:05 PM
Quick updates and Speaker introduction
12:45 PM
Questions for the speaker