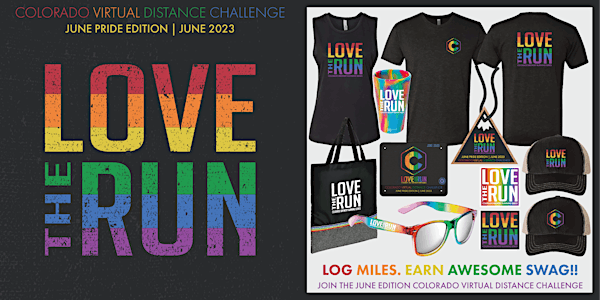 Colorado Virtual Distance Challenge | June Pride 2023 | Run+Walk+Hike+Bike
The Colorado Virtual Distance Challenge. The more you run/walk/hike/bike, the more you earn, during our June Pride 2023 Challenge!
By Colorado Brewery Running Series
Date and time
May 31 · 11pm - June 30 · 10:59pm PDT
About this event
29 days 23 hours

Mobile eTicket
The Colorado Virtual Distance Challenge is back for June 2023, with our Pride Edition. Join us virtually to run, walk, hike, and bike as many miles as you can throughout the month! A portion of all proceeds will go to The Center on Colfax, whose mission is engaging, empowering, enriching, and advancing the LGBTQ community of Colorado.
Your miles will accrue cumulatively during June, with mileage rewards at 25, 50, and 100 total miles (see below for more info on how mileage works, as well as full swag item descriptions).
Brought to you by the Colorado Brewery Running Series (BRS), our June Pride Colorado Virtual Distance Challenge will help you stay active & accountable, provide some fun motivation, and allow you to earn awesome swag/gear along the way. June will be our 37th consecutive virtual challenge month since our first Challenge in April 2020 -- over the past 2 +years, our 11,700+ participants have collectively logged over 1,200,000 miles!
The Challenge will last from June 1-30, 2023. Register any time leading up to (or during) the month of June. Your furry friends are welcome too! Also, check out our 'Fun Run' ticket!
You can do any & all of the following activities: run, walk, hike, and bike (treadmill and stationary bike miles count as well). As our challenge is based on 25, 50, and 100-mile goals, we will adjust your biking miles to the industry-accepted equivalent of 1 mile on foot equals 3 miles on a bike.  Please see more details below.
Reach various 'combined equivalent' mileage milestones (25, 50, 100) and unlock awesome custom rewards designed by CO BRS. Full swag descriptions below, with pictures above (also see our social media for more images).
Your participation will also help us donate to a great organization - 10% of all proceeds will go directly to The Center on Colfax, whose mission is engaging, empowering, enriching, and advancing the LGBTQ community of Colorado. Our hope is to support all of our running family, no matter sexual orientation or gender identity.
Join all 6 planned 2023 Challenges to collect your commemorative Colorado Virtual Distance Challenge medals (each individual medal measures ~3 inches x ~3 inches)! As a fun motivator to stay active throughout 2023, we've designed a collectible swag keepsake you can build on to throughout the year. We have 6 different Challenges planned for 2023, and each Challenge will include a different triangular medal piece-- put them all together on the magnetic base and complete your hexagon medal frame (total size measures ~7 inches x 7 inches with frame)! Each triangular piece will be included with the Challenge's Registration goodies. The magnetic medal base frame is available as an Add-On through the Eventbrite ticketing page (and soon will be available on our online Merch store).
HOW THE CHALLENGE WORKS:
Register for this event on Eventbrite
Upgrade (optional): If you like, upgrade to VIP Silver to receive the Love the Run unisex fit t-shirt or contoured racerback tank, OR upgrade to VIP GOLD to receive all of the June swag items + more!
Furry friends add-on (optional): Do you have a furry friend who joins you on your runs/walks/hikes/bike rides? Add on a medal with your pet's name custom wood-burned on the back!
Download the Colorado Virtual Distance Challenge app, where you will self-report your daily mileage (on the honor system), track toward your 1-month June Challenge mileage goal, see the total miles logged by the entire Challenge group, track mileage from your friends/family, and see who is leading the pack with the most miles. App download details and instructions will be sent via email on May 31st (or, if you register during June within a few hours of when you register - we manually send these emails, so thanks for your patience!)
Strava: We recommend using Strava to track your daily miles. Once you join Strava (it's FREE!), you can then follow this link to join our Colorado Brewery Running Series club - https://www.strava.com/clubs/cobrs
Work hard to reach each mileage level! Run/walk/hike/bike (treadmill and stationary bike miles can be counted.)
Earn your goodies: The more you run/walk/hike/bike, the more awesome rewards you will earn!
Get your rewards/swag: These will be available in early/mid-July. We may get add-on apparel in sooner - in which case we will have this available for in-person pick up at various of our June 5k in-person events. If this is the case, we will email details!
DURING THE MONTH-LONG CHALLENGE:
Track your miles in the June Colorado Virtual Distance Challenge app
We recommend using Strava to track your miles, and it is possible to link most current devices (app/watch/or via manual entry) to Strava.
All registered participants can log miles from June 1 until June 20, 2023.
Earn rewards throughout the month as your hit mileage milestones (25, 50, 100 miles)
Tag us on Instagram and Facebook @cobreweryrun and use the hashtags #covirtualchallenge, and #cobrs2023
Keep an eye out for emails and social posts from us with weekly challenge stats/updates during the month.
Registration is open all of June, but the earlier you register, the sooner you will reach your mileage rewards!
And as always, be sure to enjoy your post-run/walk cooldowns with a tasty Colorado craft beer!
THE REWARDS:
The June swag items are custom-designed and feature our original Love the Run rainbow design -- colors include shades of red, orange, yellow, green, blue, purple, black, white, gray, and wood tones.
Registration: Colorado Virtual Distance Challenge souvenir bib and 2023 commemorative medal #3 (collect all 6 in 2023). This medal #3 features our Love the Run design. Note: the medal has a small magnet on the back.
25 miles: Souvenir stickers (1 black design + 1 white design) and rainbow sunglasses, featuring 'Love the Run' on the side arm.
50 miles: A 16" x 17" foldable tote. Great for groceries, errands, travel, etc. The tote deisgn has black on top (with 'Love the Run' in white), charcoal gray on the bottom. and a rainbow stripe detail in between.
100+ miles: Your choice of hat designs! (Or a Merchandise credit) Both hats are the same Garmet Washed Trucker Cap (which features a low-profile fit) in a faded black front, with natural/khaki back. And you can choose from two designs, either: (1) an embroidered 'Love the Run' horizonal rainbow design, OR (2) a black sewn-on patch with a vertical rainbow 'C'. OR (3) If you'd prefer not to have a hat, you can also select a $25 CO BRS Merchandise Credit as your 100-mile prize instead of a hats. Check out our merch at cobreweryrun.store
UPGRADES, ADD-ONS, ALTERNATIVE TICKET OPTIONS:
VIP Silver Upgrade at Registration: Add on your choice of June Love the Run Pride apparel -- choose from either: (1) a Next Level tri-blend unisex-fit t-shirt (with small rainbow C on front chest, and our Love the Run rainbow deisgn on the back). Fit is true to size - tri-blend is super soft and should not really shrink. T-shirt color is Vintage Black. OR (2) a Bella Canvas contoured-cut muscle tank top in a cotton/polyester blend (with rainbow Love the Run deisgn on the front). The tank has oversized, longer armholes, a slightly relaxed (not too loose but not too tight/fitted either), lean, straight fit (a touch roomier at hips) with a slight tail drop hem in the back. The tank color is a Heather Black.
VIP Gold Upgrade at Registration: Receive all of the goodies, no matter how many miles you're able to log! We still encourage you to strive to log 100 miles in June, but we get it, life is busy. Not everyone has the time to run/walk/hike/bike the equivalent of 100 miles in a month. If this sounds like you, and you still want all of these awesome goodies, then the VIP Gold Registration is just the ticket! Receive the following with VIP Gold: (1) Registration Bib + Commemorative Medal #3, (2) Stickers + Sunglasses, (3) Rainbow Stripe Love the RunTote Bag,(4) Trucker Hat, (choice of Love the Run or C) (5) $25 CO BRS merchandise credit, (6) VIP-GOLD exclusive rainbow Silipint (7) Choice of June Challenge unisex-fit t-shirt or contoured-cut muscle tank.
Fun Run Ticket (Basic Ticket): Want to join the Challenge, but are interested in something more streamlined without all of the goodies? The Fun Run Ticket is a more basic option: no matter how many or few miles you do, you get four swag items: (1) the Challenge bib, (2) Commemorative Medal, (3) the Challenge stickers (black + white designs), and(4) rainbow sunglasses. You'll still get access to the Challenge app (where you can log your miles if you like), plus receive our Challenge emails.
Furry Friends Add-On: Have a four-legged buddy who walks/runs/hikes/bikes with you? Add on a custom medal for your furry friend!
Scroll down for more/larger photos of each of the swag/merch items. Or check them out on our Instagram page @cobreweryrun
SWAG PICK UP / SHIPPING:
All Swag items will be available in early/mid-July, once we receive all items. We will have the following delivery options. Dates/times/locations of the pickups will be announced in late June / early July via email and social media posts.
(1) You can pick up items in-person a specified July in-person 5k event (date TBD - once we receive all swag items)
(2) Or we can mail items to you: either if you live out-of-state / outside the Denver Metro area, or are unable to attend the in-person 5k pick-up sessions, your rewards/swag will be shipped to you in mid-November (exact dates TBD).
For any add-on apparel items (t-shirts/tanks): we may get these into us earlier than the swag reward items. If this is the case, we will have the option to pick up these add-on items at in-person 5k events in June. We will notify you of this option via email if we indeed get these apparel items in earlier than expected!
FREQUENTLY ASKED QUESTIONS:
And other fine print details
(1) Where can I run/walk/hike/bike? Run/walk/hike/bike far and roam wildly. Whenever and wherever you would like. Keep safety in mind, but go explore the great outdoors!
(2) What time does the event start? Feel free to run/bike/hike/walk any time of day, every day that you are able, from June 1 until June 30, 2023.
(3) How do I submit my miles? All miles will be self-reported in the June Colorado Virtual Distance Challenge App. At the end of May, and throughout June (for those who register later) you will receive information via email with instructions for downloading and using the app. It's super quick & easy to use the app... we promise!!
(4) Do I HAVE to use Strava? Yes and no. We will mostly be using Strava to verify the runs and rides that you are self-reporting. If you currently do NOT use it, please signup for a FREE account here. Then you can link whatever app you do use and never log in again. Almost any app or watch can link straight to Strava. Click Here to see how to link your device. If you are unable to use Strava, we will accept photos or screenshots from any other fitness tracking device, watch, or app throughout the month to make sure you are honestly reporting your miles.
(5) Where can I join the Colorado Brewery Running Series Strava club? HERE!
(6) I like both the t-shirt and tank top -- how can I purchase both? Easy - just shoot us an email and let us know! We will send payment details for the additional item (t-shirt or tank top). brady@breweryrunningseries.com
WHAT ELSE?
Tag us in your run/walk/hike/bike/beer drinking photos on Instagram or Facebook throughout the Challenge for a chance to be featured in our posts and stories!
Tag us @cobreweryrun and use the hashtags #covirtualchallenge, #cobrs2023
Keep an eye out - we will send you challenge updates and discount deals throughout the month via email and social media!
Questions? Contact us at brady@breweryrunningseries.com
Cheers to staying active this fall, and hopefully enjoying some delicious craft beers along the way! We'll see you out there in the virtual running/walking/hiking/cycling and beer drinking world!
About the organizer
The Colorado Brewery Running Series is about inspiring Coloradans to Be Active, Have Fun, and Give Back.
We host untimed family-friendly 5K fun runs that start and end at some of Colorado's best breweries. Participants walk, jog, or run approximately 3.1 miles, then drink beer! Everyone is invited to enjoy the day's entertainment: live music, great food, giveaways, and activities with partners and sponsors. Everyone receives a craft brew, and collectors pint glass or seasonal swag item. A portion of proceeds from each event helps support local Colorado non-profits.
We also host the Colorado Virtual Distance Challenge - a monthly, monthlong virtual challenge that allows you to earn rewards based on the number of miles you run throughout the month.