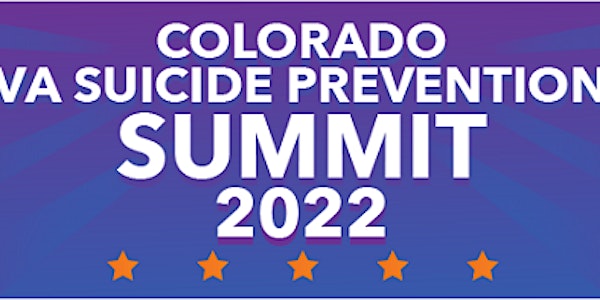 Colorado VA Suicide Prevention Summit 2022
The Colorado VA Suicide Prevention Summit 2022 is a virtual conference held each year during Suicide Prevention Awareness Month.
About this event
This virtual Summit focusses on the ongoing battle with Veteran and Military suicide.
Combatting suicide is challenging but possible. Support that reduces suicidal thoughts and behaviors is key to preventing suicide.
This summit brings together:
• Veterans
• Military - Active Duty, National Guard & Reserves
• Loved ones
• Health care providers
• Advocates
This free summit explores the efforts and services of state, local, community and Veterans Affairs (VA) that support Coloradans who have served our country.
Reach out. Together we will act as one Military family to save and improve the lives of Veterans and Service members.
Date: Wednesday, September 7th, 2022
Time: 9:45 a.m. to 2:30 p.m. MT
Location: Virtual
Who: Veterans, Military, their loved ones and supporters
9:45 a.m. to 10:00 a.m. MT
Welcome & Opening Remarks
Session 1
10:00 a.m. to 10:50 a.m. MT
Community Suicide Postvention Care
This session highlights Mesa County, Colorado where the Coroner's Office created a Suicide Loss Coordinator position to strengthen community Suicide Postvention care.
Session 2
11:00 a.m. to 11:50 a.m. MT
Voices in Recovery: The Power of Veteran Peer Support
This session presents a panel of VA and community Veteran Peer Support staff sharing their own recovery stories and answering questions from attendees.
Lunch Break
11:50 a.m. to 12:30 p.m.
Session 3
12:30 p.m. to 1:20 p.m.
State Resources for Colorado Veterans and Their Supporters
This session spotlights Colorado suicide prevention initiatives that provide support including upstream approaches meant to improve mental health and well-being before a crisis evolves.
Session 4
1:30 p.m. to 2:20 p.m. MT
Whole Health: An Integrated Approach to Wellness
This session covers personalized plans that support your health and wellness.
2:20 p.m. to 2:30 p.m. MT
Closing
For more details go to website: Colorado VA Suicide Prevention Summit 2022 - MIRECC / CoE
Questions? Contact Ben Kremer at benjamin.kremer@va.gov