Description
Senior Day at the Capitol 2019
Presented by Colorado Senior Lobby
When: Wednesday, March 13, 2019
Time: 8:00AM - 12:30PM
Where: Scottish Rite Masonic Center
Address: 1370 Grant Street, Denver, CO 80203
Meet legislators, elected officials, Senior Day Sponsors, learn about what is in store for older Coloradans in 2030, and potential future legislation.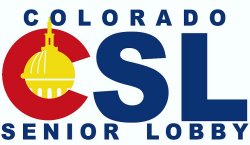 Nearly 25% of the people of Colorado are over the age of 60 - together we can become a BOOMING voice. Colorado Senior Lobby with you on board works to improve the health and well-being of Colorado's older adults. Become a participant in the policies impacting your life.
With the entire 2019 Senior Day at the Capitol event being at the Scottish Rite Masonic Center, there is room for everyone to be comfortably seated! The Masonic Center is conveniently located across from the Capitol!
Show your support and buy your ticket today!