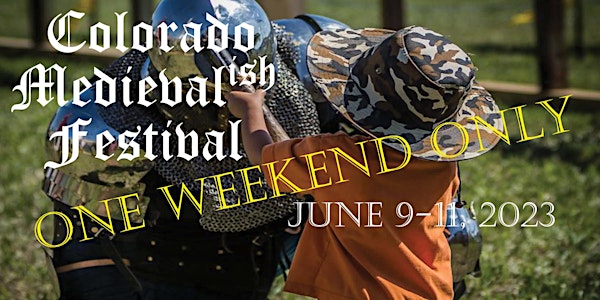 Multiple dates
Colorado Medieval Festival-2023
The Colorado Medieval Festival (IRL) June 9-11, 2023, west of Loveland. Zoom your way into a real life event c/o The Savage Woods!
Date and time
June 9 · 3pm - June 11 · 6:30pm MDT
Location
The Savage Woods 1750 Savage Road Loveland, CO 80538
About this event
The Colorado Medieval Festival will be June 9th, 10th and 11th just west of Loveland in The Savage Woods 1750 Savage Road, Loveland, CO.
Friday the festival will open at 3pm and close at 6:30pm. Saturday and Sunday will open at 10am and close at 6:30pm.
Heavy armored knights on war horses knocking each other off with lances on the jousting field as the famed Knights of Mayhem join the festival! On top of the Knights of Mayhem, our Battle Arena will host knights from around the realm in Armored Combat!
Between jousting matches the festival is showcasing local live musicians; line up to be announced in early March. This realm is not complete without magic and monsters, belly dancers, princesses and fairies.
Could it be? Yes, we see! AERILISTS taking a swing.
Whoosh! Was that a MERMAID?!
Of course, there will be food and local breweries commissioned to bring the finest cider, mead and beer. Exceptional artisans return for your shopping pleasures. Did we mention the creatures of Hallows Eve? No? A bunch of haunters who adopted a Medieval Festival... it is 2023 and the world is a little... well, you know.
Fort Collins' own Life of the Party will be hosting the annual Colorado Medieval Festival COSPLAY Contest. More fun is added everyday. Make plans to come and play at the Colorado Medieval-ish Festival, not your normal Ren-Fest!
Regular admission to the festival is $20 per person, $8 for 6 to 12, children 5 and under are free. Parking is FREE. 1750 Savage Road is 2 miles west of Loveland, the 2nd right hand turn off of Glade Road.
We know that your dog is the most special in the whole wide world and that you should have the exception to our no pet policy because you are soooooooo special. More than anyone else EVER!!! We appreciate your entitled attitude and will make a special item just for you! The Savage Woods is not an appropriate place for your dog!! Our torqued off neighbors really DO NOT WANT YOUR DOG HERE! Even your "really, really, really good dog". Just ask the pissed off livestock and dead chickens.
Still insist on bringing your dog? Tickets are only $20,000!!! LEAVE YOUR DOG AT HOME!!
About the organizer
 The Savage Woods, just west of Loveland with the Devil's Backbone as a backdrop, hosts one-of-a-kind events for every taste and passion!
 The first weekend in June, The Colorado Medieval-ish Festival returns each year hosting Knight Fights, Jousting, music, shopping, food, beer and mead. This is not just another Ren-Fest! 

 October in the woods is very special and our favorite. The last 3 Fridays and Saturdays bring The Creepy Walk in the Woods to life! One of Colorado's best haunt experiences.
 Creatures of the dark get worn out by the end of October and they move along to make way for the most powerful magic of all: Christmas Magic! Make no mistake, this is not holiday or winter, THIS IS CHRISTMAS!!! 

The Savage Woods are located at 1750 Savage Road, Loveland, Co 80538. Two miles west of Loveland, the 2nd right hand turn off of Glade Road. For more information, call 970-667-3002. Or email TheSavageWoods@gmail.com.