Description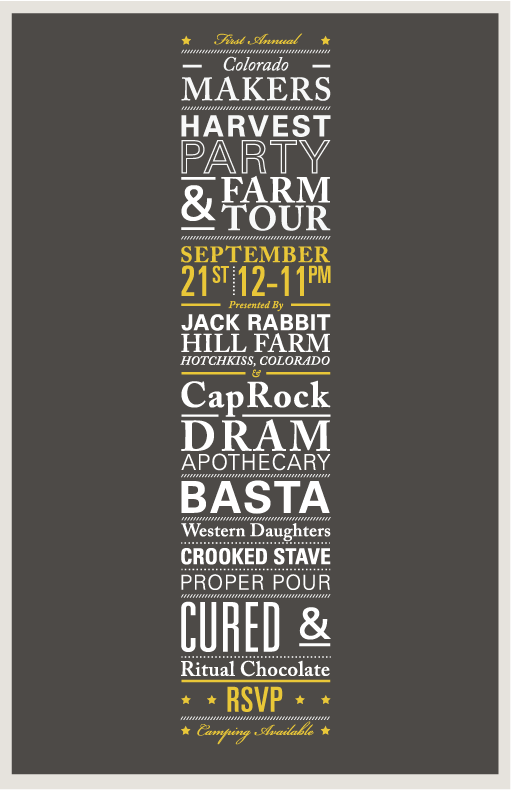 Colorado Makers Harvest Party & Farm Tour
September 21st
12:00pm-11:00pm
Jack Rabbit Hill Farm
26567 North Road
Hotchkiss, Colorado
(303) 775 2360
Stella & Luna, the JRH Great Pyrenees Dogs, have requested that everyone leave their pets at home. Thank you for your understanding!
Party Itinerary
Harvest Activities: 12:00pm
Farm Tour: 3:00pm
Food & Beverages: 5:00pm
Campfire: 8:00pm

Harvest Activities
– Farm, winery & distillery tours

– Peach eau de vie distilling

– Grape harvest & crush

– Biodynamic cow horn burial
What To Bring
– Picnic blankets
– Drinking mug (optional)
– Hat
– Sunscreen
– Jackets (Chilly at night)
– Camera
– Tent & sleeping bag (If camping on site)
Provisions By
CapRock, Jack Rabbit Hill Farm & Wine Tapistry
Dram Apothecary
Basta
Western Daughters
Crooked Stave
Proper Pour
Cured
and Ritual Chocolate
About The Farm
Jack Rabbit Hill Farm is a 72-acre diversified farm near Hotchkiss in western Colorado's North Fork Valley. Founded in 2000, the innovative operation includes Jack Rabbit Hill Estate Winery, Wine-Tapistry Keg Wines, Peak Spirits Farm Distillery, and Jack Rabbit Hops. The farm, winery and distillery are Demeter-certified Biodynamic, the "deep organic" farming standard founded by Rudolph Steiner in 1924. The Biodynamic practice helps the folks at Jack Rabbit Hill grow and make the tastiest products with a lighter footprint than other approaches. The farm is the recipient of several national awards including the James Beard Foundation Nomination for Outstanding Wine & Spirits Professional in 2012."
Camping Available At The Farm
There is plenty of space for everyone to camp. Bring tents or snuggle up by the fire!

Nearby Accommodations
Leroux Creek Inn
Hanson Mesa Bed & Breakfast