Sales Have Ended
Registrations are closed
Online registration is currently closed for this event. To register, please call 970.926.9292 or register in person on Friday @SOS Outreach offices (450 Miller Ranch Road, Edwards, CO 81632) OR Saturday, visit us at the starting line! For road riders, day-of registration (7/22) will be 6-8AM at Beaver Creek Elk Lot For MTB riders, day-of registration (7/22) will be 8-10AM at Beaver Creek Elk Lot
Sales Have Ended
Registrations are closed
Online registration is currently closed for this event. To register, please call 970.926.9292 or register in person on Friday @SOS Outreach offices (450 Miller Ranch Road, Edwards, CO 81632) OR Saturday, visit us at the starting line! For road riders, day-of registration (7/22) will be 6-8AM at Beaver Creek Elk Lot For MTB riders, day-of registration (7/22) will be 8-10AM at Beaver Creek Elk Lot
Description
Ride alongside Tyler Hamilton in Eagle County's largest cycling celebration and charity ride for SOS Outreach!
Back for the 16th year, the Colorado-Eagle River Ride and ROADHOUSE MTB Ride is bigger than EVER!
Secure your VIP package to kick off the weekend right with Tyler Hamilton, Olympic gold medal cyclist AND 3x consecutive winner of the Boston Marathon, Uta Pippig on Friday night, July 21st! Join SOS at the Dusty Boot in the heart of Beaver Creek Village to meet fellow riders and celebrated athletes Tyler and Uta for the River Ride Rendezvous pre-ride VIP event celebration. On Saturday, grab your bikes and hit the mountain or the road for a journey through some of Colorado's most scenic landscapes in this FULLY supported ride! Please visit our website for FULL event details and FAQ's...
THE PRE-PARTY
FRIDAY, JULY 21: RIVER RIDE RENDEZVOUS KICKOFF EVENT - 6-8 PM, DUSTY BOOT BEAVER CREEK
Presented by Roadhouse Hospitality Group, join SOS for the River Ride Rendezvous VIP kickoff event with Olympic gold medalist Tyler Hamilton and 3x consecutive winner of the Boston Marathon, Uta Pippig to raise support for SOS programs to empower youth to access the recreation and resources to achieve their full potential - in education and in life!
WHAT: VIP Kickoff Event & Meet and Greet with Tyler and Uta
WHEN: Friday, July 21 6-8 PM
WHERE: Dusty Boot in the heart of Beaver Creek Village
THE RIDES
ROADHOUSE MTB RIDE: Presented by Roadhouse Hospitality Group
SATURDAY, JULY 22nd, 10AM START, BEAVER CREEK VILLAGE - Finish at Beaver Creek Landing
Presented by Roadhouse Hospitality, ride alongside XTERRA WORLD CHAMPION, Josiah Middaugh in the 2nd annual mountain bike ride to experience the thrills of Beaver Creek on either the short or long course. Both routes start from the heart of Beaver Creek Village, with the short course completing a loop on Beaver Creek Mountain before traveling down to Landing; and long course continues traversing trails across Beaver Creek, Bachelor Gulch, and Arrowhead before making final descent down to Beaver Creek Landing.
START takes place in Beaver Creek Village, just above Centennial chairlift in heart of village. FINISH is at the Beaver Creek Landing. Ride solo or put together your team of cycling amigos for a memorable day of riding to provide opportunities for local youth!
THE ORIGINAL COLORADO-EAGLE RIVER RIDE
SATURDAY, JULY 22nd, 6:30-8AM START, ELK LOT BEAVER CREEK
The River Ride will continue to offer 100-mile, 68-mile, and 42-mile routes to suit every rider's ability. Whatever option you choose, you will be rewarded with beautiful views of the Colorado and Eagle rivers. 100-milers and 68-milers will ride the famous River Road, a dirt-packed route following the banks of the Colorado River from State Route 131 down to Dotsero. Aid stations will be dispersed throughout the race and will be fully stocked with food, beverages, repair kits and mechanics to keep every rider going and SAG drivers will offer vehicle support throughout the entirety of the course. Professional photographers will be dispersed throughout the ride to capture all riders in action.
Whether you choose to participate in the Roadhouse Mountain Bike Ride or the River Ride, all riders will be greeted at the Beaver Creek Landing with the "Festival Finish After-Party". As always, each rider's entry fee includes free beer and food from local partners as well as live music. Don't forget – this event is open to the public, and all riders are encouraged to bring their friends and family to join in the celebration. We look forward to seeing you there!
ABOUT TYLER HAMILTON:
Tyler Hamilton, one of the world's top-ranked cyclists, is a fierce competitor renowned among his peers for his uncanny endurance and epic tolerance for pain. He started his career with the U.S. Postal Service team in the 1990s and quickly rose to become Lance Armstrong's most trusted lieutenant, and a member of his inner circle. For the first three of Armstrong's record seven Tour de France victories, Hamilton was by Armstrong's side, clearing his way. In 2004, Hamilton reached his own personal pinnacle, winning the gold medal at the 2004 Olympics.
Hamilton raced professionally from 1995 to 2008 and now runs his own training business for cyclists of all levels, Tyler Hamilton Training, based in Boulder, CO. Hamilton's goal of making world-class training accessible to cyclists and triathletes of all ages and abilities anywhere in the world.
Don't miss this once in a lifetime opportunity to ride alongside Tyler WHILE supporting SOS Outreach's outdoor and mentorship-based youth programs!
THE LIMITED EDITION JERSEY - GET YOURS TODAY!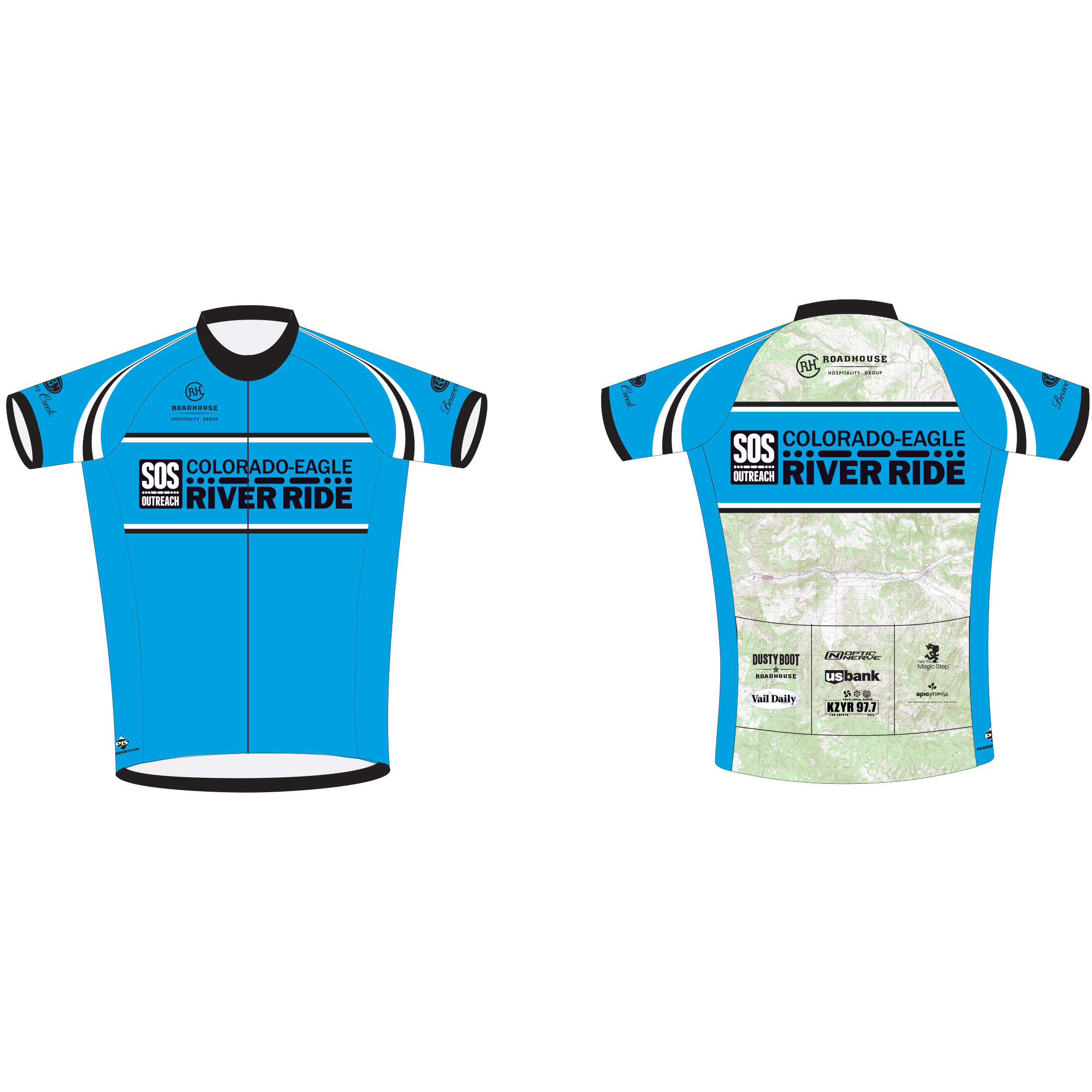 THANKS TO OUR EVENT SPONSORS!