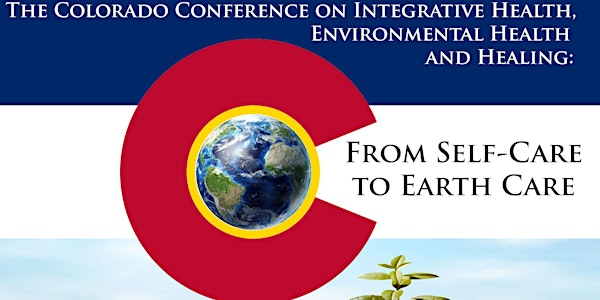 Colorado Conference on Integrative Health, Environmental Health and Healing
When and where
Location
Althea Center for Engaged Spirituality 1400 Williams Street Denver , Colorado 80218
Description
The AIthea Center for Engaged Spirituality of Denver and the Star House in Boulder are teaming with two national organizations that focus on interspirituality and sustainability to sponsor a statewide convening in Colorado that joins diverse sectors in the transformational community. The three-day conference will be held on Friday-Sunday, July 17-19th. It is entitled:
"From Self-Care to Earth Care: The Colorado Conference on Integrative Health, Environmental Health, and Healing."
The purpose of the Conference is to:
(1) Provide space for various constituencies and sectors to gather together throughout Colorado that are committed to self-care and earth care and are shaping a new, ecological society and culture.
(2) Join persons and organizations within both grassroots and professional cultures in the Ecological Sector of Colorado who normally are not in the same room together. A major purpose of this strategy is to broaden the organizing in Colorado in order to expand the system of influence for policy advocacy and leverage on the local, bio-regional, and statewide levels.
(3) Connect local, bio-regional, and state eco-justice leaders and organizations with each other and with eco-justice leaders and organizations working on the national and global levels.
(4) Connect local and state eco-justice leaders and organizations with national organizations and leaders that are working on the national and international levels, including at the United Nations, to promote ecological lifeways, policies, practices, and international agreements and treaties in relation to eco-justice.
(5) To facilitate follow-up and new connections between participating persons and organizations on the local, bio-regional, state, and national level in order to increase the collective impact of the broadened base of relationships developed prior to, during, and following the conference. A Statewide Committee will be formed in September 2015 to determine ways to expand collective impact in Colorado and start planning the 2016 statewide conference.
(6) To evaluate the Conference model of planning, implementing, and sustaining an inclusive and accessible statewide conference that joins diverse sectors within the Ecological culture of Colorado together with minimal expenses and fees. The conference evaluation will assist its local, state, and national sponsors in planning follow-up in Colorado and improving the conference model so that it is more effective and successful as it is broadened other states. Given the rising ecological and economic crisis, it is projected that the Conference model that utilizes limited costs to both sponsors and participants with resources generated largely from within the state will provide a valuable model to be replicated, state-by-state. This method will not only benefit the expansion of the collective impact of the Ecological sector within each state, it will also benefit policy engagement and leverage on both the national and international levels by strengthening both horizontal and vertical organization and influence.
(7) Deepen understanding and commitment to protect, promote, and respect the earth, its delicate balance, and how to live within its bounds and bounty.
Constituencies and sectors that will participate include: Faith, Interfaith, Interspiritual, Spiritual, Integral, Health, Healing, Environmental, Ecological, Science, Sustainability, Social Justice, Sustainable Agriculture, Alternative Energy, Green Business, Public Policy, and the Arts Communities
The schedule for the weekend is as follows:
Friday Evening, July 17, 2015
Althea Center for Engaged Spirituality, Denver
6:00 - 7:00PM--Registration – Yoga Session
7:00--Opening Ceremony and Music (Meditative)
7:15--Welcome, Rev. Dr. Jonathan Ellerby, Executive Director and Lead Minister, Althea Center
7:20--Introduction to the Conference, Rev. Mac Legerton, Conference Coordinator, Interspiritual Network/Forum 21
7:25--"Connecting the Visions of Ken Wilber and David Sloan Wilson," Dr. Kurt Johnson, Co-Author, The Coming Interspiritual Age
7:35--"Ken Wilber, Integral Theory, and Evolutionary Theory," Dr. David Sloan Wilson, Author, Does Altruism Exist
7:45--"Integral Consciousness in the Ecological Age," Ken Wilber, Philosopher
9:00--Closing Remarks
9:15--Social
10:00--Adjourn
Saturday, July 18, 2015
Althea Center for Engaged Spirituality, Denver
7:30 - 9:00AM--Registration
7:45 - 8:45--Yoga Session
9:00--Opening Ceremony and Music
9:15--Welcome, Review of the Day, Morning Workshops, and Introduction of Dr. David Sloan Wilson
9:30--"Spirituality, Science, and Truth," Dr. David Sloan Wilson
10:30--Break
10:40--Morning Workshops (See Below)
12:15 PM--Lunch
1:30--Overview of the Afternoon, Workshops and Introduction of Dr. Elizabeth McLeod
1:40--"The Secret of Tackling Climate Change," Dr. Elizabeth McLeod, Marine Climate Scientist, The Nature
Conservancy
2:20--Break
2:30--Afternoon Workshops (See Below)
4:00--Break
4:15--Closing Ceremony led by Rev. Dr. Jonathan Ellerby, Executive Director and Lead Minister, Althea Center
5:00--Adjourn
Saturday Evening: Celebration of Sacred Earth and Spirit
7:00 PM--Opening Ceremony with Music
7:10--Three Options (Choose One):
1. Luminary Roundtable: Dr. Kurt Johnson, Dr. David Sloan Wilson, Dr. Elizabeth McLeod, Rev. Dr. Jonathan Ellerby, Facilitator
2. Working Group: Uniting the Green Transformational Culture in Colorado for Policy Leverage and Change
3. Film: "Rooted in Peace", a major documentary on Eco-Spirituality by Greg Reitman and 2007 Sundance Film Festival Winner
8:30--Reception, Networking, Music, Dance, and Film: "The Connection – Mind Your Body", a major documentary on mind, body, spirit through convergence of science and spirituality of the world's wisdom traditions
10:00--Adjourn
Sunday Morning, July 19
Free Time --Morning Service at the Althea Center begins at 10:30 AM
Sunday Afternoon, July 19
Star House, Boulder
12:00PM--Picnic Lunch at Star House – Networking, Hiking
2:00--Kundalini Yoga Session
3:45--Break
4:00--Tibetan Bowl Ceremony
6:00--Adjourn
---
Saturday Workshops: 14 Workshops – 7 will be held in the morning workshop period and 7 in the afternoon period. These workshops correspond to the diverse constituencies that are gathering from across the State at the Conference and its National Partners.
Spiritual Roots of Healing and Health

The Future of the Conservation Movement: Expanding our Collective Impact

Interspirituality: Evolution's Frontier at the Heart of the World's Wisdom Traditions

Kundalini Yoga for Health and Healing

Making the Shift to a new UN Development Agenda that Cares For People and Planet

Eco-Spirituality, Eco-Ministry, and Eco-Justice with Sacred Earth

Integral Consciousness and Politics in Practice

Does Altruism Exist? A New Scientific Foundation for Interspirituality

The Path, Policies, and Challenges toward a Just and Sustainable Colorado

Growing Sustainable Agriculture and the Local

Food Movement

in Washington State

Awakening the Dreamer: The Fusion of Spiritual Practice and

Public Policy in the Pachamama Alliance

Integrative Medicine: Personal and Planetary Health

Beyond Coal, Oil, and Natural Gas: Toward a Renewable Energy Future
---
Film Series – Saturday Night Showings:
ROOTED in PEACE is a major documentary on Eco-Spirituality by Greg Reitman and a 2007 Sundance Film Festival Winner. The film challenges viewers to examine their values as Americans and human beings. Today we are at war within ourselves, with our environment, and with the world. Director and award-winning filmmaker Greg Reitman invites viewers on a film journey to take notice of the world we live in, proactively seek ways to find personal and ecological peace, and stop the cycle of violence. The film relies not only on memoir, but also interviews with such luminaries and activists as Deepak Chopra, music legends Donovan, Mike Love, and Pete Seeger, film director David Lynch, Noble Peace Laureate Mairead Maguire, media mogul Ted Turner, Archbishop Desmond Tutu, green architect William McDonough, neuroscientist Dan Siegel and many others. Reitman learns from all of them, and heeds Maharishi Mahesh Yogi's words, that if the forest is to be green, every tree must be green; if there's going to be Peace on earth, then everybody needs to experience that quality of Peace within themselves. And so in asking viewers to do the same, Reitman poses the basic question: How do we want to live? Reitman's journey is an example of transformation — how one person can learn to make the necessary changes to enjoy a better life — and in so doing inspire others to want to improve their own lives, and society as a whole.
This is a special regional and local showing of this film, for scientific and spiritual purposes, by courtesy of the Director Greg Reitman and is not connected to any other national or international syndication of this film for commercial or public relations purposes.
The Connection – Mind Your Body" - The film features scientists, researchers, writers and doctors, as well as remarkable true stories of people adding mind body medicine to their healing toolkit to recover from severe back pain, heart disease, infertility, cancer and multiple sclerosis. While the science is complex, the solutions for people suffering with illness are astonishingly simple. The film shows that we can counter the harmful affects of stress with an equally powerful relaxation response triggered through specific techniques such as meditation. It shows that emotions can impact the course of an illness for better or for worse and could even be the difference between life and death.
The film explains the mechanisms behind belief, which scientists now know contributes 30 to 50 percent of the effect of any known biological cure and explores how scientists at the cutting edge are now learning that the mind can even influence the expression of genes and the rate at which we age. This is a film for people who have tried everything. It offers answers and proves that you can change your mind, change your health and change your life.