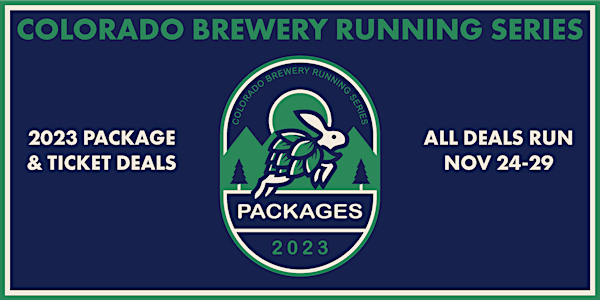 Colorado Brewery Running Series - 2023 4-Pack, 8-Pack, Single Event Tickets
These special discount deals are valid from 12:01 AM on 11/24/22 through 11:59 PM on 11/29/22
When and where
Location
Breweries across Colorado 2023 Colorado Brewery Running Series Events Multiple Locations, CO 80203
About this event
JOIN US FOR 1, 4, OR 8 EVENTS IN 2023:
These single-event, 4-pack, and 8-pack deals will give you access to any Colorado Brewery Running Series in-person 5k event throughout 2023. The options will include 30+ events from January through December across the Rocky Mountain Front Range and beyond. Or select a 2023 Half Marathon ticket for access to our Breckenridge Brewery or New Belgium Brewing Half Marathon events!
8-pack pass $189 (Regular Price $280)
4-pack pass $99 (Regular Price $140)
Single Event Tickets $28 (Regular Price $35)
Half Marathon Event Tickets $64 (Regular Price $75)
We will be back at some of your favorite breweries from our last seven seasons, as well as some awesome, new-for-2023 breweries, that represent some of the best the Colorado craft beer scene has to offer! You can expect new course routes, new 2023 sponsors, good times, great friends, and amazing beer! Purchase these 2023 Brewery Running Series tickets and passes for entrance into any Colorado Brewery Running Series in-person 5k events of your choice in 2023. Pretty sweet, huh?
Why buy now? Single event tickets for 2023 events will be $35 each when registration opens for each event. Our full 2023 schedule will be released by January 2023. 
Special Cyber Weekend pricing this weekend only (Thursday, Nov 24 @ 12:01 am - Tuesday, Nov 29 @ 11:59 pm)
HERE'S HOW IT WORKS:
Purchase a 2022 Colorado Brewery Running Series 4-pack, 8-pack, or single-event ticket(s).
The Colorado Brewery Running Series will send you a code that will allow you to register for your # of 2023 Colorado BRS 5k events. Codes will be distributed in early-December 2022.
Visit the CO Brewery Running Series Events Page. (2023 events will be launched starting in December 2022)
Choose the event(s) you want to enter and click Register Now.
Put in your registration code at checkout and join in on the fun.
IMPORTANT NOTE: THESE TICKETS CAN BE SHARED! Buy them as Christmas/holiday presents for friends, family members, or loved ones... or keep them and use them all for yourself!
RULES AND REGULATIONS:
Codes will be distributed in December 2022. Once you receive your Colorado Brewery Running Series registration code you can register for any single, 4, or 8 tickets for the 2023 Colorado BRS season, depending on which package or how many tickets you purchase for 2023 events.
You can use these codes for yourself or share/gift them with anyone that you choose, but remember that each code is only valid for the number of uses that you purchased.
Your codes can be used for separate events throughout 2023, or can be used for multiple people at the same events.
Looking for a fun way to get a group together for a 2023 5k run? Purchase multiple 4-pack or 8-pack passes for your whole squad, team, corporate group, etc.
Unused codes will expire at the end of the 2023 event season and are not transferable to 2024.
WHO WE ARE: 
The Colorado Brewery Running Series hosts family-friendly 5k-ish, fun-run events that all start and end at local Colorado breweries. We now also feature multiple 13.1 Half Marathon events throughout the year. We welcome all runners, walkers, joggers, and spectators that are interested in enjoying the great outdoors and the great craft beer that Colorado has to offer. All of our participants complete a 5k/13.1 course nearby each brewery. Afterward, everyone hangs out, drinks beer, and enjoys local live music!
We also host the Colorado Virtual Distance Challenge events, which are monthly month-long challenges that allow you to earn awesome rewards for staying active and reaching mileage milestones throughout the month.
Learn more at breweryrunningseries.com/colorado
WHAT WE'RE ABOUT: 
Our motto = be active, have fun, give back! In addition to pairing some exercise and good beer, a portion of all proceeds go back to local non-profits, In 2022, we happily partnered with more than 8 Colorado non-profit organizations, and we are very proud that the Colorado Brewery Running Series has so far donated over $120,000 to local non-profits!
ABOUT THE RUNS:  
This may be different than other "races" you've done. We like to keep things relaxed, and all of our events are untimed so everyone can run or walk at their own pace. Instead of closing down the streets, we ensure a safe and fun running route on sidewalks, through parks, and along trails. The course is marked out and staffed with encouraging volunteers to cheer you on and point you back to the brewery for your much-deserved beer!
CHEERS TO BEERS AND SEE YOU AT OUR 2023 EVENTS!