Description
JOIN US FOR ALL OF THE FUN IN 2019:
This Brew Crew Season Pass will give you access to every Colorado Brewery Running Series event throughout 2019. That includes 30+ events from March through December across the Rocky Mountain Front Range and beyond.
We will be back at some of your favorite 2016, 2017, & 2018 breweries, as well as some awesome, new-for-2019 breweries, that represent some of the best the Colorado craft beer scene has to offer! You can expect new course routes, new 2019 sponsors, good times, great friends, and amazing beer! Purchase a 2019 Brewery Running Series 'Brew Crew' Season Pass and you'll get entry to any, and every event on our 2019 calendar in Colorado. Pretty sweet, huh?
Why buy now? The price of the season pass will go up prior to the first event of the season.
WHAT'S INCLUDED:
Access to 30+ 2019 Colorado events (a 69% or more savings!)

Experience some of your favorite Colorado craft beer destinations

Entry to sold-out events

Extra perks throughout the season

(1) 2019 Brew Crew T-shirt (only available at the kickoff party - February 16th)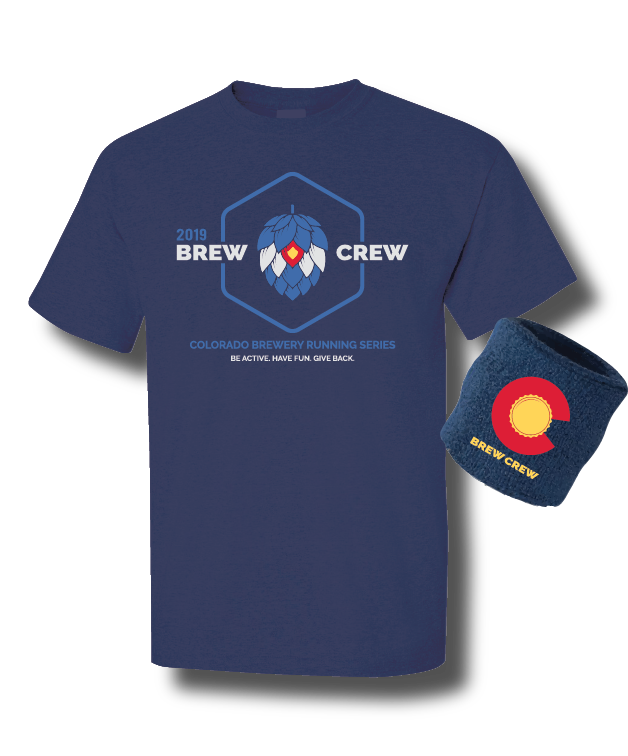 (1) Extra beer at each event with the 2019 Brew Crew wristband. Available for pickup at the kickoff party or at the first event you attend in 2019. Wear your wristband for every event and show it to us at the finish line for a second beer token!

(1) 2019 Hop Passport - Thanks to our sponsor Hop Passport for donating 1 book for every season pass holder

All the miles. All the fun. All the beers.
HERE'S HOW IT WORKS:
Purchase a 2019 Colorado Brewery Running Series 'Brew Crew' Season Pass

Brewery Running Series will send you a code that will allow you to register for any 2019 Colorado BRS event. Codes will first be distributed in January 2019 and then on a weekly basis throughout 2019.

Visit the CO Brewery Running Series Events Page. (2019 events will be announced starting on Dec 20th)

Choose the event you want to enter and click Register Now.

Put in your Season Pass code at checkout and join in on the fun.

Register for as many 2019 Colorado Brewery Running Series events as your hoppy heart desires.
RULES AND REGULATIONS:
Codes will first be distributed in January 2019 and then on a weekly basis throughout 2019. Once you receive your 'Brew Crew' Season Pass code, you can register for events.

Your 'Brew Crew' Season Pass code, name, email address & birth date must match your Season Pass purchase to be allowed entry into the event. Entry into each 2019 event is valid for the purchaser of the season pass only, and cannot be transferred to friends or family.

Your 'Brew Crew' Season Pass is valid for one entry only to each 2019 Colorado Brewery Running Series event.

Unused codes will expire at the end of the 2019 event season and are not transferable to 2020.
WHO WE ARE:
Colorado Brewery Running Series events are 5k-ish, fun-run courses that all start and end at local Colorado breweries. We welcome all runners, walkers, joggers, and spectators that are interested in enjoying the great outdoors and the great craft beer that Colorado has to offer. All of our participants complete a 5k course nearby each brewery. Afterward, everyone hangs out, drinks beer, and enjoys local, live music!
Learn more at breweryrunningseries.com/colorado
WHAT WE'RE ABOUT:
Our motto = be active, have fun, give back! In addition to pairing some exercise with great craft beer, a portion of all proceeds goes back to local non-profits. We are very proud that the Colorado Brewery Running Series has so far donated almost $13,000 to local non-profits! 10% of our proceeds help support our nonprofit partners, The House that Beer Built, Dumb Friends League, and Range of Motion Project.

ABOUT THE RUNS:
This may be different than other "races" you've done. We like to keep things relaxed, and all of our events are untimed so everyone can run or walk at their own pace. Instead of closing down the streets, we ensure a safe and fun running route on sidewalks, through parks, and along trails. The course is staffed with encouraging volunteers to cheer you on and point you back to the brewery for your much-deserved beer!
EVENT DAY DETAILS:
Please arrive 30 minutes before each event starts to get checked-in.

Bring a valid ID. You do not need to be 21 to enjoy the event, but must be 21 to enjoy the beer. Please drink responsibly! (Registered, underage participants receive a complimentary non-alcoholic beverage).

These are open courses, meaning roads will NOT be closed. You are responsible for obeying all traffic laws and regulations.

We run rain or shine! Dress appropriately for the weather.

There will not be a bag check; please plan accordingly.

Bring extra money if you want to purchase food, more beer, or any of our great Colorado Brewery Running Series merchandise!
CHEERS TO BEERS AND SEE YOU AT OUR 2019 EVENTS!