Sales Have Ended
Ticket sales have ended
Thank you for registering! We will see you at the event!
Sales Have Ended
Ticket sales have ended
Thank you for registering! We will see you at the event!
Lil' Miss Story Hour will host a story time to celebrate Colorado Arts Month and Dia De Los Muertos.
About this event
On Saturday October 23, 2021, Lil' Miss Story Hour will be participating for the third consecutive year, in the 4th Annual Poetry 719 Poetry Festival. Lil' Miss Story Hour will be celebrating Colorado Arts Month and Autumn holidays with guest speakers, a variety of local artists, art forms, crafts, and picture books! Explorations include but are not limited to writing, illustrations, mathematics, music, and social experiences.
Book selections will include "If Your Monster Won't Go to Bed" by Denise Vega; "Precious and the Boo Hag" by Patricia C. McKissack; "Dia De Los Muertos" by Hannah Eliot; and "The Monster Who Came to Visit," by Neesa Bally.
Our special guests will be, Rapper, Musician, and MC, Stoney Bertz; Visual Artist and Painter, Kaya McCluskey; Visual Artist and Poet, Jasmine Dillavou; and District 11 Superintendent, Dr. Michael Thomas.
Mark your calendars and bring the kiddos! This event would not be possible without the support of the following businesses, organizations, and community members: Arun and Joe Sambataro, Belinda Ball-Delfin, Brianne Smith, Catherine Shelton, Charles VanLandingham, Conor McClusky, Erin Bergquist­, Goddess Tyescha, Jasmine Dillavou, Jason Little, Jenn Cancellier, June McGinn, Lauren Rose, Lisa Little Colazo, Lisa Simmons and Family, Madi Stuart, Marcella MacIntrye, Nithin Coca, Pikes Peak Little Free Pantry, Shelby Clifford, Susan Garsoe, Sylvana Christopher, The Stephan Family, Hooked on Books, Springs Community Acupuncture, Served LLC, Omm Office, Vogue Robinson, Christine Borst Creative Studio, Recover Simply, The Venus Collective, Plume Graphic Design Studio, Saturday Side Hustle, Kapow Comics and Coffee, Art by Rizzo, Nerddollz, Tiger in a Tornado Creations, and Miss Vanessa's Piano Studio.
This event WILL NOT be aired virtually.
COSTUME CONTEST
There will be costume contest for kiddos, so make sure your kiddos come dressed up!
TRICK OR TREATING
There will be trick or treating, so bring candy containers! If you forget, don't worry, we'll have some on hand!
HEALTH AND SAFETY
Masks will be required for all attendees regardless of vaccination status.
ADMISSION INFO
Due to occupancy restrictions as a result of Covid-19, space is limited. Reservations are required for this event. Attendess MUST RSVP via my website, lilmissstoryhour.com!
DONATIONS
Donations are strongly encouraged! Donations will be accepted for in-person attendees when they RSVP, as well as on site, the day of the event.
Attendees may donate via any of the following platforms:
Venmo: @lil-miss-story-hour
PayPal: paypal.me/bettiethebookworm
Cashapp: $nesscapades
For more information about this event, please visit lilmissstoryhour.com, email Vanessa Little at lilmissstoryhour@gmail.com, or message Vanessa Little at @lilmissstoryhour on Instagram.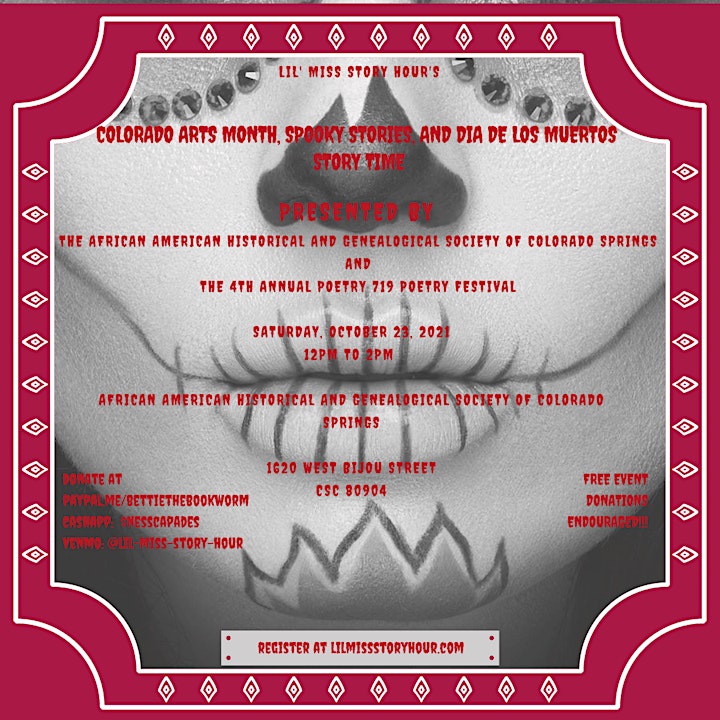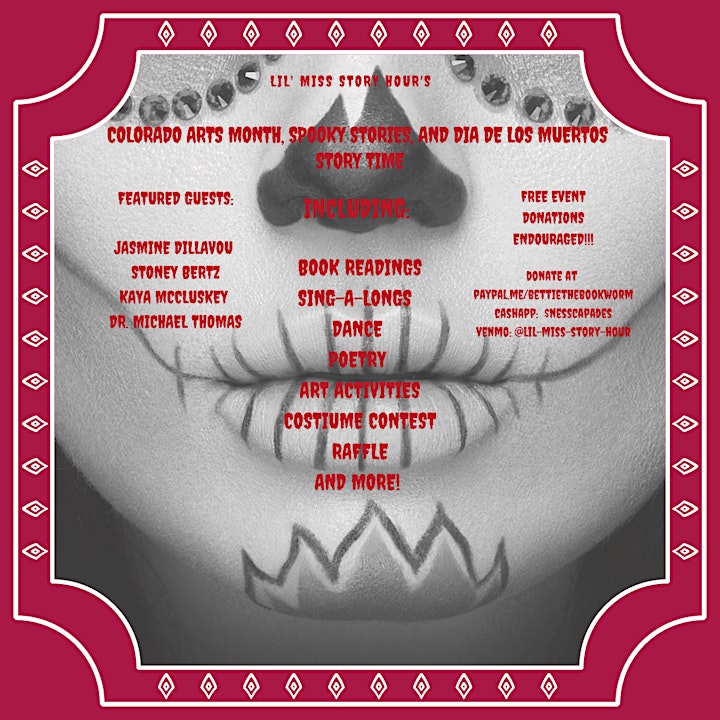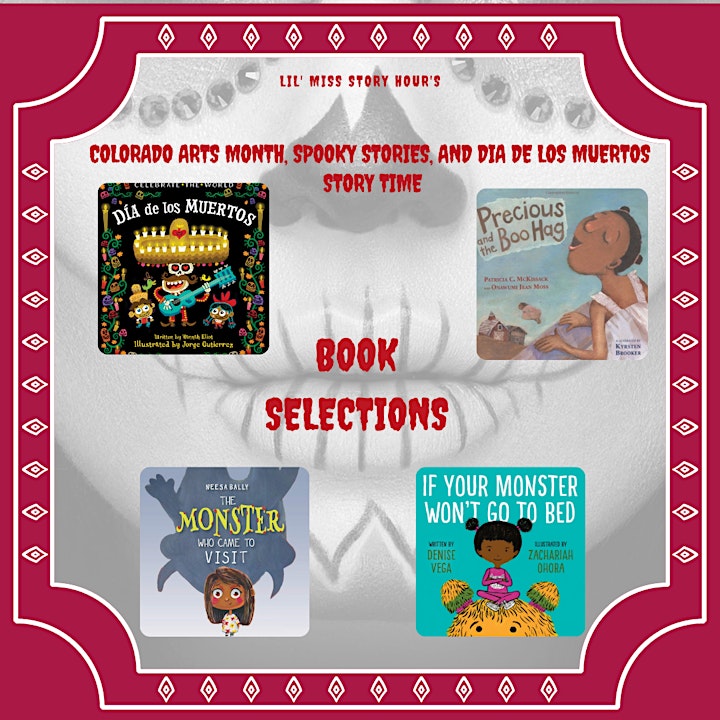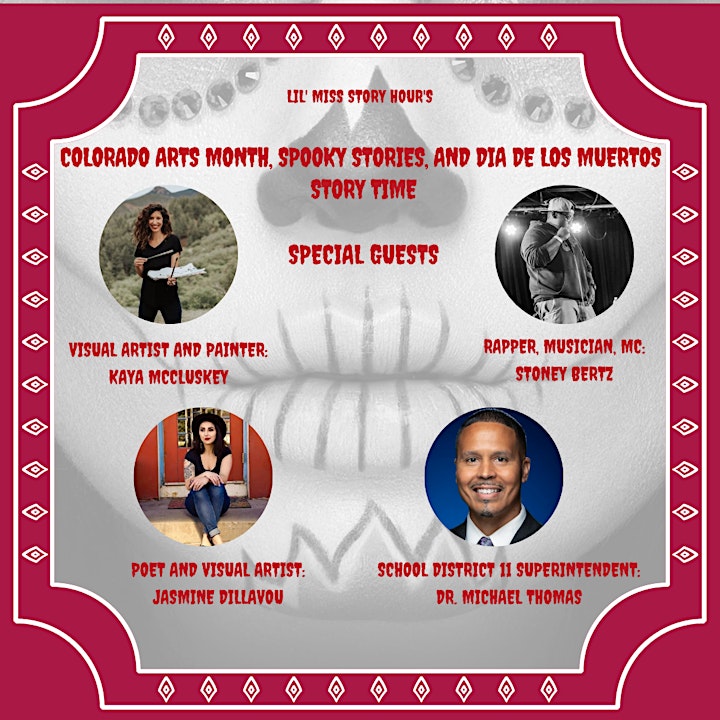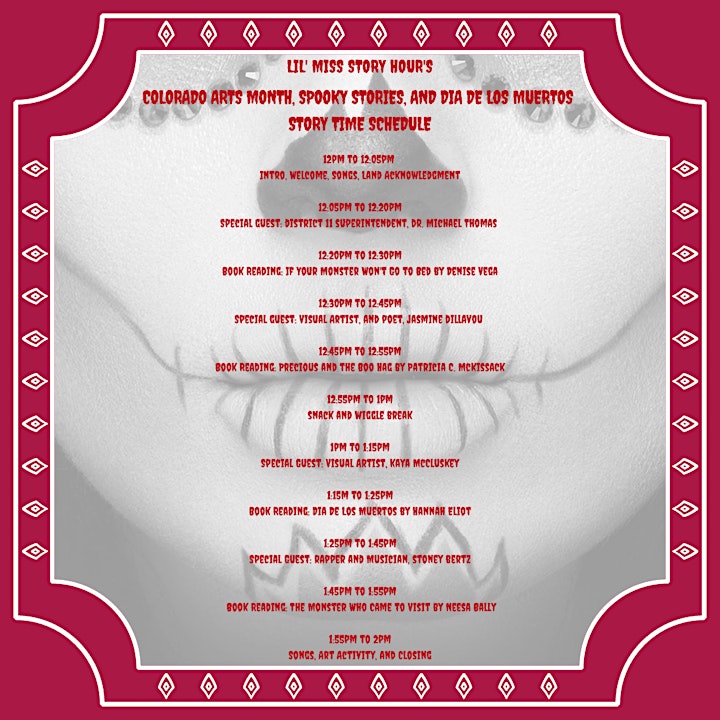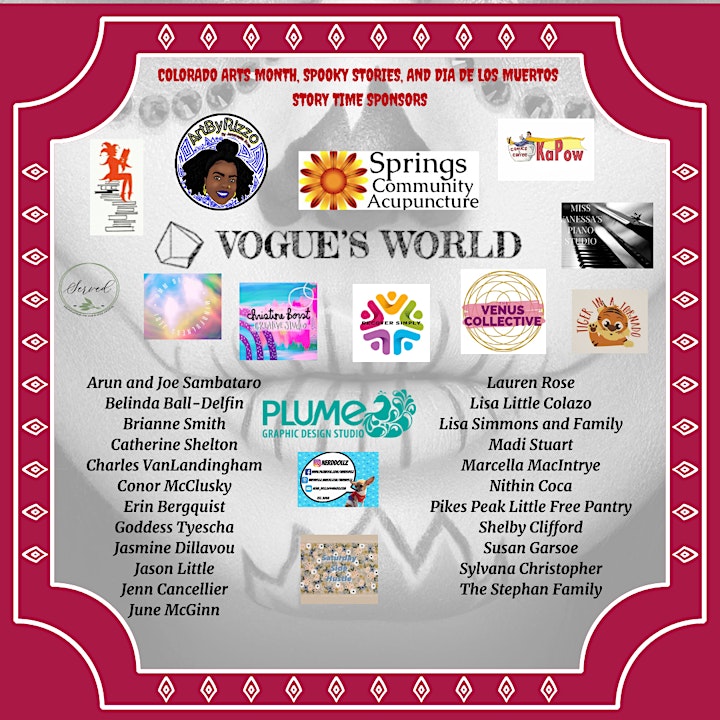 Organizer of Colorado Arts Month, Spooky Stories, Dia De Los Muertos Story Time