Description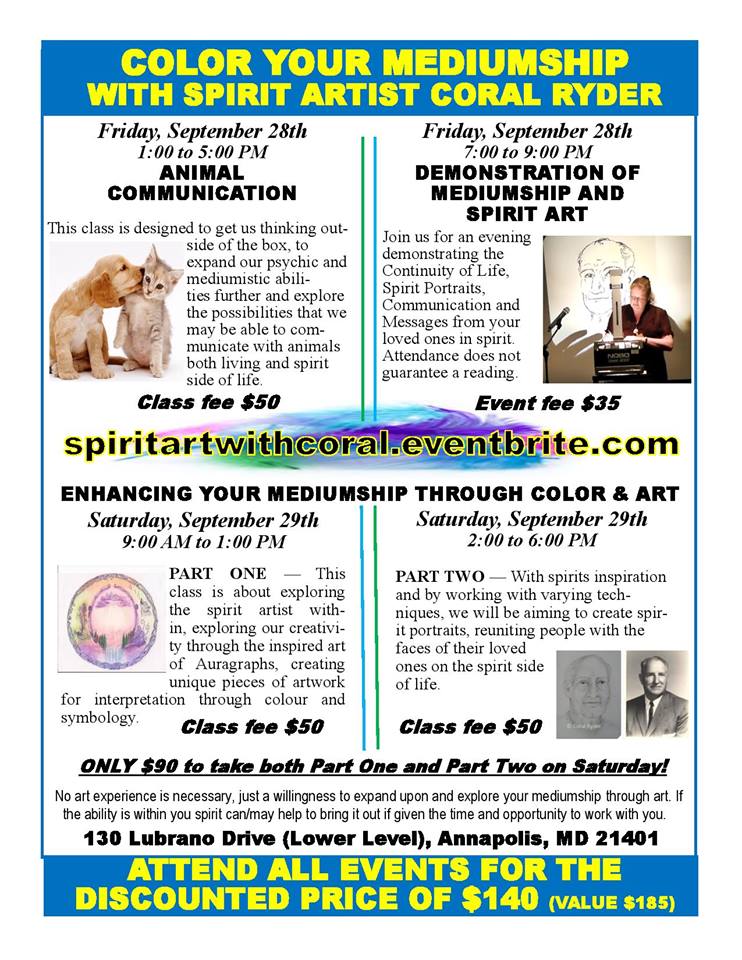 CONTRARY TO POPULAR BELIEF, YOU DO NOT NEED TO BE AN ARTIST IN ORDER TO BECOME A SPIRIT ARTIST. IF THE ABILITY IS WITHIN YOU THEN SPIRIT CAN HELP TO BRING IT OUT. LIKE OTHER FORMS OF MEDIUMSHIP, IT TAKES TIME AND DEDICATION TO DEVELOP.
Join us for an amazing weekend of Spirit Art with Coral Ryder! If you are ready to explore your creative connection with spirit, these classes are for you!

ANIMAL COMMUNICATION -- Friday, Sept. 28th from 1:00-5:00 PM -- This class is designed to get you sensing "outside of the box." Expand your psychic abilites and explore the potential of feeling the sensitivity of our animals. You may bring a picture of a special animal of yours ... whether living or on the Spirit side. $50

DEMONSTRATION OF MEDIUMSHIP AND SPIRIT ART -- Friday, Sept. 28th from 7:00-9:00 PM -- This event is in an Audience Gallery Format. Witness the mediumship of Coral Ryder, as she connects with the Spirit World and draws portraits of loved one in spirit! (Attendance does not guarantee a reading or portrait). $35
ENHANCING YOUR MEDIUMSHIP THROUGH COLOR AND ART -- PART ONE -- Saturday, Sept. 29th from 9:00 AM-1:00 PM -- This class is about exploring the spirit artist within! You will work with Coral in exploring your creativity through the inspired art of Auragraphs, creating unique pieces of artwork for interpretation through color and symbology.
Auragraph: A symbolic representation through color and pictures of your life path, current areas of interest and/or potention. $50

ENHANCING YOUR MEDIUMSHIP THROUGH COLOR AND ART -- PART TWO -- Saturday, Sept. 29th from 2:00-6:00 PM -- With spirit's inspiration and by working with varying techniques, we will be aiming to create spirit portraits, reuniting people with the faced of their loved ones on the spirit side of life.
Spirit Portrait: Portrait that Coral did of the Spirit Person on the left. The client supplied the picture of their loved after the portraits were done. $50

TAKE BOTH PART ONE & TWO OF "ENHANCING YOUR MEDIUMSHIP THROUGH COLOR AND ART" FOR THE DISCOUNTED PRICE OF $90 (save $10)
ATTEND ALL EVENTS (Animal Communication, Demonstration of Mediumship and Spirit Art, Enhancing Your Mediumship Through Color and Art, Part One & Two) FOR THE DISCOUNTED PRICE OF $140 (save $45)
MEET CORAL RYDER! Coral is the daughter of SNU Minister Ann Robson and Healer Jim Robson and as such has grown up with an awareness of spirit and Spiritualism. In 2005 she was told by spirit to put down what she was doing and to draw. She is not a trained artist yet with spirit guiding her hand has developed the ability to draw spirit portraits reuniting people with the faces of their loved ones. In 2012 she had the honour of being the first person to gain a Certificate of Recognition (CSNU) from the Spiritualist National Union in demonstrating Spirit Art. In 2015 she was featured in the book "Spirit Paintings and Art from the Afterlife".
She serves Churches and Centers in the UK and abroad demonstrating her art and running workshops on both the subjects of Spirit and Psychic Art; helping others to explore their mediumship through art and discover the hidden artist within. She regularly tutors for the International Spiritualist Federation (ISF) at their Fraternal weeks and weekends in various countries across the globe as well as running weekly audio classes on SNUI the Spiritualists National Unions International website covering Spirit Portraits and Auragraphs.