About this Event
On SATURDAY June 22 @ 9AM - 10:30 AM I am holding my next free "Color Your Dreams" rally in LA.
My name is Elaine Lou Cartas. As a business Coach, #1 Best Selling Author and global speaker, my mission is to help one million women create their dream business and career. In one year, I have already mentored 100+ clients in 21 different countries level up in their career and business.
I promise to deliver an event where you will be able to create personal, authentic relationships with like-minded women. At my last event, women stayed 4 hours after the event connecting and collaborating! My last event had 151 women signed up! IT was amazing.
Also, join me with my guest, Carolina Caro, who is a Leadership Coach/Facilitator/Speaker in helping conscious leaders and mindful workplaces. We will be focused on Mindfulness-based techniques. These techniques will help you overcome anxiety, overwhelm and exhaustion. During this event we'll be practicing some techniques to help you with performance, innovation, creativity and reducing stress.
You will:
✔️ Create in-person connection to have community
✔️ Receive the opportunity to possibly speak on stage to share your amazing story!
✔️Understand mindfulness techniques to increase performance, innovation and creativity, while reducing stress
✔️Meet a COMMUNITY of like minded women who keep you supported, accountable and create long lasting friendships long after the event.
Continue to make 2019 great with real, authentic relationships.
***
ABOUT ELAINE LOU:
Elaine Lou Cartas is a business and career coach, speaker and #1 Amazon best selling author of You Are Meant for More, serving 130+ clients in over 21 different countries. Elaine specializes in helping women of color land their dream career and business opportunities through authentic relationships both online and offline. As a result, clients have received $25k raises, transitioned into new careers and created their own global businesses with 6-figure businesses.
Elaine has over a decade of experience as a political grassroots organizer, and nonprofit fundraiser. One of her proudest accomplishments was raising $1 million in student scholarships in six months, providing 200+ scholarships. Today, Elaine is the founder of the Color Your Dreams Movement™, an initiative to inspire and support 1 million women of color create their dream business and life by 2025.
She has been featured in Forbes, Badassery Magazine, and Pasadena Magazine, and Good Morning La La Land. She has spoken around the world including Sweden and Indonesia, as well as Universal Music Studios. She leads monthly community events in the Los Angeles area. She lives in Pasadena, California and loves boxing.
You can follow Elaine on Instagram @elainelou_ or go to her website www.elainelou.com
**
ABOUT CAROLINA CARO:
Carolina is a certified Leadership Coach, Facilitator and professional Speaker who partners with organizations to support their leaders to breakthrough their plateaus by tapping into their potential. She empowers diverse leaders to be more EFFECTIVE, EFFICIENT, ENGAGED & EMPATHETIC.
She specializes in mindfulness-based practices rooted in neuroscience, which cultivate insight and awareness so that individuals can better understand how their habits amplify or diminish their leadership capabilities.
She trained with IPEC (Institute for Professional Excellence in Coaching) and is a member of the ICF (International Coaching Federation), where she maintains her credentials (PCC). She is also an established speaker who has qualified for her designation as a professional member of the National Speakers Association. She is also a proud member of the Forbes Coaches Council.
Carolina is a passionate advocate for diversity, which has shaped every aspect of her life. She is proud of her multicultural upbringing as a Montreal native with both Hispanic and Indian roots, fluent in English, Spanish and French. Her educational background is just as rich and diverse, with an undergraduate degree in Cell and Molecular Biology, a Masters degree in Science (Experimental Medicine), a Masters degree in Business Administration, a professional certificate in acting from the Neighborhood Playhouse School of Theatre in New York. Her career has taken her from medical research laboratories studying HIV/AIDS and advances in radiation oncology, to sales and brand management positions for top Fortune 100 companies to an array of artistic accomplishments as a member of the Screen Actors Guild American Federation of Television and Radio Artists (SAG-AFTRA).
Carolina is a resident of Pasadena and honored to play a role in developing community leaders, as the leadership coach and facilitator for the non-profit organization, Leadership Pasadena. She also takes pride in serving on the board of the Healthcare Businesswomen Association (HBA) a non-profit organization dedicated to the advancement of women in healthcare with a mission to establish gender parity.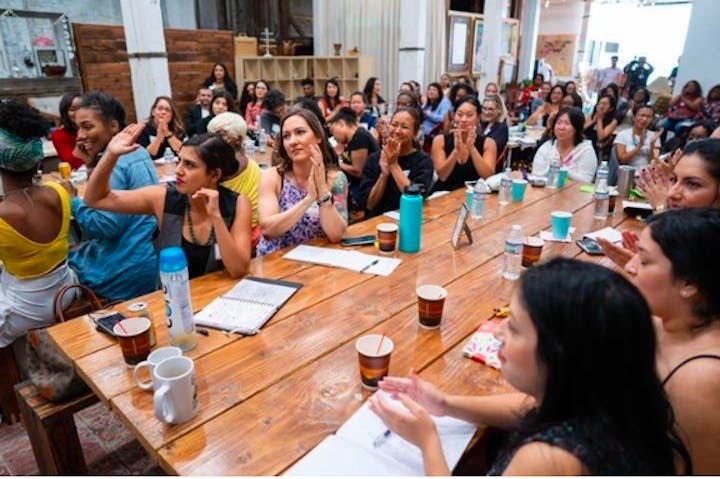 You will NOT be in a boring conference hall, we create community, fun and engagement.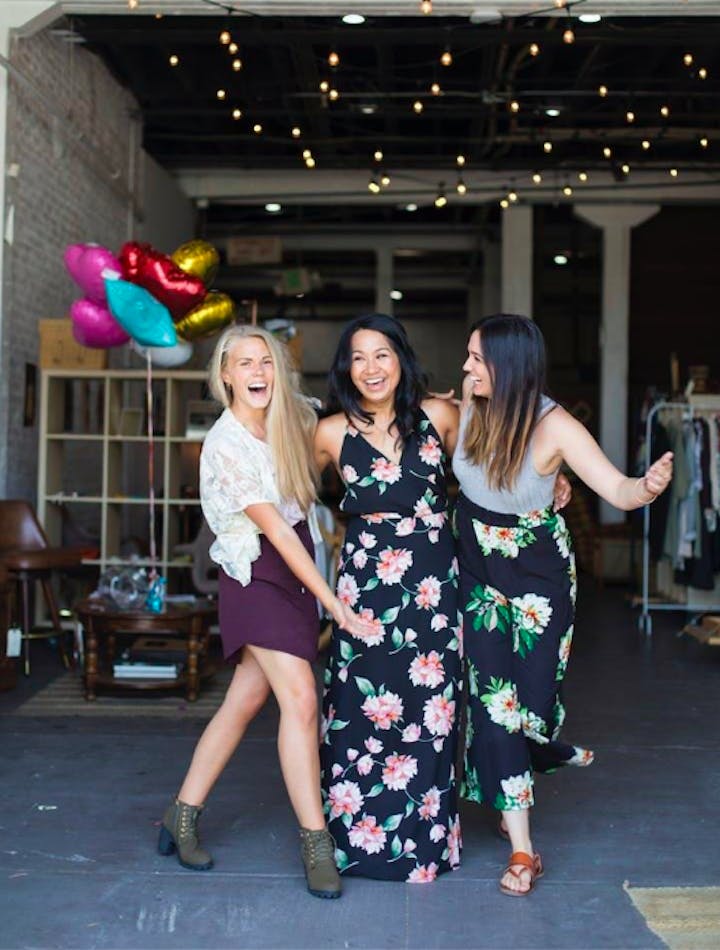 You will create real, fun relationships. Not the LA fake kind...we don't like that <3 .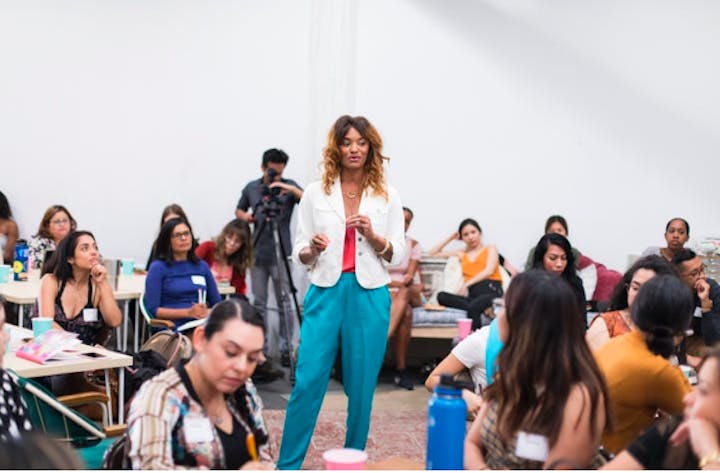 You also get the opportunity to share the stage with me. I don't like instructing people who come to my events.I love INVOLVING and creating real COMMUNITY. #communityovercompetition all day everyday!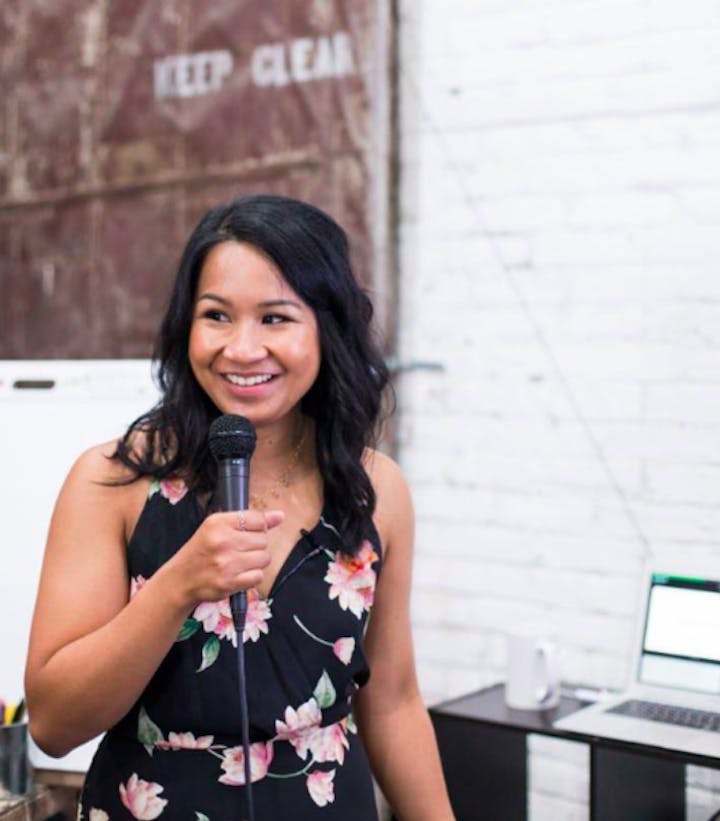 I would love for you to come!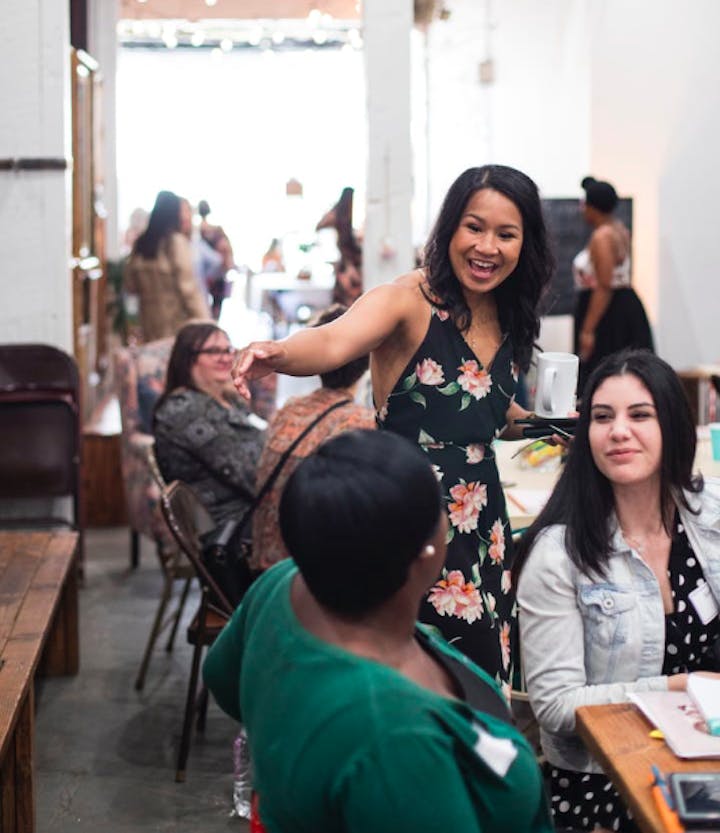 I'll be the first one to hug and greet you :) See you there, girlfriend!