Color Me Beautiful From the Inside Out - Body Image 8-Session Workshop
Description
COLOR ME BEAUTIFUL FROM the INSIDE OUT
8-Session Psychotherapy Group Workshop for Women of Color
Do you...
...struggle with low self image?
...find yourself constantly critical of your appearance and/or physical traits?
...tell yourself you are unattractive or not good enough?
...has your body changed over time and you don't feel as attractive?
...date down because you feel you are inferior?
...tell yourself you're too dark, or too light?
...have an injury or surgical scars that make you feel self-conscious?
...feel like you are too heavy or too skinny?
If you answered YES to any of these questions,

this is the group for you!
We warmly welcome you to join this workshop.
This group is designed to address the childhood wounds that contribute to poor body image. Additionally, in this group we will discuss practical and effective steps to improve self image.
---
This 8-session workshop is priced for the Early Bird registration at $245.00. Single session purchase is not available.
Group Meeting Dates:
Thursdays at 7:00p to 8:30p
December 5, 12, 19, 2019
January 9, 16, 23, 30, 2020
February 6, 2020
Early Bird Registration ends Monday, November 25, 2019!
Space is limited and early registration is encouraged! All Registration ends December 5, 2019
For more information, please call the office of Dr. Vernita Marsh & Associates at (510) 420-4555 or email us at admin@drvernitamarsh.com.
The Color Be Beautiful Group will be lead by Ms. Danielle Brown, RN, BSN, PMHNP Intern.
Ms. Brown is under supervision of Dr. Vernita Marsh, Ph.D., CEO & Founder of Dr. Vernita Marsh & Associates.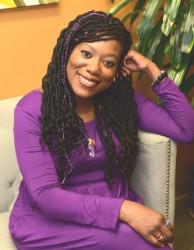 Dr. Vernita Marsh & Associates
401 Grand Ave, Ste. 380
Oakland CA 94610
(510) 420-4555
www.drvernitamarsh.com
Date and Time
Location
Refund Policy