Description
Color for Digital Artists
a two hour streaming video webinar

only $59.95

Color for Digital Artists is a unique webinar all about color that is specifically designed for digital artists. If you are a photographer, video editor, Photoshop artist, motion graphics artist, 3D animator, visual effects artist, or frankly, any kind of artist today working with pictures your job depends on working with digital images. In this webinar you will learn what happens when color hits the computer.
If you would like to have this webinar available to the entire staff of your company, just contact us to get a quote for a site license and join the likes of Animal Logic and Disney Feature Animation.
CLICK THE ICON HERE TO WATCH THE "ZIP" PREVIEW VIDEO!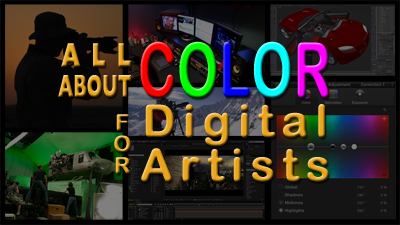 This is not an art class. It does not teach how to create "looks". You can find that in many places. This is also not a color science class. There is no math or complex equations to worry about. This is the knowledge of color that is hard to find because it is scattered all over. Steve Wright, a highly experienced feature film visual effects trainer that has trained over 600 artists knows what you need and pulled it all together in this one clear and easy to understand webinar.
Here is what you will learn in the Color for Digital Artist webinar:
The Basics and Key Terms
Color theory – both additive and subtractive
Color and the Computer – color channels, integer and floating point pixel values
The color wheel – changing hue by rotating through it
Complimentary colors – technical vs artistic
Key color terms – hue, saturation, brightness, contrast
Color attributes – tints, shades, warm vs cool
Contrast ratio – the scene, the eye, cameras, displays
Understanding Core Color Concepts
RGB vs HSV – which one is for computers and which for people?
HSV color space – how it works and what it looks like
Saturation – how it affects appearance and pixel values
HSV, HSL, HSB, HSI - What's the difference?
Luminance – a pervasive concept in digital color
Luminance and Chrominance – the basis of image compression
Histograms – what they tell you about your pictures
Color correcting –the different operations and how it affects your pictures
Color curves – how they work and how to use them
Primary color grading – what it is and when to do it
Photoshop's Levels tool – the Swiss Army Knife of primary color grading
Secondary color correction – what it is and when to do it
How Color gets Clobbered
Clipping – how to recognize and prevent it from damaging your pictures
Gamut – definition: the range of colors that can be produced
Color Space – why your pictures look different on another display
LUTs – both 1D and 3D LUT
Color temperature – how it affects your pictures
Standard Illuminants – what they are and what they are used for
Protecting the Quality of your Pictures
Monitor gamma – what is gamma & why we need it, Windows vs Mac
Bit depth – how it works and how to protect your pictures
Image compression – how to keep it from clobbering your color
Color subsampling – a fundamental concept in video and digital images
HDR images – what they are, how they are made, what they are good for
---
PREVIEW VIDEOS
The webinar has been broken into four parts of about a half hour each to for your viewing convenience. Below are short samples from each part so you can make sure this webinar is right for you.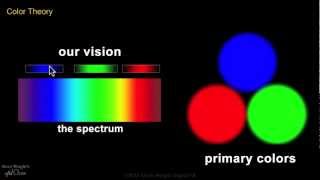 PART 1
This is a preview from part one that has an explanation of the human visual system and how it perceives color.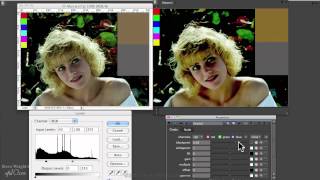 PART 2
This is a preview from part two that demonstrates exactly what the Photoshop Levels tool does to the picture.
PART 3
This is a preview from part three that explains what color temperature is all about.
PART 4
This is a preview from part four that explains what bit depth is all about.
---