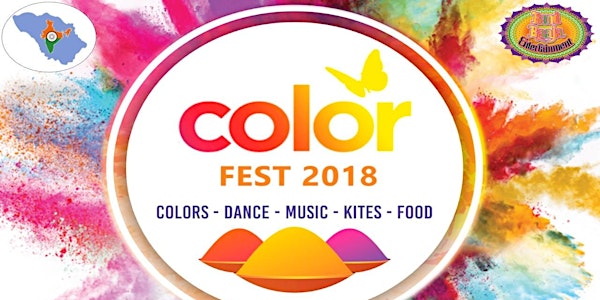 COLOR FEST 2018
When and where
Location
The Chrysalis, Merriweather Park at Symphony Woods 10431 Little Patuxent Parkway Columbia, MD 21044
Description
THE BIGGEST INDIAN FESTIVAL HOLI CELEBRATIONS
Indian Origin Network of Howard County (IONHoCo) & Band Baaja Entertainment Present'
Color Fest 2018 - Free Entry & Free Parking
Colors - Dance - Music - Kites - Food - Ice Cream - Soda - Kid & Family Entertainment
COLORS:
Non-toxic, skin friendly certified & free from heavy metal & stain free.
Event disclaimer and limitation of liability:
Your participation in any public event, private event or activity listing is at your sole and exclusive risk. The host of any event may refuse admittance, may charge an admission fee, or ask you to leave an event at any time for any reason.
By attending the event you agree and understand that in connection with your participation in any event or activity, you may be exposed to a variety of hazards and risks, foreseen or unforeseen, which may or may not be inherent in those activities and events. These inherent risks include, but are not limited to, the dangers of serious personal injury, property damage, and death (injuries and damages) from exposure to the hazards of public or private outings and activities and GAS Sports has not tried to contradict or minimize your understanding of these risks. You agree and understand that injuries and damages can occur by natural causes or by the acts of other persons or third parties, either as a result of negligence or because of other reasons.
You are personally responsible for all costs and/or risks associated with any public or private event or activity. Notwithstanding anything to the contrary herein, to the fullest extent allowed by law, you agree to waive, discharge claims, release from all liability and indemnify and hold harmless GAS Sports, The SuperGP Champions Trophy, its subsidiaries, affiliates, officers, agents, and other partners and employees, from any and all liability on account of, or in any way resulting from injuries and damages in any way connected with any events or activities.
You agree and understand and intend that this assumption of risk and release be binding upon you and your heirs, executors, agents, administrators and assigns, and includes any minors accompanying user at the events.