Actions and Detail Panel
Color & Design in Huck Lace Towels
Fri, Mar 3, 2017, 9:00 AM – Sat, Mar 4, 2017, 4:00 PM EST
Description
Color & Design in Huck Lace Towels
Friday, March 3, 2017, 9am - 4pm and
Saturday, March 4, 2017, 9am - 4pm
Instructor: Rosalie Neilson
Cost: $150 WGGC members / $175 non-members
Materials fee, payable to the Instructor: $15
Skill Level: Advanced Beginner to Advanced
Workshop Limit: 15
Chair: Barb Niehaus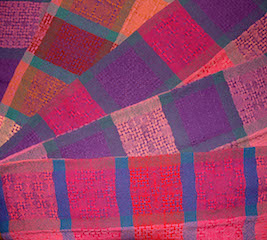 Weavers will learn how "blocks" of Huck Lace are threaded on 4 and 8 shafts and how they can be combined to expand design possibilities. They will learn how to convert a profile draft into a threading and treadling draft.
Participants will use copies of design pages and transparent overlays from Neilson's book, An Exaltation of Blocks, to explore design possibilities for 6-block Huck Lace.

The Towel Project will consist of three sections of Huck Lace, each a different color, separated by a strip of plain weave. The project can be adjusted to weave on 18" wide or wider looms.
Participants need to supply:
4 or 8 shaft pre-threaded loom (drafts provided by the instructor) at least 18" wide
8/2 unmercerized cotton in four (4) colors
6 or 12 dent reed, sett 18 epi
threading and reed hook
tape measure
boat shuttle with four (4) bobbins wound, same colors as warp
about 10 yds. cotton (twine), nylon, or linen cord – used for "lashing on" technique
cotton rag strips or heavy yarn for "opening out" warp at beginning
scissors
tapestry needle
graph paper (4 or 8 sq per inch)
some colored pens or pencils for block designs
note paper
pocket calculator
masking tape
lunch both days (a refrigerator and microwave are available)
(optional) laptop computer, if you have Fiberworks weaving software program
Rosalie Neilson is known in the fibers world for her Warp-faced Rep weavings and Kumihimo braiding. Her rep hangings have been exhibited nationally and internationally, including three exhibitions in Kyoto, Japan. Her weavings hang in corporate offices and private residences. She has written articles for Shuttle, Spindle and Dyepot, Handwoven, and Weavers' magazines, and the Braid Society's journal Strands. She helped create Braid Runner, the first software program to predict braid designs, and published a limited edition book in 1998 called The Thirty-Seven Interlacements of Hira Kara Gumi. A second limited edition book, The Twenty-Four Interlacements of Edo Yatsu Gumi, was released September 2011. She lectures and teaches workshops throughout the United States, Canada, and England, and is on the Adjunct Faculty of Oregon College of Art and Craft. (from Amazon.) Check out Rosalie's web site: http://www.rosalieneilson.com.
Questions about the workshop? Contact the chair, Barb Niehaus, at bniehaus60@gmail.com. Problems registering? Contact the EventBrite Coordinator at eventbritecoordinator@weaversguildcincinnati.org or the Education Chair at the Education voice mail box, 513-593-9442 or by email, classes@weaversguildcincinnati.org.