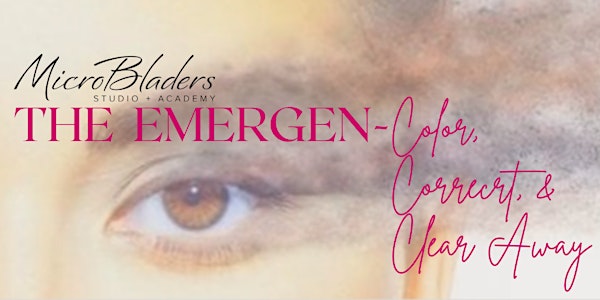 Color Correction + Camouflage, Pigment Lighting + Removal Workshop
Attention all current PMU artists, this pigment removal + color lightening + color correcting workshop is a MUST have certification course!
When and where
Location
MicroBladers Studio + Academy 6725 South Eastern Avenue #6 Las Vegas, NV 89119
Refund Policy
Contact the organizer to request a refund.
Eventbrite's fee is nonrefundable.
About this event
Subject: 1-Day Las Vegas Emergen-C Workshop offers professional PMU artists the following techniques: Color Correction, Color Camouflage, Pigment Lightening + Removal Training.
Attention all current PMU artists, this pigment removal + color lightening + color correcting workshop is a MUST have certification course!
Be assured our experienced instructors will share and demonstrate with you everything you would need to know, from removing old unwanted pigment with saline needling to camouflaging over old, tattooed eyebrows, neutralizing the color to a more naturally aesthetically pleasing shade.
Lastly, let's not forget learning the simple trick of concealing those micro imperfections we occasionally find ourselves saying "what the heck did I just do?!" So, join us in learning higher-level skill of Color, Conceal + Clear away your Pigment Lightening and Removal in PMU restoration!
Course Price: $800
Deposit Required: $200
Training Location: MicroBladers Studio + Academy (Las Vegas, NV)
Classroom Hours: 10am – 3pm (Light snacks and refreshments provided)
Course Description:
By taking our Las Vegas MicroBladers' 1-Day Emergen-C Workshop, artists will be given the hand-on training and know-how to perform the following PMU techniques in: Color Correction, Color Camouflage, Pigment Lightening + Removal Training. You will learn all the ins and outs from correcting warm and cool brows to removal and pigment lightening. This course will equip you with vital skills in case of an Emergen-C. It is designed with an easy-to-follow structure to quickly get your hands comfortable with color correction, conceal, and to clear away any previous work.
What is Color Correction?
Color Correction is when the artists tattoos over the faded blue, grey, or red permanent makeup to neutralize it. Color intensity will reduce by 30-50 percent. As an artist you first must know what color the previous work is, what is the complementary color to the previous work and what is the target color for your client.
What is Saline Removal?
Saline Tattoo Removal is a method of several treatments of lightening pigment from skin using a simple saline solution rather than evasive lasers. Saline removal is a salt like solution used to remove unwanted pigment and or lighten, which then allows the artist to correct old PMU or tattoo work. We at MicroBladers believe it is best to perform this method with minimal trauma to the skin lessening the result of acquiring additional scar tissue. MicroBladers experienced trainer will guide you through the step-by-step procedure to know which techniques are suitable for different skin types and forms of old unwanted PMU or tattoo work.
How much can I earn doing Pigment Lightening and Removal?
Permanent Makeup artists charge anywhere from $100 to $250 per hour for Color Correction, removal, or lightening. Factors such as your experience and location will determine how much you can start charging your clients. Even if you start at just $150 per hour, having 3-4 client a week, you'll earn you $500-$600 a week!
Class Overview:
A deposit of $200 is due via Eventbrite at the time of registration to lock your spot, and the balance will be due the first day before start of class. We limit the classroom environment to a small group of students to ensure that everyone is grasping the concept and getting the attention that they deserve. Students will receive a MicroBladers' Color Correction and Pigment Removal + Lightening Certificate of Completion. Certificates will be mailed to any student who is accepted after the cutoff date specified.
Any questions, please do not hesitate to call/text Danielle at (702) 200-2820 or hello@microbladers.com or visit us at https://microbladers.com/services/microblading-pigment-lightening-removal/
Included in the Course:
• Professional MicroBladers Removal Kit
• Artist Training Manual
• Pigment Lightening Solution
• Modifier/Neutralization Pigments
• Ethnicities & Skin Types
• Student Procedure Simulation
• Color Theory (what pigments to choose for different undertones)
• Needle Types & Suggested Uses
• Practical Application and Preparation
• Topical Anesthetics
• Safety and Sanitization
• Client Consultation and Consent Forms
• Aftercare Instructions
• Post Treatment & Complications
• Depth using Synthetic Skin
• Certificate of Completion on Color Correction and Pigment Removal + Lightening
It is Student's responsibility to investigate all licensing, apprenticeship, insurance and other state and local requirements for the practice of permanent cosmetics in the area in which he or she intends to work.
$200 ticket purchase is deposit only and required to lock in your spot. Classrooms are limited to 6 students to ensure a proper training environment. Training and practice materials plus Emergen-C kit included. Total class cost $800. Remaining balance required on first day before class starts. This is a training certification course. Please visit www.microbladers.com for additional information on Color Correction and Removal.
,,,,,,,,,,,,,,,,,,,,,,,,,,,,,,,,,,,,,,,,,,,,,,,,,,,,,,,,,,,,,,
©2019 MicroBladers, LLC. The material provided in this Eventbrite listing is protected by U.S. copyright laws. Reproduction and distribution of the Eventbrite or any materials within it without written permission of the owner is strictly prohibited and may result in legal action.