Color Accounting Workshop

Friday, January 27, 2017 from 9:00 AM to 5:00 PM (PST)
Event Details

Color Accounting is a most exciting innovation in accounting education. It used new modes of explanation (color, diagram, dimension, linkages and sound)  to explain concepts that have for a long time been in need of clearer explanation.
Color Accounting achieves what 'finance for non-financial managers' workshops do. But because it approaches the content differently, the result is a deeper grasp of the subject. Learners rave about it. Routinely we hear: "Why wasn't I taught this way before?"
Companies want their employees to make effective decisions. And those decisions should be based on sound business thinking. Color Accounting delivers a platform for financial and then business acumen.
See the short overview video: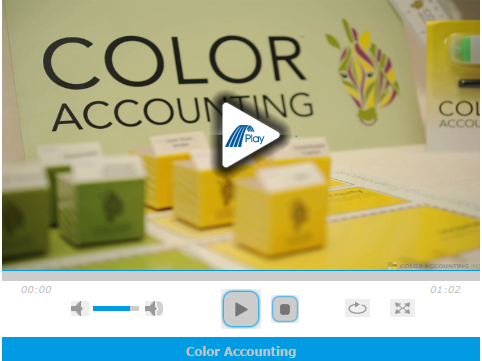 Learning Objectives
Understand how accounting works, by seeing clearly the fundamental structure and mechanics of finance.
Notice the ambiguities and distortions in the language of accounting. This builds confidence when you realize incomprehension 'is not your fault', and reduces miscommunication, cross-talk and misunderstandings.
Be comfortable reading and understanding clients' key financial reports, in particular Balance Sheets and Income Statements.
Engage confidently in financial conversations, asking powerful questions based on a robust understanding of financial concepts and an all-encompassing framework. You will appreciate that questions are warranted, and therefore participate more willingly in discussions about finances. This increased engagement is a very important outcome.
Have developed a more holistic and empowering conception of how business works – The Value Cycle of Business™ -- leading to greater business acumen.
Share the mindset of clients and gain credibility as a trusted, business-savvy advisor.
Understand the relevance and uses of key profit measures, in particular EBITDA.
Be able to analyze financial statements using a range of ratios and metrics, in order to spot potential commercial issues.
Link concepts together, such as tying EBITDA to more in-depth discussions about operating profit, depreciation practices and tax effect accounting.
About the workshop
Color Accounting uses a graphical model to enable deep understanding of accounting. It uses a holistic diagram called the BaSIS Framework. The name derives from Balance Sheet Income Statement Framework.  The diagram combines the key financial reports into a singular view, making their workings easy to see. What were obscure concepts become simple and intuitive when presented with colors, pictures, diagrams and plain language.
Who should attend?
Anyone working with business and personal financial information; people who want to understand how accounting works or progress to advanced accounting studies; and people seeking to improve their general business acumen for the purpose of general management, business ownership/entrepreneurship, sales, or consulting.
Here is why...
Color Accounting gives you a new way to service your current clients. It will strengthen the bond you already have with them.

Because Color Accounting is so unusual, and is becoming a phenomenon, it will help you attract new clients.

Some clients have made Color Accounting mandatory for certain business units. The repeat order rate is high and the people who benefit from the training are widespread.
Materials Included
Each participant receives a pack with a full-color workbook, stationery, storyboard & buckets, perforated journals, stickers and a takeaway reference tool.
About your facilitator...
| | |
| --- | --- |
| Mark Robilliard is a Co-founder and CEO Americas of Color Accounting International, an education and publishing firm headquartered in Washington DC. He's an Aussie who lives in the US and travels widely, leading seminars in financial statement and business acumen skills, for lawyers, bankers and business people. Some of his teaching for senior execs is done in secret. He is a Fellow of Chartered Accountants Australia New Zealand and was the National Training Manager for KPMG Australia. He has also managed the Human Resources Department for the largest insurer in Australia. He is on the adjunct faculty of American University and has taught at other secondary, tertiary and post-grad institutions in the US and Australia. He has co-authored a number of books, including Accounting Comes Alive: The Color Accounting Parable, and Color Accounting: The New Graphical System That Makes Learning Accounting Easy And Quick. He believes that Accounting Literacy is the under-appreciated foundation upon which all Financial Literacy and Business Acumen should be built. | |
Join us!
January 27, 2017
at Casa Madrona Hotel 
801 Bridgeway Sausalito, CA 94965 United States
When & Where

Casa Madrona Hotel
801 Bridgeway
Sausalito, CA 94965


Friday, January 27, 2017 from 9:00 AM to 5:00 PM (PST)
Add to my calendar
Organizer
Persona GLOBAL® is a people performance development management consultancy that publishes and distributes culturally adapted, customizable workshops, assessments, computerized simulations, and board games targeted to improve cooperation, communication, leadership, employee engagement & more.

With content available in up to 38 languages, programs developed in 11 countries, and thousands of certified local facilitators, Persona GLOBAL® enables companies and individuals to achieve personal & business goals around the world.