About this Event
Capping off Colonial Beach, Virginia's World War I & World War II Commemoration Day is a 1940s WWII Era Dinner/Dance Gala, commemorating the 75th Anniversary of D-Day, the Allied landings along the Normandy coast.
The USO-themed gala, held at Riverboat on the Potomac, in Colonial Beach, is a fundraiser to help support veterans assistance programs available through the American Legion and Military Officers Association of America (MOAA), and for military history preservation programs at Dahlgren Heritage Museum.
Join us for a fabulous sit-down dinner. (Scroll down for menu.) Dance cheek-to-cheek with your sweetheart to live orchestra music from the Fredericksburg Big Band. Enjoy 1940s-era entertainment including swing dance lessons and performances from DanceFXBG.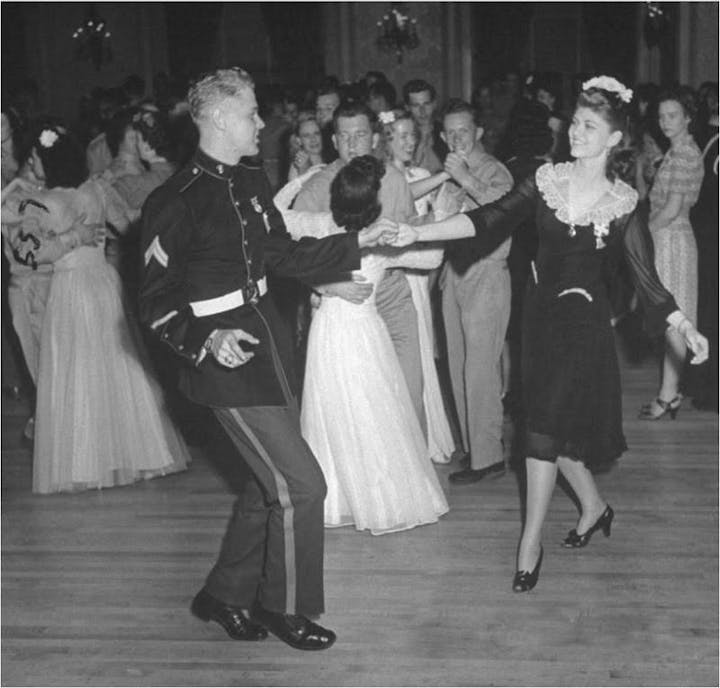 Show your appreciation by giving back to the veterans and active duty servicemen and women who protect Americans' freedoms, and mingle with VIP guests. NOTE: If a WWII veteran will be attending, please let us know by emailing info@visitcbva.com so the WWII veteran can receive special accommodations, complimentary dinner, and acknowledgement during the event.
For complete information and a full schedule of events, visit our WWI & WWII Commemoration Day page.
ATTIRE/DRESS
Riverboat will be decorated USO-style and guests are encouraged to wear military uniforms or authentic vintage, period-style, or party dress. Don't forget accessories! Vintage jewelry or a flower in you hair for the ladies. A fedora, suspenders, or bow tie for the gentlemen.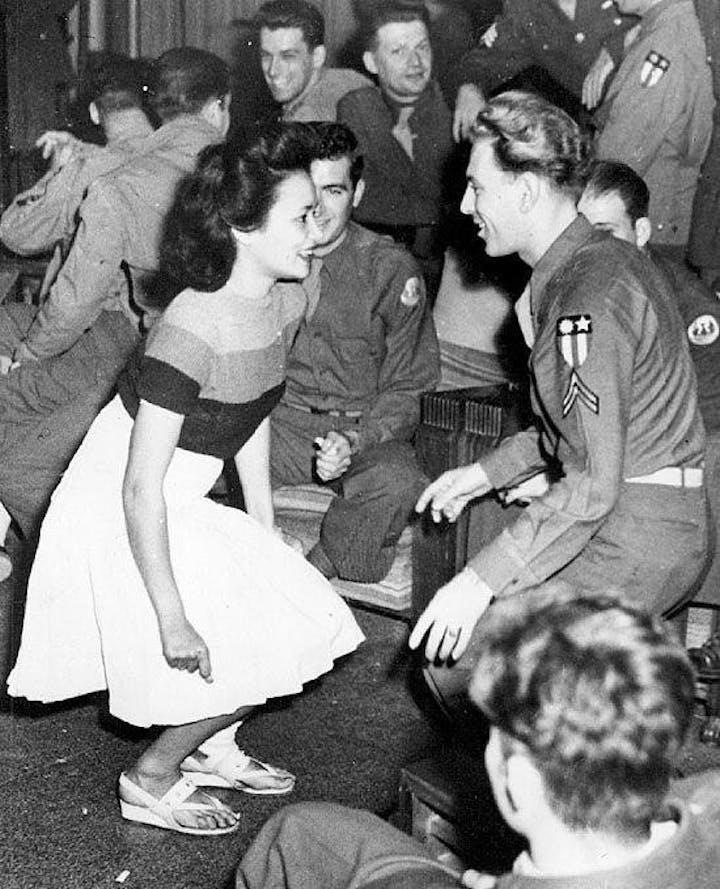 MENU: At checkout, choose one:
French center cut pork chop seared with maple and horseradish glaze with roasted fingerling potatoes and sautéed spinach.
Grilled Chicken Breast with button mushrooms, fresh rosemary, roasted red bell pepper, roasted garlic, wine sauce and finished with shaved parmesan. It will be served with saffron infused rice pilaf and honey glazed brussel sprouts.
Beef Filet with a green peppercorn, brandy, leek and mushroom sauce. We will serve this with garlic herb roasted potatoes and citrus baby carrots.
Blackened Salmon Filet with a mango chili sauce with a quinoa salad and garlic broccoli.
Cash bar
SEATING:
There will be no assigned seating, except for reserved seating for special guests. Arrive early to choose your preferred seat.
REFUND & CANCELLATION POLICY:
Tickets are non-refundable for any reason. All sales are final.
LODGING: Make it a Beach Weekend!
Colonial Beach, Virginia, is home to the 2nd largest public sand beach in the state. Make a weekend out of it! Only 65 miles from Washington DC or Richmond. In-town accommodations range from luxury B&Bs to quaint inns and motels and charming beach cottages and even campgrounds and RV parks! Visit our website to find lodging and things to do in and around Colonial Beach: www.visitcbva.com
ABOUT Colonial Beach WWI & WWII Commemoration Day:
WWI & WWII Commemoration Day aims to foster public knowledge and promote appreciation for the immense scale of the World Wars, given the cost in lives lost; resources expended; physical destruction of land, facilities, and infrastructure; people impacted; and the resulting far-reaching changes to the world-wide political, cultural, and economic landscape. Learn the community's history as it relates to WWI and WWII, notably the impact of Naval Proving Grounds in Dahlgren during WWII.
The full day event honors and memorializes the 100th anniversary of World War I (and the American Legion) and the 75th anniversary of World War II D-Day, veterans of those wars, their sacrifices, and contributions of the people at home. Events include:
Opening ceremony with color guard, ceremonial band, and VIP guest speakers;
Educational sessions and discussions with military historians;
Flyover by WWII planes;
Exhibits and displays of World Wars memorabilia, entertainment; non-profit community groups, food and drink vendors;
Capping off the day will be a USO-style gala fundraiser: dinner, swing dance lessons, entertainment and dancing to 1940s-era music from Fredericksburg Big Band.
A portion of ticket sales from the WWII 1940s Gala will support veterans and historical endeavors, including:
Dahlgren Heritage Museum programs that preserve and promote the history, traditions, heritage, and culture of the U.S. Navy at Dahlgren, Virginia and provide long-term preservation efforts and educational activities associated with sharing stories and interpreting the U.S. Navy's physical, technical, intellectual and social contributions to King George County, the Commonwealth of Virginia, and the nation.
Military Officers Association of America (MOAA) Scholarship Fund and Foundation, which assists veterans by creating, enhancing, expanding, or supporting high-impact, proven-successful programs and services that enable the nation's uniformed servicemembers and veterans of all ranks and their families to maintain a quality of life reflective of their selfless service to America.
American Legion, the nation's largest wartime veterans service organization celebrating its 100th anniversary this year, committed to mentoring youth and sponsorship of wholesome programs in communities, advocating patriotism and honor, promoting strong national security, and continued devotion to servicemembers and veterans. Hundreds of local American Legion programs and activities strengthen the nation, through scholarships, Operation Comfort Warriors, National Emergency Fund and more.