Colombian Fest / El Gran Festival Colombiano presale
Description
COLOMBIAN FEST CHICAGO PRESALE TICKETS LIMITED TIME ONLY! 2019 JULY 19-21 2019
FRIDAY TICKETS - JULY 19TH, 2019 4:00PM-10:00PM
SATURDAY TICKETS - JULY 20TH 2019 12 NOON - 10:00PM
SUNDAY TICKETS - JULY 21ST 2019 12 NOON - 10:00PM
-3-DAY PASS LIMITED TIME ONLY!
VIP ACCESS ADD ON
VIP ACCESS + SEAT IN FRONT OF STAGE ADD ON
A VIP TICKET IS VALID FOR ONE DAY ONLY, A DAY OF YOUR CHOOSING.
PARA PREGUNTAS EN ESPANOL ILLAMA 773-620-9227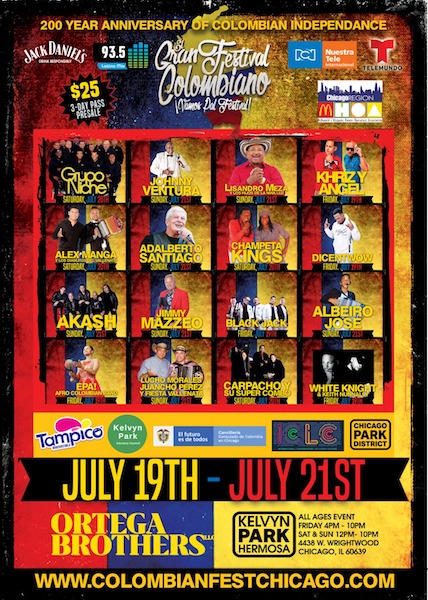 LINE-UP:
GRUPO NICHE
JOHNNY VENTURA
LISANDRO MEZA Y LOS HIJOS DE LA NINA TULA LUZ
ALEX MANGA Y LOS DIABLITIOS DEL VALLENATO
ADALBERTO SANTIAGO
WHITE KNIGHT
KEITH NUNNALLY OF JM SILK
ANGEL Y KHRIZ
CHAMPETA KINGS: CHARLIE KING Y VIVIANO TORRES
AKASH
BLACKJACK
JIMMY MAZZEO
LUCHO MORALES Y JUANCHO PEREZ Y SU FIESTA VALLENATA
CARPACHO
EPA!
MISFIT CIRCUS! KID ZONE! ART! JACK DANIELS EXPERIENCE, AMAZING FOOD AND MORE!
FOR MORE INFORMATION ON THE FEST VISIT OUR WEBSITE AT WWW.COLOMBIANFESTCHICAGO.COM FOLLOW US ON FACEBOOK & INSTAGRAM FOR MORE JUICY DETAILS!
ESPECIAL! - PASES DE 3 DÍAS PARA EL FEST COLOMBIANO 2019 JULIO 19-21
¡POR TIEMPO LIMITADO!
PARA MÁS INFORMACIÓN SOBRE EL FEST VISITE NUESTRO SITIO WEB EN WWW.COLOMBIANFESTCHICAGO.COM
¡SÍGUENOS EN FACEBOOK Y INSTAGRAM PARA MÁS DETALLES!
NOTE: TIMES OF FEST/ HOURAS DEL FESTIVAL
FRIDAY STARTS AT 4:00PM-10:00PM
SATURDAY 12 NOON - 10:00PM
SUNDAY 12 NOON - 10:00PM