Sales Have Ended
Registrations are closed
Thank you for registering yourself on the Colloqumotion Series of 2018! Should you have further inquiries, please send your email to plj-proposals@un.or.id
Sales Have Ended
Registrations are closed
Thank you for registering yourself on the Colloqumotion Series of 2018! Should you have further inquiries, please send your email to plj-proposals@un.or.id
Description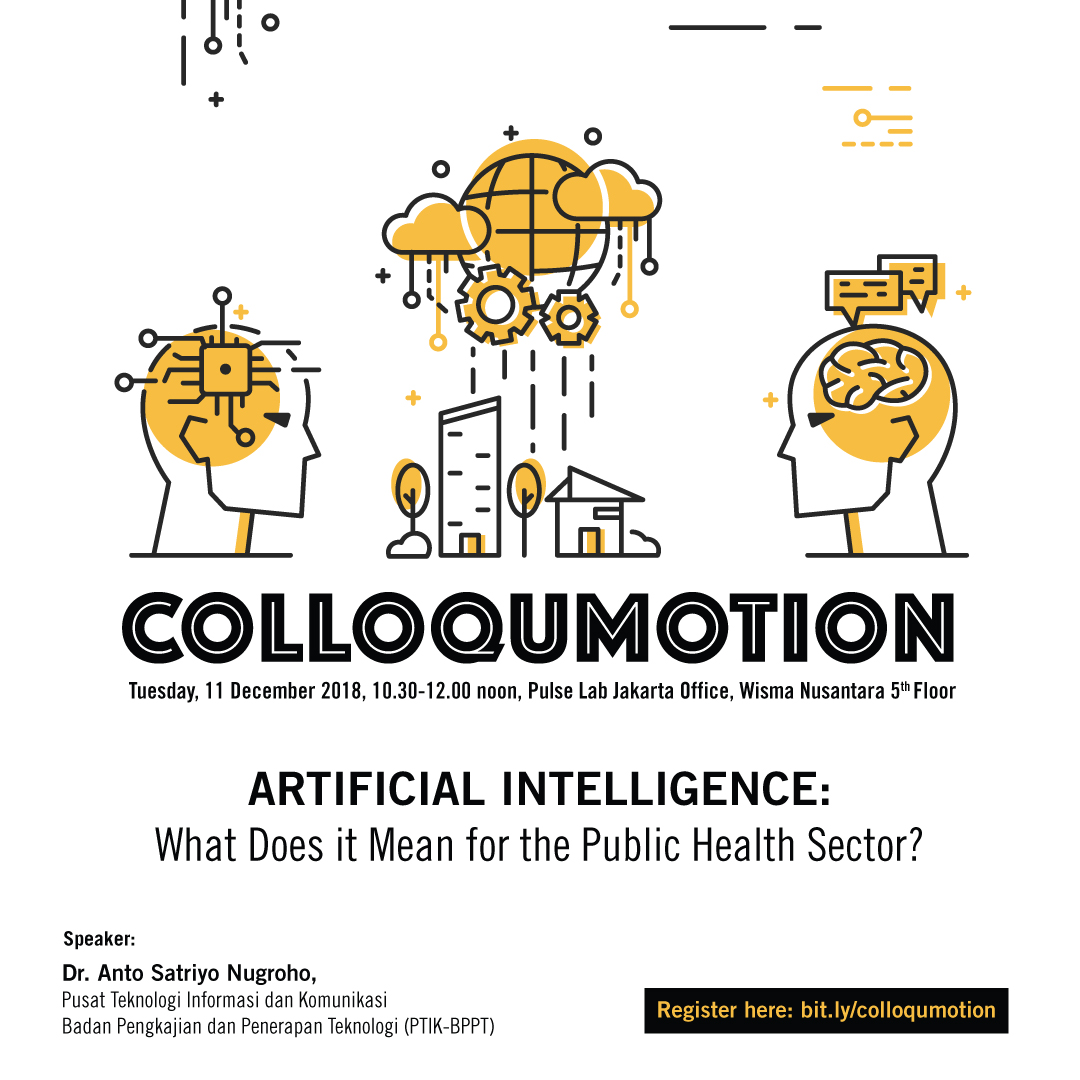 Artificial Intelligence: What Does it Mean for the Public Health Sector?
Speaker: Dr. Anto Satriyo Nugroho
Pulse Lab Jakarta Office, 5th Floor, Wisma Nusantara (Next to Pullman Hotel)
10.30 - 12.00, December 11, 2018 (Tuesday)
Artificial Intelligence: What Does it Mean for the Public Health Sector?
Across different sectors and industries, artificial intelligence (AI) integration is popularly becoming part of the answer on how to enhance efficiency, enable faster and more accurate decision making and in general make life easier. But not everyone fully graps what it is all about and what it may mean for their everyday quality of life. Turning the spotlight on malaria disease, this session will focus on how artificial intelligence application can help with malaria diagnosis and the ability to use similar AI approaches to diagnose other common infectious diseases, particularly in developing countries. What is the future of AI in Indonesia's public health sector? Grab a seat (or a comfy bean bag if you'd like) and join the conversation.
Speaker Bio
Dr. Anto Satriyo Nugroho is a computer scientist who has been working at the Centre for Information & Communication Technology, Agency for the Assessment & Application of Technology (PTIK-BPPT), Indonesia since 1989. In 2017, he was appointed as the first president of the Indonesian Association for Pattern Recognition (INAPR). His research focus is on biometrics, pattern recognition and computer vision.
Click here to learn more about the Colloqumotion series: https://medium.com/pulse-lab-jakarta/introducing-colloqumotion-a-series-of-learning-talks-on-development-issues-5c4746369c44
*THIS EVENT IS OPEN FOR PUBLIC*
Organiser of Colloqumotion 2018 Series: Artificial Intelligence: What Does it Mean for the Public Health Sector?
Pulse Lab Jakarta (PLJ) combines data science and human intelligence to help make sense of our interconnected, interdependent, and complex world. The Lab is a joint initiative of the United Nations and the Government of Indonesia, via United Nations Global Pulse and the Ministry of National Development and Planning (Bappenas) respectively.
As the first innovation lab of its kind in Asia, Pulse Lab Jakarta is working to close information gaps in the development and humanitarian sectors through the adoption of big data, real-time analytics and artificial intelligence.