About this Event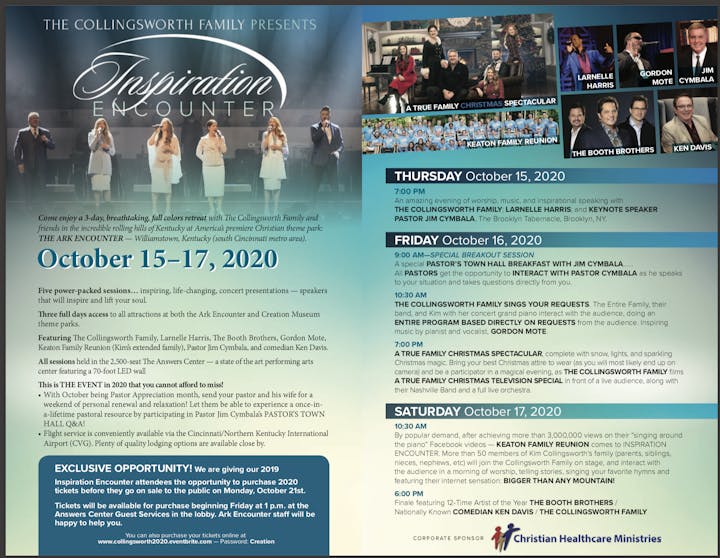 5 POWER-PACKED SESSIONS INSPIRING, LIFE-CHANGING CONCERT PRESENTATIONS ------ SPEAKERS THAT WILL INSPIRE AND LIFT YOUR SOUL
3 FULL DAYS ACCESS TO ALL ATTRACTIONS AT BOTH THE ARK ENCOUNTER and CREATION MUSEUM THEME PARKS
FEATURING THE COLLINGSWORTH FAMILY, LARNELLE HARRIS, THE BOOTH BROTHERS, GORDON MOTE, KEATON FAMILY REUNION (Kim's extended family), PASTOR JIM CYMBALA, and comedian KEN DAVIS
ALL 5 SESSIONS HELD IN THE BRAND NEW 2,500 SEAT "THE ANSWERS CENTER" - State of the Art Performing Arts Center featuring a 70-Ft LED Wall on stage
EXPERIENCE INSPIRATION ENCOUNTER 2020
OCTOBER 15, 16, 17, 2020
Thursday, October 15, 2020 - 7:00 pm
An amazing evening of worship, music, and inspirational speaking with
THE COLLINGSWORTH FAMILY; LARNELLE HARRIS; and KEYNOTE SPEAKER PASTOR JIM CYMBALA, The Brooklyn Tabernacle, Brooklyn, NY.
Friday, October 16, 2020 - 9:00 am
SPECIAL BREAKOUT SESSION
A special PASTOR'S TOWN HALL BREAKFAST WITH JIM CYMBALA……
All pastors get the opportunity to interact with Pastor Cymbala as he speaks to your situation and takes questions directly from you.
Friday, October 16, 2020 - 10:30 am
THE COLLINGSWORTH FAMILY SINGS YOUR REQUESTS. The Entire Family, their band, and Kim with her concert grand piano interact with the audience, doing an
ENTIRE PROGRAM BASED DIRECTLY ON REQUESTS from the audience. Inspiring music by pianist and vocalist, Gordon Mote.
Friday, October 16, 2020 - 7:00 pm
A TRUE FAMILY CHRISTMAS SPECTACULAR, complete with snow, lights, and sparkling Christmas magic. Bring your best Christmas attire to wear (as you will most likely end up on camera) and be a participator in a magical evening, as THE COLLINGSWORTH FAMILY films A TRUE FAMILY CHRISTMAS TELEVISION SPECIAL in front of a live audience, along with their Nashville Band and a full live orchestra.
Saturday, October 17, 2020 - 10:30 am
By popular demand, after achieving more than 3,000,000 views on their "singing around the piano" Facebook videos — KEATON FAMILY REUNION comes to INSPIRATION ENCOUNTER. More than 50 members of Kim Collingsworth's family (parents, siblings, nieces, nephews, etc) will join the Collingsworth Family on stage, and interact with the audience in a morning of worship, telling stories, singing your favorite hymns and featuring their internet sensation: BIGGER THAN ANY MOUNTAIN!
Saturday, October 17, 2020 - 6:00 pm
Finale featuring 12-Time Artist of the Year THE BOOTH BROTHERS /
Nationally Known COMEDIAN KEN DAVIS / THE COLLINGSWORTH FAMILY
PRICES INCLUDE all five sessions of the retreat weekend and three days entrance and parking to both the Ark Encounter and the Creation Museum. Applicable taxes and processing fee not included.
Concert Date: Oct. 15-17, 2020
Also appearing: Larnelle Harris, Gordon Mote, Ken Davis, Jim Cymbala, the Booth Brothers and the Keaton Family Reunion
Concert Times: See schedule above for details.
BRONZE
$199.50 per person
SILVER
$249.50 per person
GOLD
$299.50 per person
PLATINUM
$399.50 per person
The PLATINUM package also includes a private finger-food reception with The Collingsworth Family and their Nashville band following the filming on Friday night.
Our partner hotels offer special rates to Ark Encounter guests. To recieve these rates please book your hotel at: www.arkencounter.com/places-to-stay/
Tickets are non-refundable.