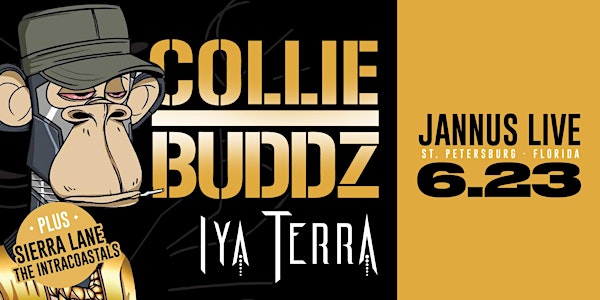 COLLIE BUDDZ & IYA TERRA w/ Sierra Lane and The Intracoastals - St. Pete
Performers
Collie Buddz
Iya Terra, Sierra Lane , The Intracoastals
Location
Jannus Live
200 1st Avenue North
#STE 206
St. Petersburg, FL 33701
COLLIE BUDDZ & IYA TERRA w/ Sierra Lane Music and The Intracoastals live in St. Pete
About this event
Deuterman Productions Presents: COLLIE BUDDZ & IYA TERRA
Support: Sierra Lane Music & The Intracoastals
Collie Buddz: Colin Patrick Harper hails from the tiny island of Bermuda. In the music industry, he is known as the reggae artist Collie Buddz. Buddz was born on August 21, 1984 in New Orleans, Louisiana. After graduating from high school, he attended Full Sail University in Winter Park, FL, where he decided to study studio engineering. Upon graduating from the top in his class at Full Sail in 2006, Buddz began looking for work in the recording industry as a performer or producer. One of his first major gigs was working with recording star Shaggy on the single "Mad Mad World" from Shaggy's new album at the time entitled Intoxication, which was released in 2007. That was the same year Collie released his self-titled debut album with Sony Music with tracks such as 'Come Around' and 'Blind To You'. The album was a success and well-received by critics. WWE (World Wrestling Enterprises) fans would immediately recognize Buddz's voice from the entrance theme ("SOS") for WWE superstar wrestler Kofi Kingston, which was included on the 2008 compilation WWE The Music, Vol. 8. Over the next year, he would continue making guest appearances on the works of many other artists.
Iya Terra: Listen, breathe. The kick drum is thumping in an offset rhythm to your beating heart and the bass is thundering vibrations through your entire body, tuning you into the stage and every other person standing in the crowd. Lightning strikes in your mind as dueling guitar riffs peel away the fog and a keyboard bubble floats loftily like clouds over it all. Then come the lyrics, messages of connection and grace. Ease flows through the entire scene and you're awoken by the tingle of resonance on your skin. Do you feel it? This is Iya Terra.From roots that reach down to a magma-hot core of metal heavy grooves, up to branches that reach into a pink sky of conscious soundwaves - Iya Terra is constantly climbing. Iya Terra means higher ground, which they seem to find everywhere, whether it be the top of the latest charts or next year's festival billing. Iya Terra brings a modern-conscious approach to songwriting in their ever evolving soundscapes: with messages crafted in love & respect. Currently based out of LA, and with members hailing from the west coast, SLC, and Vegas, their powerful rhythm section provides the heartbeat over which scintillating guitar riffs and soothing vocals float melodies of universal resonance.
Use the share tools on this event page to let your friends know where you will be. Please Print PDF ticket for entry into event or your phone email can work as well. No Refund Event. Rain or Shine Event.