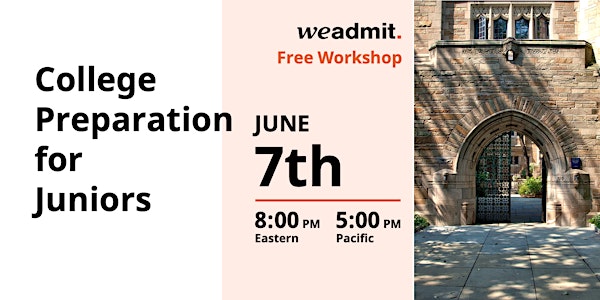 College Preparation for Juniors [June 7]
Build a master plan for your child's college application.
Date and time
Wednesday, June 7 · 5 - 6pm PDT
About this event
With senior year on the horizen, it's time to get started on preparing for the upcoming application deadlines.
To help you get started, WeAdmit invites you to attend our free workshop, where you'll learn how your child will be evaluated by admissions officers.
The best part: you will have access to two REAL application packages submitted to Brown University — one applicant got admitted and the other didn't — and you can make your own decision about which one you would accept.
👇 Here's a sneak peek of what you'll learn: Steven's application package for Brown University👇
Of course, our admissions professional will give you the answer key of which applicant was actually admitted and why.
This workshop is designed for parents but students are welcome to attend as well.
After you complete the registration, you'll receive a Zoom link.
Seats usually go fast! Since this event is free, we highly recommend you register now.
Looking forward to seeing you soon!
— The WeAdmit Team
About the organizer
WeAdmit helps students plot their personal path to college, through unique and empowering programs.
Our online service is built around your child: their needs, their passions, and their objectives. What do they want? Where do they want to go? The path to their perfect-fit college is a rewarding journey. Our programs not only teach them to create winning applications, they will also help them gain a deeper understanding of who they are and what they truly want.
Success for us means students turning passion and purpose into a place at their perfect-fit college. That's what matters most to us. It's our legacy. It's your child's future.