Description
Are You Ready for College?
We Work Together with Parents and Students to Make Their College Dreams Come True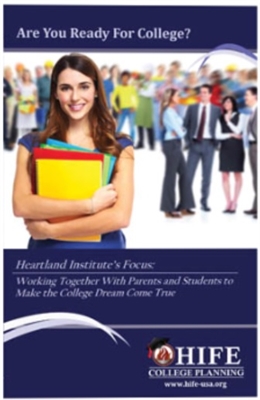 U.S. College Planning Program
Determining the most cost-effective, tax-efficient way to fund a college education is not always easy. Many parents would prefer not to think about it at all – hoping that things will somehow work out. Due to the "cross-your-fingers" approach, many families face limited choices for college. In order for families to best prepare for this future event, it is important to understand college pricing, the admissions process, financial-aid and how to best navigate the entire complex college-funding system. The Heartland Institute employs a variety of strategies to help position families and students to receive optimal placement and funding.
What We Provide
The HIFE College Planning Program (CPP) provides families with college planning solutions. By enrolling in the HIFE College Planning Program, you will receive assistance with:
Student Personal Interests Assessment
Student Skills Assessment
Student Work Values Assessment
College Selection
College Application and Admission
Student Monthly Recommendation
Essay Review
Free Application for Federal Student Aid (FAFSA) Verification
Financial Aid Comparisons
Expected Family Contribution (EFC) Review
Verification Of Student Aid Report (SAR)
College Scholarship Service (CSS) Profile
Student Loans, Grants & Scholarship Guidance
College Planning Checklist
Scholarship Assistance
Appeals Process Guidance
Student e-Portfolio
Student Career Analysis
Career Research & Comparison
Resume Guidance & Review
Internship Guidance
THE OBJECTIVE
The Institute's objective is to ensure affordable, easily accessible financial education for people everywhere. While this concept has often been discussed in the media, in the classroom and in the boardroom, little has been done to bring it to reality. However, a new model has been developed which offers hope that this goal may be achieved.
THE CONCEPT
After many years spent in course development through the Community College of Aurora (Colorado) and Colorado State University, the Board of Governors of the Heartland Institute recognized that consumers would be well-served if the success of these financial programs was duplicated in colleges and universities across North America. The concept is simple:
Bring financial expertise and training on an educational, non-solicitous basis to employees at their work location for their convenience.

Provide knowledgeable, qualified instructors equipped with practical course material.

Require that an accredited college or university sponsor every course offered.
COLLEGE PLANNING
Our college planning program is designed to successfully guide students and parents through the complex college preparation, selection and funding process. Our certified coaches work directly with families to establish an action plan that is personally developed for each student. This plan is critical for the student to properly prepare for college, obtain proper career assessment and choose the right college. Additionally, we help the student create a personal resume that will aid them in competing for valuable student loans, awards, grants and other forms of assistance that may help offset college education costs.
ABOUT HIFE
The Heartland Institute of Financial Education (HIFE) was officially granted a 501(c)(3) public charity designation on 11/7/2006. This process really began in 1997 when Alan Gappinger began considering a more effective method for bringing financial education to adults. It quickly became evident that most adults never received effective guidance about managing their finances and preparing for the future.
Supported by a Consortium of Colleges and Universities across the United States, HIFE began specializing in the offering of financial wellness education courses for companies and their employees. This quickly expanded to include organizations and entities of all types, shapes and sizes, including general classes for the public, as people everywhere realized the need for hands-on instruction and guidance.
Before long, it became obvious that Canadians were dealing with the same needs for financial education and guidance. HIFE expanded its services by selecting Canadian Instructors to help fulfill the mission in Canada. Soon, the Philippines was included and to date, the Institute has received requests from all over the world.
As this process continued to expand, it became obvious that the Institute needed to include high school students in the financial wellness process. Along with helping these students through understanding financial basics, HIFE now offers college planning and preparation services to students throughout the world.

FAQs
What are the Minimum Requirements for a student to enroll into the CPP?

Must have a minimum GPA of 2.5

Must seek to attend an accredited institution

Must be willing to complete the assigned homework provided by the HIFE Coach
Do coaches review the FAFSA for the family?
The coach can. Complete it, save it but don't submit, and send it to the coach. Also, the family can print a blank copy, complete it, and send it to the coach before submitting anything online. It is a good idea to have them review it!
Will the coach help with other specifics from the college?
Yes, but the family needs to ask for help from the coach if they receive something from the university, etc. The college will not communicate directly with the coach. It is the family's responsibility to communicate everything to the coach pertaining to the student's education.
Does the coach communicate with the parents?
Yes, the parents are copied on all communication to and from the coach.
How many scholarships does a coach get for the student, and how much work does this involve?
The coach may have a list of 5 to 10 scholarships at a time depending on the time of year and what grade the student is in. The student will just need to be cautious of deadlines. Making a schedule may be suggested since the student may need to dedicate 2 to 3 hours a week-some weeks. It won't interfere with their school work. If it becomes an issue, communicate with the coach. Communication is key.
If the student is a freshman in high school, how does the coach help him/her?
The coach can make recommendations on time-management but know that the coach will not tutor the student during high school. Coaches recommend but don't do homework for the student or write essays, etc. The coach also helps student select the correct courses and assess the student's interests and skills with the Heartland's assessment software, amongst many other things.