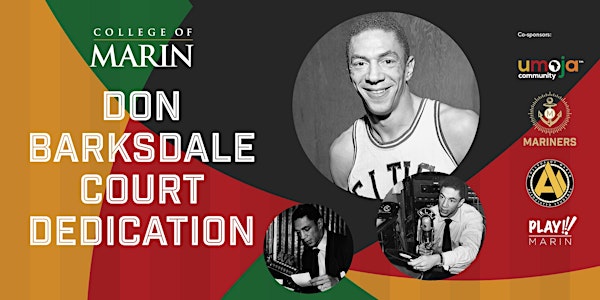 College of Marin Don Barksdale Court Dedication Celebration
College of Marin celebrates the legacy and contributions of legendary alumni Don Barksdale during the Court Dedication Ceremony
When and where
Location
Diamond Physical Education Center College Avenue Kentfield, CA 94904
About this event
The Basketball Court Dedication, Jersey Retirement & Celebration in Honor of Don Barksdale
Join us to celebrate and honor the life and legacy of COM Alumni, Bay Area celebrity, and African American sports, business, and media trailblazer Don Barksdale. Barksdale fought against racism and for inclusion, paving the way for those that came after him.
This is a community event, free & open to the public.
Co-sponsors: UMOJA Equity Institute, Athletics, Play Marin and ASCOM
The program includes an opening reception, interactive sessions with Play Marin youth athletes and COM student athletes, special guest speakers, excerpt from the film Bounce: The Don Barksdale Story with filmmaker Doug Harris, Barksdale Court Dedication & Jersey Retirement.
Individuals seeking access support or reasonable accommodations to attend this event may contact the Student Activities and Advocacy Office at (415) 485-9376.
The Legacy of Don Barksdale
Don Barksdale is legendary for breaking racial barriers in basketball, business, and broadcast media and for giving back to his community.
When Barksdale played at College of Marin from 1941-1943, segregation, Jim Crow, and lynching were legal throughout the United States. Barksdale was cut from playing basketball at Berkeley High School because of the coach's racist policy allowing only one Black player on the team, making the courts of College of Marin the place he got his start as a student-athlete.
Of his time at College of Marin (formerly Marin Junior College), Barksdale recalled, "Some pretty great athletes were in those junior colleges because...[that's] as far as the black athletes could get at that particular time and the competition was great...They kind of went out of their way to make you feel at home and comfortable. My years at Marin Junior College were very pleasurable and we won the championship both years."
Barksdale's career spanned the return of African American troops from WWII, the racist implementation of redlining in housing, and the historic Brown vs. Board of Education decision of 1954. The viscous racist lynching of 14-year-old Emmett Till and the Montgomery Bus Boycott led by Rosa Parks occurred just months after an injury ended his basketball career in 1955.
When Barksdale played with the U.S. Olympic basketball team in Kentucky, he received death threats warning him not to play or he would be shot. Racial segregation laws prevented him from staying in the same hotel as his teammates or dining in the restaurants he wanted to eat in. Speaking on playing with the U.S. Olympic team in Oklahoma, Barksdale recalled, "There was extreme prejudice, extreme segregation. There were white and colored water fountains, different hotels and different travel arrangements. It was unbelievably ridiculous but it was the way things were in the South at that time."
Barksdale began his basketball career at College of Marin and went on to be one of the first African Americans in the NBA, the first African American player to be named NCAA All-American, and the first to Black player on the NBA All-Star Team and U.S. Men's Olympic Basketball Team. He was inducted into the Naismith Memorial Basketball Hall of Fame.
In addition to his successes on the court, Barksdale was a pioneer in broadcast media and business. He was the first Black radio disc jockey in the Bay Area and was inducted into the Bay Area Radio Hall of Fame. He was the first Black beer distributor in the Bay Area. He opened multiple clubs in the Bay Area that featured the likes of Count Basie, Richard Pryor, Ike and Tina Turner, Lou Rawls, Redd Fox, and the Pointer Sisters. He became the first African American television host in the Bay Area with his KRON-TV show "Sepia Review."
Giving back to his community, in 1983 Barksdale founded Save High School Sports Foundation, which is credited with saving Oakland high school athletics programs amid budget cuts. In ten years, he raised one million dollars, distributing the funds equally to girls' and boys' sports.
His accomplishments on and off the court reflect the decades long battle of African Americans for human rights, civil rights, and liberation. Barksdale recognized his role as a pioneer in breaking racial barriers, stating that of the 14 color barriers he broke in sports and beyond, he would be most remembered for integrating the 1948 U.S. Olympic basketball team. Filmmaker Doug Harris referred to Barksdale as the "Rosa Parks of basketball." Barksdale's life is integral to the Black Radical Tradition.
Join us as we honor a College of Marin alumni who was a leader in the ongoing Black struggle for freedom and equality, paving the way for those that came after him.
Important Event Information:
The event is free, open to the public and wheelchair accessible