Join us for the FRESHEST College Freshman Orientation EVER! Learn secrets to a successful college semester!
About this event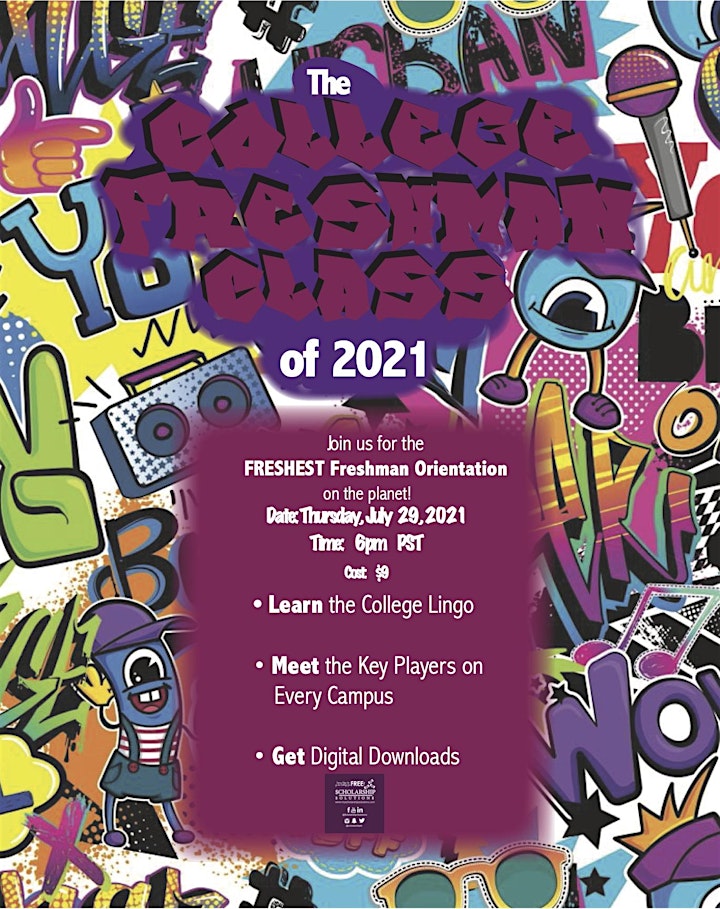 The College Freshman Class of 2021 is Packed with Secrets, Strategies, Suggestions, Scholarships. We'll help unlock a successful semester and beyond!
The College Freshman Class of 2021 is LIVE and you will Learn:
Learn the Lingo ~ What Important terms do you need to know to navigate college
Meet the Players ~ Who do you need to know on campus so you can have a smooth and successful semester.
Ask for this Class ~ Learn which classes and professors you should take.
Freshest Freshman ~ Listen and Learn to the Do's and Don'ts from Freshmen - Class of 2020.
Digital Downloads ~ The Freshman Dictionary, Scholarship List, The Ultimate Packing Guide, & The Freshman College Checklist
You can find Scholarship Solutions on all major Social Media platforms:
Instagram| Tik Tok| Clubhouse | Twitter | Snapchat: scholarshipdr
Facebook | LinkedIn | YouTube: Scholarship Solutions
Website: myscholarshipsolutions.com
Thanks and we will see you Thursday, July 29th @ 6pm pst ~ The Scholarship Doctor
Call us with Questions: 702.623.9500 (office number)
No Refunds on Tickets.
Date and time
Location
Refund policy