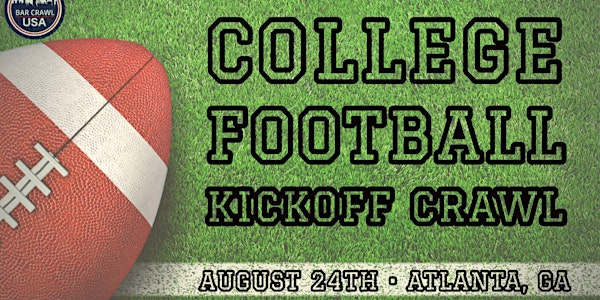 College Football Kickoff Crawl
When and where
Location
Big Sky Buckhead 3201 Cains Hill Place NW Registration is from 4pm-6pm!!! Atlanta, GA 30305
Description
Let's kickoff college football in style! Find your jersey, school colors, or anything to rep your favorite school on August 24th.
•College Football Kickoff Registration Party at Big Sky (4pm-6pm only)
•College Kickoff Crawl Event Koozie
•Comp welcome shot at registration party
•Welcome drink at your official home bar (Home bar to announced week of event)
•$2 beers, $3 themed shots, $4 themed cocktails with wristband.
•College Kickoff Passport to guide you, get stamped at 6 different bars, and secure your raffle ticket for a chane to win 2 tickets to the Alabama vs. Duke Chick-Fil-A kickoff game.
•School Fight Songs, Themed Shots, Entertainment, and more
•Raffles, prizes, and much more.
•Big Sky: 4:00pm-6:00pm (Registration)
•Churchills: Stop 1 (Big Ten West & GT)
•5Paces Stop 2 (Gamecocks)
*Park Bench Stop 3 (Sun Belt, Mount West, FCS, Conf USA, MAC)
•Stagecoach: Stop 3 (UGA)
•Pool Hall: Stop 4 (BAMA)
•Kramers: Stop 5 (SEC East – minus UGA & Gamecocks)
•Red Door: Stop 6 (SEC West -minus Bama)
•Lost Dog: Stop 7 (Big Ten East & Big 12)
•Dive Bar: Stop 8 (ACC minus GT)
•Buckhead Saloon: 11pm-12am (Main raffle at 11pm. Must be present at the after party)