College Credit for Heroes/Cedar Valley Resource Fair— September 12, 2019
About this Event
To show support for veterans and the military-connected community Dallas County Community College District (DCCCD), College Credit for Heroes, and Cedar Valley College are teaming up to host a Military Connected Resource Fair on September 12, 2019.
The goal of this event is to connect veterans, their dependents, and the military-connected community to community agencies.
Attendees will be able to browse agency booths to learn about programs and services.
We expect individuals from Dallas, surrounding counties, and others seeking to gain knowledge as to what is offered here in the DFW area.
Participating agencies include federal and state programs, non-profit organizations, community organizations, and local businesses from the DFW area who are helping to make a difference to the military-connected community.
As a valuable community resource vendor, you are invited to participate and share information regarding the services that you provide. Participation is free.
Details of the event are listed below:
• Date: September 12, 2019
• Location: Cedar Valley College - 3030 North Dallas Avenue, Lancaster, TX 75134 Building M
• Suggested arrival time: 9:00 am to begin set-up
• Resource Fair hours: 10:00 am – 2:00 pm
• Parking is in Lot S-1 (See Map)
Each vendor will be provided with one six-foot table and two chairs.
Registration is on a first-come, first-served basis as SPACE IS LIMITED!
For questions, please contact Reggie Szatny at szatny@dcccd.edu.
Thank you and see you there.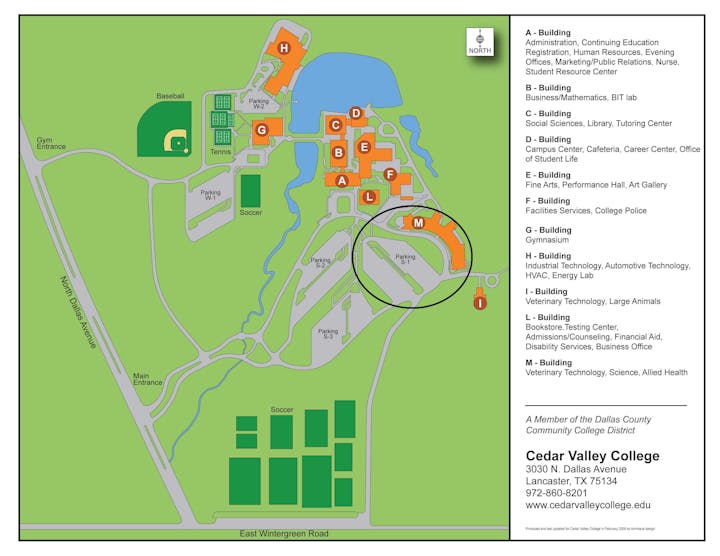 CCH/CVC Resource Fair
September 12, 2019 from 10:00 a.m. to 2:00 p.m.
In order to make the resource fair a success, we want to make sure you are provided the appropriate space, equipment and items. Please complete and return the information below to szatny@dcccd.edu by September 1, 2019. We will work with you determine how we can accommodate your requests.
Organization/Agency/Program:
Short Program/services Overview:
Contact Name:
Phone Number:
Email Address:
Request any special accommodations, (electrical access, extra chairs etc.):